Looking to watch Altered Carbon? Based on the cyberpunk noir novel of the same name, penned by Richard K. Morgan, the first season of the Netflix series covered murder, love, sex and betrayal — 300 years into the future. In the series, society has been transformed by a new technology where consciousness can be digitized and human bodies — known here as sleeves — are interchangeable. Interstellar warrior Takeshi Kovacs (Joel Kinnaman) is brought back to life in a new body to solve a rich man's murder — it's like Blade Runner meets Bones. Intrigued? Here are all the ways to watch Altered Carbon.
Netflix
The easiest (and only) way to watch Altered Carbon? On Netflix. The series is a Netflix original, and only the streaming giant can give you access to episodes of the first season of the series. If a second season is in the cards, expect it to stream solely on Netflix, too. As we've mentioned, it's worth it for Joel Kinnaman's abs alone (Martha Higareda is killer too).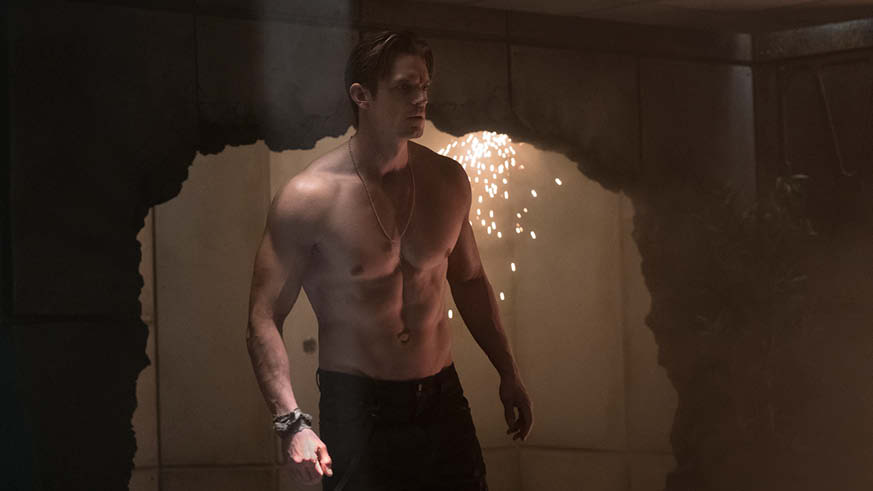 This is not Photoshopped. Netflix
Hulu
There's no way to watch Altered Carbon on Hulu. Sorry, pals.
Amazon
You can't watch Altered Carbon on Amazon either (yet?), but you can purchase the original novels by Morgan. Reading is fun! And considering it took about 15 years for Altered Carbon to make it to the small screen, it might be a good use of your time: The film rights for the novel series were optioned by Warner Bros. and producer Joel Silver in 2003, but the project remained in development purgatory for nearly a decade. After the studio's option expired, creator and showrunner Laeta Kalogridis brought it back from the brink — and here we are today.
And thank goodness for that. "The edict at [Warner Bros.] was to make a PG-13 movie out of it, and I was just like, dude, I have no idea how you do that based on the source material," Kalogridis told Hollywood Reporter. Ah, so we have her to thank for the gratuitous nudity. Thanks, girl!