As of last night's premiere, Sam and Dean are back for another season of this supernatural drama, which has a lot of you wondering where you can watch Supernatural online. We have you covered.
Whether you land solidly on team Sam or team Dean, you're going to want to catch up on previous seasons of the show — or maybe just give them a fourth or fifth watch, if you're a die-hard fan. Supernatural season 13 episode 1, which aired last night on The CW, took the show in a brand new direction. The show will focus more on showing the guys in a different light, probing what it would be like if the two of them were fathers.
So whether you feel like you missed the lead up to Jake moving in with the brothers, or miss episodes in which the two of them are a bit younger and more reckless, you should bookmark these ways to watch Supernatural online.
Where you can watch Supernatural online, new episodes
You have two options for streaming each new episode of the series as they come out. The CW offers a streaming option to watch Supernatural online. The stream starts each Thursday night at 8:00 p.m. EST when the newest episode airs on their network. You can also find trailers for upcoming episodes in their Supernatural hub to get you excited for the following week. This same streaming option is available through The CW's app.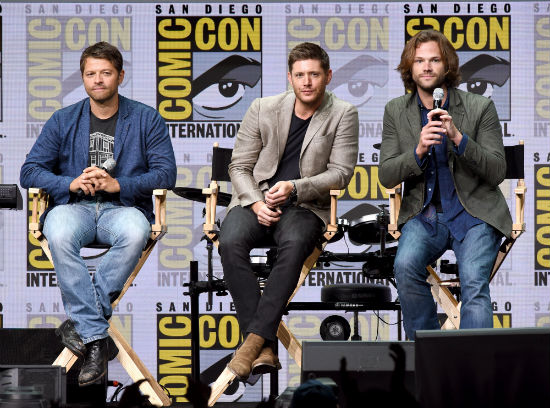 There's also a service called Fubo, which allows you to stream everything from dramas to sports from more than 80 live TV channels through their site. Obviously, Supernatural is available. If you're not quite ready to shell out for their $19.99 monthly fee, they offer a 30-day free trial to get you started.
As of August 2017, you can also watch Supernatural online through Hulu's live TV streaming service. The CW agreed to add their entire range of shows, from Crazy Ex-Girlfriend to Supernatural, but you'll have to pay up to enjoy this service. Unlike that Hulu subscription you likely already have, the live streaming service saddles you with a fee of $39.99 a month.
Where you can watch Supernatural online, old episodes
If you want to catch up on the series, especially in the spooky weeks leading up to Halloween, your best bet to watch Supernatural online is going to be Netflix. The streaming service currently offers the entire back catalogue of the show — that's right, all 12 season — so you can Netflix and chill with Sam and Dean to your heart's content.
Amazon Video also has all 12 seasons available for purchase, in case you want to have them for endless rewatching sessions in the future. Each season will set you back $19.99 whether you prefer HD or SD, and you can pre-purchase Supernatural season 13 for $44.99 in HD ($39.99 in SD) or $2.99 per episode in HD ($1.99 per episode in SD).