Last week, 21-year-old Tamar Morali made headlines for being the first Jewish woman in history with a chance to win Miss Germany. She claims pageant officials told her a woman of her faith has never made it this far in the compeition. This week, model Valeria Bystritskaia came forward with a claim of her own: She was the first Jewish "Miss Germany."
Jewish Telegraphic Agency reported that Bystritskaia, 31, won her title in 2011. However, they also uncovered a twist: the two women competed in different competitions.
Morali is currently in the running for the title of "Miss Germany" in a pageant organized by the Miss Germany Corporation. While Bystritskaia has participated in Miss Germany Corporation competitions in the past — for a total of six years — she's never competed in the pageant Morali is in. Instead, she set her sights on something bigger: Miss Universe.
Bystritskaia noted that the Miss Germany Corporation competition is not affiliated with Miss Universe, and she competed in Miss Universe Germany, a pageant that is.
When Bystritskaia won Miss Universe Germany in Berlin on July 7, 2011, this qualified her for the international crown. Six weeks later, she went on to represent her country in Brazil, and although she didn't place in the top 16, she described it as an "amazing experience."
"Every little girl's goal is to go to Miss Universe," the model with over 30 national and international titles told Metro.
Morali may very well be the first Jewish woman to make it as far as she has in the Miss Germany Corporation pageant, but the title "Miss Universe Germany 2011" went to Bystritskaia six years ago, and she's presumably the first Jewish winner (though she says there "definitely" were Jewish contestants competing alongside her). 
A spokesperson from Miss Universe Germany told Metro that the winner from 2010, "doesn't know all her official roots." Therefore, to their knowledge, Bystritskaia is the "one and only" Jewish woman to win the title since the company started organizing competitions in 2009.
Bystritskaia faces anti-Semitism
Bystritskaia said that though pageant officials never asked about her Jewish heritage, she was taught at a young age to keep it under wraps.
Born in Moscow, she was raised by a Ukrainian mother who experienced the second World War and the ensuing anti-Semitism. They moved to Karlsruhe, Germany when Bystritskaia was 7 — coincidentally, the same city Morali was born — and it was here that her mother told her to keep their Jewish faith a secret. According to the former Miss Universe Germany, her mother "was sure Germany hadn't changed."
A young Bystritskaia was bullied for being foreign. "My hair was black and everyone else's was blonde," she said. "My last name is distinctly Jewish…and they bullied me for that fact." She describes this as the first period of her life she was harrassed.
When she was discovered as a model at 17, Bystritskaia was told she "didn't look German" so she "wasn't good for a German market." Nevertheless, she found work elsewhere and became well-known internationally.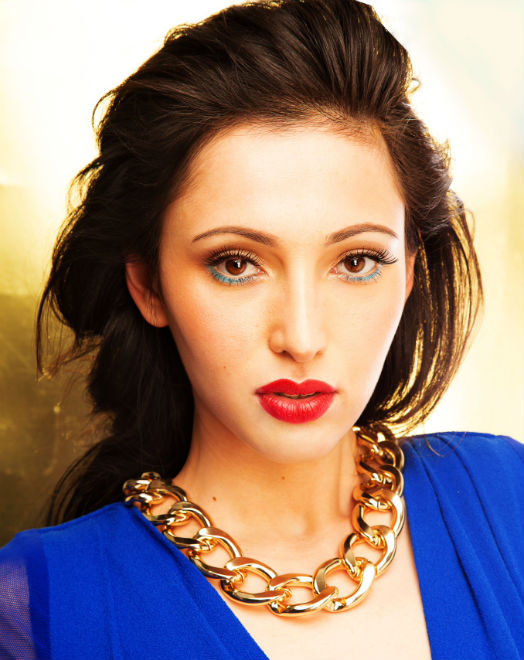 In 2011 when Bystritskaia won Miss Universe Germany, she was met with a lot of anti-Semitism online, claiming there were entire German Facebook groups devoted to posting slander about her. The worst comment, she noted, read: "Hitler forgot about her and her family."
Looking back, Bystritskaia said that she never felt accepted no matter how hard she tried to blend in. "I know so much about the German history. I learned the language, I studied the language. I did everything to be as German as I could be, and it was never enough."
Realizing that she couldn't change who she was, Bystritskaia moved to the U.S. in 2013 once her year as Miss Universe Germany came to an end. 
If she had won this title today, she still thinks she would have experienced anti-Semitism. "With the way the political climate is in Germany now, honestly, yes…I'm pretty sure it would have been the same and probably even stronger," Bystritskaia admitted. 
"My mom tells me stories about what she reads in the Jewish German newspapers…" she continued, citing stories about young Jewish boys being harassed and about the recent rise in anti-Semitism in German schools. She went on to say that people used to refrain from making hateful comments to your face. "Now," she explained, "they're more open and free to speak their minds."
Bystritskaia offers advice
Bystritskaia is now a New York resident and frequently delivers speaches about having to rebuild her modeling career upon moving to the U.S. — and it's a career that's still in full stride. She said she's pursuing acting next.
If Bystritskaia is certain of one thing, it's that she's glad fellow pageant-goer Morali has it better than she had in the past. "I read that she had such a great time growing up and is proud to be a German Jew, and I'm happy for her that she had great experiences," she said.
Her advice for the Miss Germany hopeful is quite simple: forget the haters. "There are always going to be negative voices, but you have to concentrate on the positive and on the people who support you," she said, adding, "…and don't read too much into social media."
"Go for your goals," Bystritskaia continued. "If you're able to reach your goals, that's the biggest statement you can make. That's how you prove you're strong no matter what people say to you."