Harvest festivals and carnivals, the biggest burlesque festival of the year, a DIY boat race and more of the best things to do in New York City in September.
The best things to do in New York City in September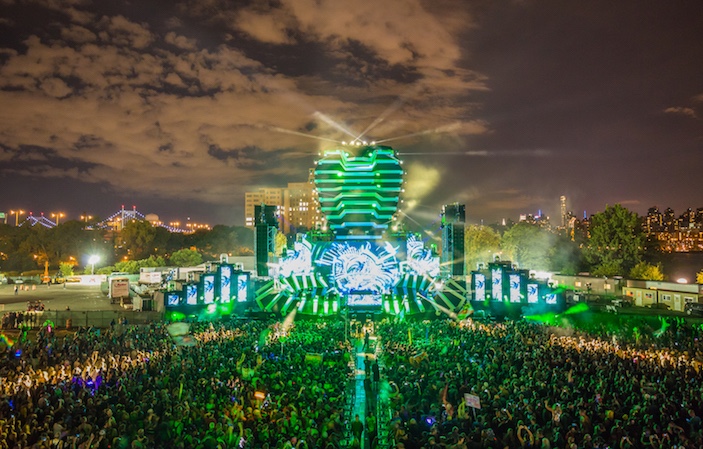 Be one of the animals at Electric Zoo
The last outdoor music festival of the season takes over Randall's Island from Friday through Sunday. Electric Zoo has all the EDM beats you can handle headlined by Marshmello, Martin Garrix and Tiesto. Check out the new 6 Pointz stage featuring all New York acts. Aug. 31-Sept. 2, $89.99+, electriczoofestival.com
Browse art in the park
Labor Day Weekend kicks off the 88th annual Washington Square Outdoor Art Exhibit's fall show, which began when an artist you may have heard of — Jackson Pollock ring a bell? — brought a few paintings from his Greenwich Village studio to sell when he found himself short on rent in 1931. Now, nearly 100 artists and craft artisans in media from paint to glass to fiber set up booths along the sidewalks of Washington Square Park. Sept. 1-3 (also Sept. 8-9), University Place between East 13th St. and Waverly Place, noon to 6 p.m. wsoae.org
Flip your wig at Pier 17
The iconic drag festival that started in Tompkins Square Park in the mid-'80s but fizzled out around 2001 has found new life on Lower Manhattan's Pier 17 this Saturday. Wigstock heads downtown starring Lady Bunny and Neil Patrick Harris, with dozens of drag queens putting on the liveliest and most colorful showcase you'll find anywhere this weekend. Sept. 1, 3 p.m., $95 and up, ticketmaster.com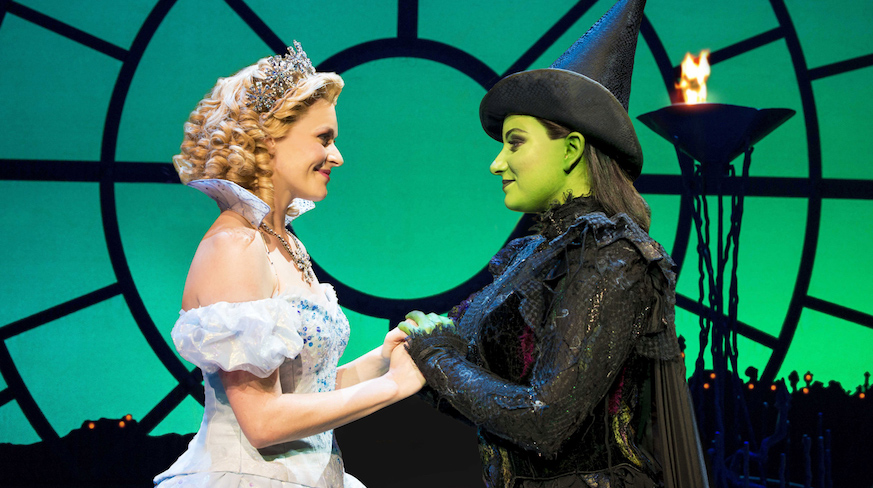 The best of Broadway at half the price
With the end of summer, New Yorkers wave goodbye to tourists and get Broadway back all to ourselves. The biannual Broadway Week returns Sept. 3-16 with two-for-one tickets to more than 20 productions, from long-running classics to the newest shows on the block. Check out our recommendations, or just see them all!
Strike a pose during Fashion Week
Whether you know a clog from a mule or can barely put your dress on the right way, New York Fall Fashion Week is a chance to see a worldwide art form right on our streets. Whether you want to attend a runway show, hit up the parties or just dress your best for a chance to be snapped by street photographers, there's plenty of ways you can take part. Sept. 5-12, nyfw.com
Get lost in all 29Rooms
Refinery 29 started the trend of made-for-Instagram galleries, and it's still doing it best with 29Rooms, a collection of — you guessed it — 29 individual galleries crafted by celebrities, artists and a handful of brands, but in our experience those have been cool too. More than just a bunch of photo ops, it's a thoughtful look at the state of the world and what's on our minds, with tons of interactive elements and even moments when your phone is not the best way to experience it. Sept. 6-9, 13-16, 588 Baltic St., $39.99-$129.99, eventbrite.com
Celebrate your curves
Curvycon is all about the 67% of women who are size 14 or larger, bringing together fashion designers and influencers, modeling agencies and stars like Gabourey Sidibe for two days of shopping, chats, facetime with retailers and lots more to learn how to attain that body positive attitude we're all striving for. Sept. 7-8, $249, thecurvycon.com
Beer meets music at one amazing festival
Pitchfork brings the music, beer culture website October brings the brewers at OctFest, two days of concerts by 20 artists and over 250 varieties of beer from around the world coming to Governors Island. Curated food pairings are also on the bill, and you've got six hours on both days to try 15 3-oz. pours with your ticket, or purchase more at $1.50 each. Sept. 8-9, $75-$140, octfest.co
A carnival on the Hudson
The West Side County Fair is a rare treat within city limits, with carnival rides, fairway games, magic shows and live music are taking over from 68th to 70th streets; after you've ridden and seen it all, enjoy your carnival food while strolling along the river. Sept. 9, Riverside Park South, free, riversideparknyc.org
Talk nerdy to me
The Brooklyn Book Festival is NYC's largest free literary event, bringing over 300 authors for every age group, from up-and-comers to international literary stars. Bookend Events like dance parties and trivia take place throughout the city, plus talks, readings and a Literary Marketplace filled with 250 publishers. Sept. 10-17, brooklynbookfestival.org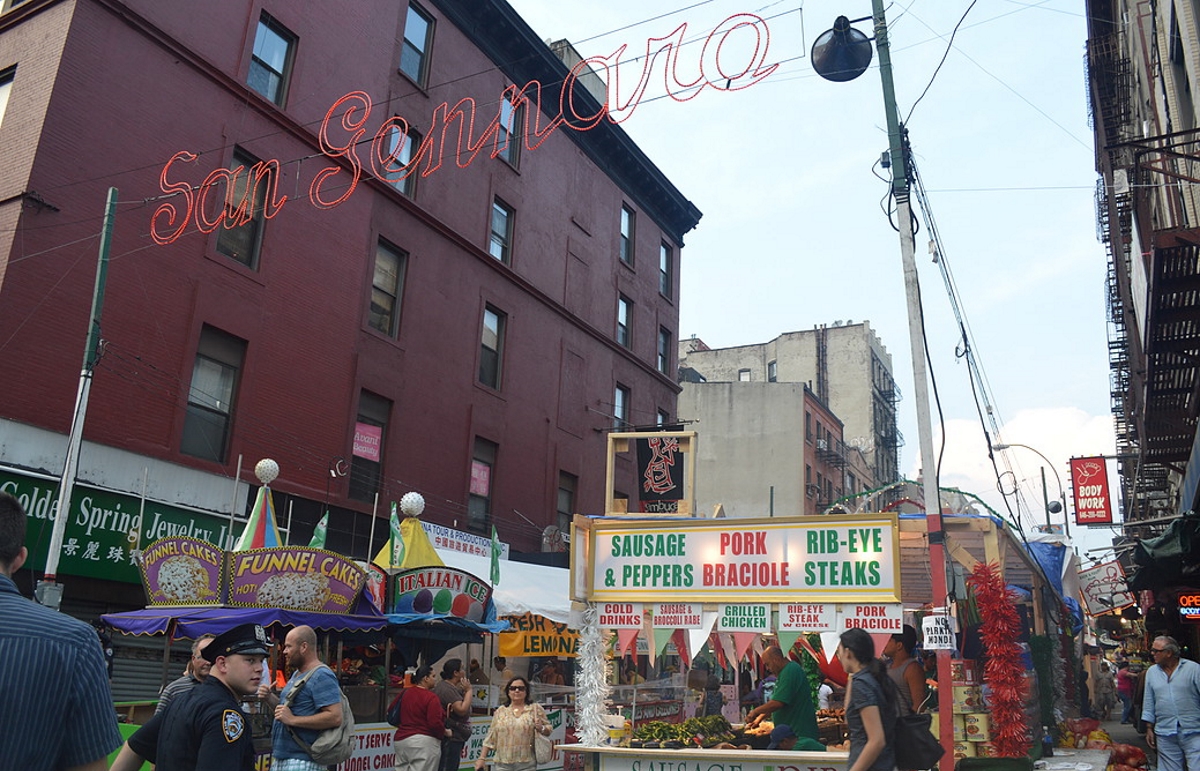 Little Italy throws a two-week party
You don't have to be Catholic to take part in the Feast of San Gennaro, the 10-day holiday that turns Little Italy into one big street festival with delicacies being grilled up on the sidewalk, bakeries turning out their best traditional treats, live music nightly, eating contests and more. Sept. 13-23, 11:30 a.m.-11 p.m. Sun-Thurs, midnight Fri-Sat, Mulberry Street between Canal and Houston streets, free, sangennaro.nyc
Brooklyn's outdoor photo garden is back
Whatever the weather, don't let it keep you from the spectacular outdoor exhibit that is Photoville, the annual survey of photography where more than 600 artists cram entertaining and eye-opening images into 90 exhibitions and installations. In addition to browsing your way through the 65 shipping containers making their home in Brooklyn Bridge Park for two weekends, make time for panels, artist lectures, professional seminars, hands-on workshops — all free and open to everyone. There's also a food and beer garden courtesy of Smorgasburg. Sept. 13-16 and 20-23, 4-10 p.m. Thurs/Fri, noon-10 p.m. Sat, noon-9 p.m. Sun, next to Jane's Carousel, photoville.com
The dinner party we all want an invite to
Diner en Blanc started, as most good things do, in France, but the all-white dinner parties have become a global phenomenon. New York's dinner takes place on Sept. 17, so many sure you're registered for a chance at one of the few thousand tickets for one of the most magical nights you'll ever experience. 
See the hidden city
Open House New York offers an exciting chance to go inside the glamorous homes, active factories, buzzing offices and soaring skyscrapers normally closed to the public. Expanded to three days this year, the event takes place Oct. 12-14, but the list of sites will be announced on Sept. 18, with reservations opening up on Sept. 25 — and they'll fill up almost immediately, so have your list ready. 
Brooklyn goes country
For four days, the Brooklyn Americana Music Festival brings over 50 free shows with bands spanning country, folk, roots, blues, old time and bluegrass to nine venues along the waterfront. CAtch them at Sunny's bar in Red Hook to Brooklyn Bridge Park's recently opened Pier 3 in DUMBO, starting with an opening night gala at the Jalopy Theater and ending with the a bluegrass brunch at Superfine. Sept. 20-23, bkamf.com
Turn off your TV and see it live
There's never been more television being made in New York City than right now, and fans can be sure they'll meet the biggest stars and see fall's most exciting pilots before they air at the Tribeca TV Festival. Tickets are on sale now, with highlights including a retrospective with Bryan Cranston, an extended cut of Anthony Bourdain's final complete episode of Parts Unknown, and Meryl Streep interviewing comedian Tracey Ullman. Sept. 20-23, $30-$40, tribecafilm.com
Live your best sex life
Pleasure isn't just going to find you — learn how to ask for what you want, and for that matter learn what you want, with two days of classes, panels, product demos and more at the country's largest convention about pleasure, Sex Expo New York. Sept. 22-23, free-$40, sexexpo.com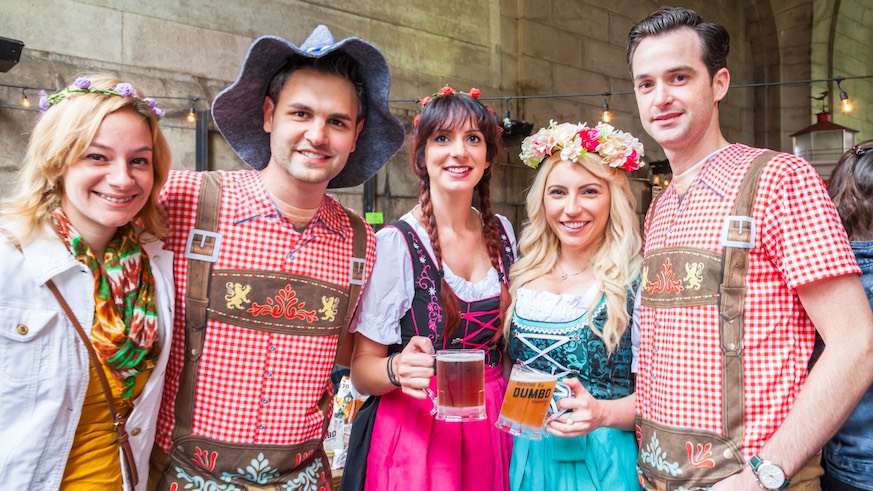 Party like the Germans
Lederhosen is optional but singing along while hoisting your stein high in the air are not at the many Oktoberfest events that take over the city starting in mid-September. Munich on the East River is always a must-do, but sausage specials and authentic German brews will be everywhere during the three-week harvest festival. Sept. 22-Oct. 7
Ride for your pizza
A pizza scavenger hunt on two wheels sounds exactly like the kind of touristy activity we can all get behind. The 5 Boro Pizza Challenge starts out by the red cube at 140 Broadway, where contestants receive their list of pizza joints, one in each borough to visit by bike, borough or subway. Your journey unfolds on social media, and the fastest will collect prizes (besides all the delicious slices they eat along the way). Sept. 22, $30, 5boropizzachallenge.org
Eat the best of New York street food
The Vendy Awards, also known as the Oscars of New York street food, bring 25 of the most popular sidewalk chefs from food carts to food trucks all in one place. They've earned the nominations of their loyal customers, but now the whole city gets to try them all together on Governors Island. Taste your way across their wares (it's unlimited with your ticket!) and vote for your favorite in several categories. Sept. 22, $100 and up, eventbrite.com
Play with the technology of the future
See what the tinkerers of the world have been up to at World Maker Faire in Queens, a weekend of getting hands-on with the technology being dreamed up by ordinary people in their own homes. The Maker Movement brings do-it-yourselfers out to trade tips, show off their craft and encourage creativity with interactive displays, demos, discussions and more in fields like art, engineering, medicine and technology. Sept. 22-23, $40-$80, makerfaire.com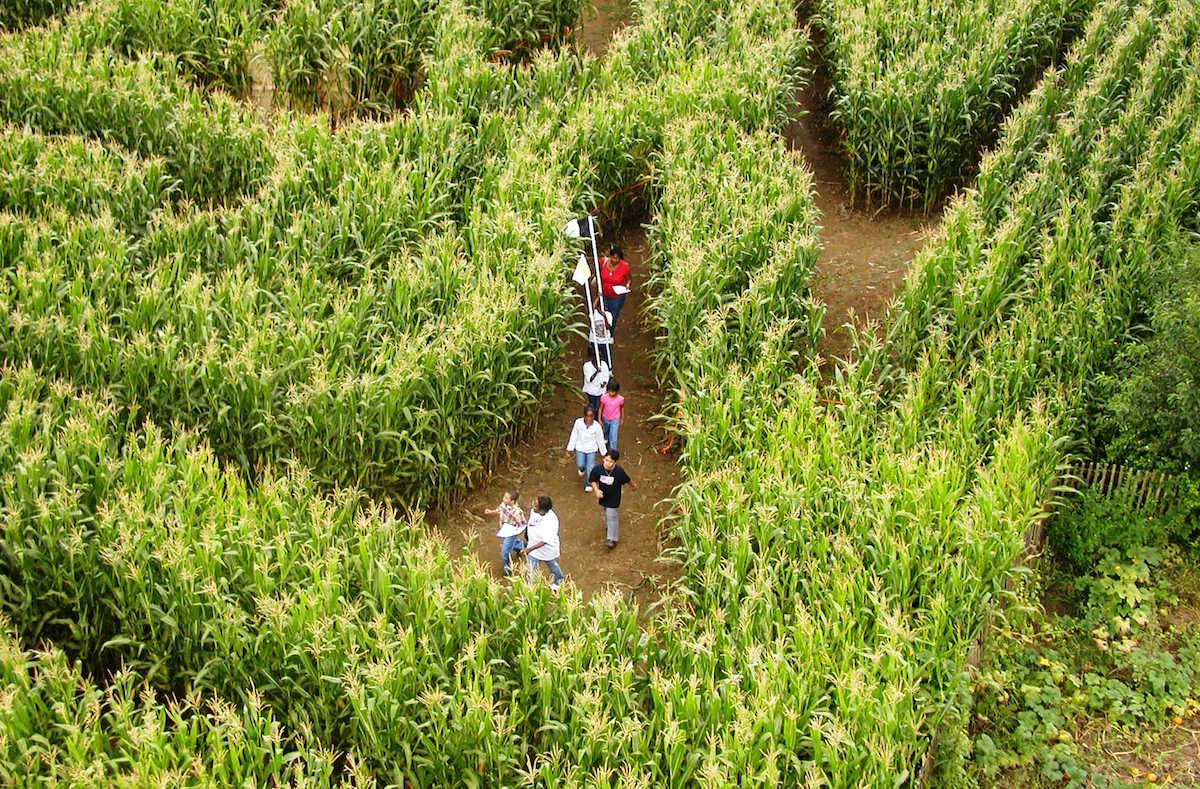 Farm fun to kick off fall
It's a bit of a haul but the Queens County Fair is so worth the trip. Held on a farm museum, the annual tradition features all the usual county fair stuff like livestock competitions, eating contests, fresh produce and baked goods, piglet races and kids activities, plus lots of fall-themed fun like hay rides, a haunted house, a Bavarian beer garden, carnival rides and midway games, live music and dancing, and the star attraction, the three-acre interactive Amazing Maize Maze. Sept. 22-23, $10, queensfarm.org
Atlantic Antic
Brooklyn's busy Atlantic Avenue comes to a halt every September during Atlantic Antic, when the street becomes a giant marketplace with more than 500 restaurants, breweries and local vendors, many of them setting up on the street right outside their shops. In between browsing, you'll come across activities like a giant inflatable slide and a petting zoo, plus 15 stages of entertainment by local musicians and community groups. Sept. 23, noon-6 p.m., Fifth Avenue between Hicks Street and Fourth Avenue, atlanticave.org
Upgrade your space with art
You probably can't paint your apartment, but that's no excuse to leave your walls bare. The Affordable Art Fair at the Metropolitan Pavilion brings more than 70 local, national an international galleries showcasing over 300 artists, with pieces that start at just $100 for everything from sculptures to photographs, large and small, classic to contemporary. There are also workshops and tours. Sept. 27-30
Take it (almost) all off
They've literally made an art of taking off their clothes, and the best of the best burlesque dancers come together to celebrate their performance discipline for four nights during the New York Burlesque Festival. In addition to performances, there are also parties, panels and classes. Sept. 27-30, free-$270, thenewyorkburlesquefestival.com
Can you even drink this much caffeine?
We're living in the golden age of coffee, but there's always some new technique or varietal to discover. At the New York Craft Coffee Fest in Williamsburg, 20 roasters and coffee shops bring their best products for you to sample, introducing you to rare flavor profiles you won't find in your corner cafe. No classes, no competitions, just amazing, unique coffees accompanied by live music. Sept. 29, $35-$45, nyccraftcoffeefest.com
Party with RuPaul
RuPaul's DragCon sashays back into New York City for an expanded three-day schedule of runway shows, panels, marketplace and photo ops with the series' top drag talent all at the Javits Center, plus off-site parties. Kids age 10 and under get in free — never too early to see how fabulous they can grow up to be! Sept. 28-30, $40-$70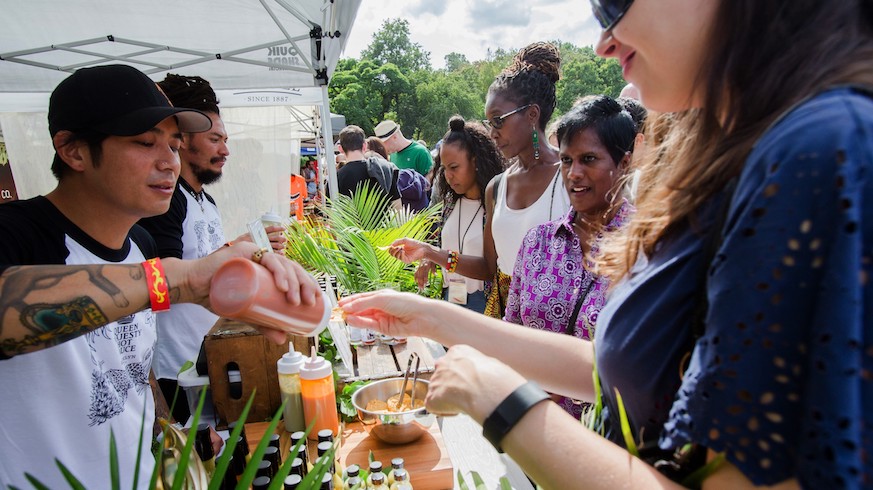 The heat is on
There's more to heat than hot sauces, though there will be plenty of those at the Brooklyn Botanic Garden's Chile Pepper Festival. You'll also find spicy chutneys, mouth-tingling chocolates and dozens of other vendors selling every kind of spicy treat, plus six bands playing everything from South Korean rock to New Orleans brass and "fiery feats" like sword-swallowing and fire breathing. Sept. 29, $25, bbg.org
All the stars come to Central Park
Good deeds are their own reward, but the annual Global Citizen Festival in Central Park is still a nice reward for fighting poverty worldwide. You can only get into the exclusive star-studded concert by accruing points through activism. Your reward it top talent like Cardi B, The Weeknd, Shawn Mendes, John Legend and Hugh Jackman. Sept. 29
The sailing event of the year
Forget the America's Cup, the Red Hook Regatta is the ultimate boat event of the year. Teams of slightly crazy DIY-ers create seaworthy (they hope) craft to compete at Valentino Pier. There are additional 3D-printed boat races and boat-building activities for the youngest kids, with food and live entertainment. Sept. 29, free, pioneerworks.org
Lords and ladies, head uptown
Hear ye, hear ye, the Medieval Festival at Fort Tryon Park requests the pleasure of your company for a special day of revelry — all free to the public. The park is transformed into a medieval market town with banners and flags, plus minstrels and musicians, jesters and knights jousting on horseback. Sept. 30, whidc.org