After President Donald Trump announced his Supreme Court pick conservative Brett Kavanaugh, many across the country are wondering what this move could mean for Roe v. Wade. Now, Boston City Council is taking up the fight to scrap old Massachusetts abortion laws that criminalize the procedure to ensure that abortion remains legal in the commonwealth.
Laws have been on the books here since the 19th century that criminalize abortion as well as the medical providers who perform it. These Massachusetts abortion laws are unconstitutional under Roe v. Wade, the Boston City Council explains.
But should Roe v. Wade — the landmark decision by the Supreme Court in 1973 Supreme Court that rules women do have a constitutional right to an abortion — be overturned, which Trump said would "automatically" happen were he to appoint another "pro-life justice" to the court, that could all change.
"Without action at the state level, these archaic statutes could be used against abortion providers by prosecutors to infringe on the right to choose," according to At-Large Boston City Councilor Ayanna Pressley's office.
Pressley on Wednesday filed a resolution urging the state legislature and Gov. Charlie Baker to pass, basically, a new Massachusetts abortion law: the "NASTY Women" Act.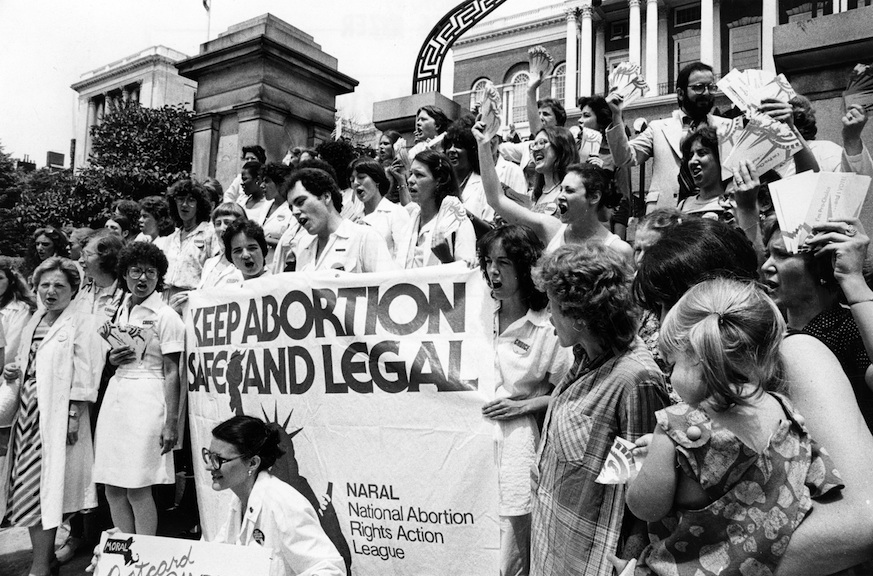 Demonstrators stand on the Mass. State House steps during a pro-choice rally in Boston, June 18, 1979. Getty Images
The "NASTY Women" Act, or "an act negating archaic statutes targeting young women," would repeal the 19th century Massachusetts abortion laws so that women here still have access to abortion should the Supreme Court overturn Roe v. Wade.
"The constant attacks on women's rights to self-determination and access to safe, competent reproductive healthcare — including abortion — know no bounds," said Pressley in a statement. "The appointment of another conservative justice to the U.S. Supreme Court threatens the critical federal protections afforded by Roe v. Wade, and makes it incumbent on states to step up and protect the rights of women."
"That a deep blue state like Massachusetts still has draconian laws on the books to punish women and criminalize the right to choose is morally reprehensible and must be changed," she continued. "I urge the Legislature and Governor Baker to pass the 'NASTY Women' Act into law with all possible speed."
The resolution passed in Boston City Council on Wednesday. 
"Today, my colleagues joined me to pass this resolution urging the Massachusetts House and Governor Charlie Baker to pass and sign the NASTY Women Act, to repeal outdated laws that restrict women's rights to access abortion services," Pressley said in a statement after the Boston City Council meeting. "While this fight plays out in Washington, locally we are prepared to show that the Commonwealth stands with women." 
Massachusetts abortion laws take center stage
The act has already passed in the state Senate in January. It is currently pending in the House, before it can even land on Baker's desk. The Massachusetts legislative session ends July 31, so with the resolution passing in City Council, councilors are now pushing for the state to act before the end of the month.
At an event on Tuesday, when asked about nominee Kavanaugh, Baker said that he is "a big believer in a woman's right to choose," according to State House News Service.
"I think that needs to be a fundamental part of the vetting process and I hope it's a fundamental part of the vetting process as they move forward here," Baker continued. "I support a right to choose here in Massachusetts and will continue to support that, but I do think this is an important time for the Senate to do its job, and by doing its job, I mean engage in the conversation in a thorough and serious way and ensure that this candidate is going to treat the precedent of Roe v. Wade appropriately going forward."