Supreme Court nominee Brett Kavanaugh will not return to teach at Harvard Law School this winter.
Harvard Law School students previously wrote an op-ed calling on the administration to take the sexual assault allegations against Kavanaugh seriously and investigate him before allowing him back on campus. The students previously told Metro that they hadn't heard back from school officials regarding the op-ed days after it was published and that students also called the dean's office directly to inquire about Kavanaugh teaching there, but were dismissed.
On Monday night, Associate Dean and Dean for Academic and Faculty Affairs Catherine Claypoole sent an email to Harvard Law School students on the subject.
"Today, Judge Kavanaugh indicated that he can no longer commit to teaching his course in January Term 2019, so the course will not be offered," wrote Claypoole on behalf of the Law School's Curriculum Committee. The email was forwarded to Metro; that was all it said. 
Kavanaugh was scheduled to teach a course called "The Supreme Court since 2005" in January 2019. That course has now been removed from the digital course catalogue on the Harvard Law School website.
Haley Adams, a second year Harvard Law student and a member of the Pipeline Parity Project, said that getting seeing that email gave her relief, but it was also underwhelming.
"It was relieving in that we got the outcome that was desired, which is that he will not be teaching here in the winter, but it was underwhelming and kind of disappointing to know that the administration was unwilling to take a stand on someone who has been credibly accused of sexual assault on multiple occasions," she said. 
Adams reiterated that hundreds of law school students emailed Dean John F. Manning, most of which were answered with a form letter, and that the email from Claypoole fails to provide much information. Was this Kavanaugh's decision? Will he teach at Harvard again in the future? Will the school openly support further investigation into Kavanaugh, as Yale did?
"For this to have been how this all went down is underwhelming, is the phrase I keep coming back to," she said of Claypoole's email. "It feels slightly unsatisfactory to know that it sounds like, according to the email, Judge Kavanaugh was the one who made the decision."
Still, this might not be the end of this kind of activism by Harvard Law School students. 
"I think a lot of students feel relieved he will not be here in January, but that is by no means the only goal [we had]," Adams said. "The ultimate goal is to prevent him from being confirmed to the Supreme Court."
Kavanaugh protests take over Harvard Law School, Boston
Kavanaugh has taught at Harvard Law School since 2008, but the news that he would come back to campus despite sexual assault allegations against him angered and concerned students.
"Will Harvard Law School take seriously the credible allegation of Kavanaugh's sexual assault against a young woman before he is allowed to continue teaching young women?" Harvard Law School students Molly Coleman, Vail Kohnert-Yount, Jake Meiseles and Sejal Singh, all members of the Harvard Law School Pipeline Parity Project, wrote in the op-ed. "Or will Harvard allow him to teach students without further inquiry — and continue paying him our tuition money?"
Following that op-ed's publication, students participated in a nationwide walkout in support of Christine Blasey Ford and Deborah Ramirez.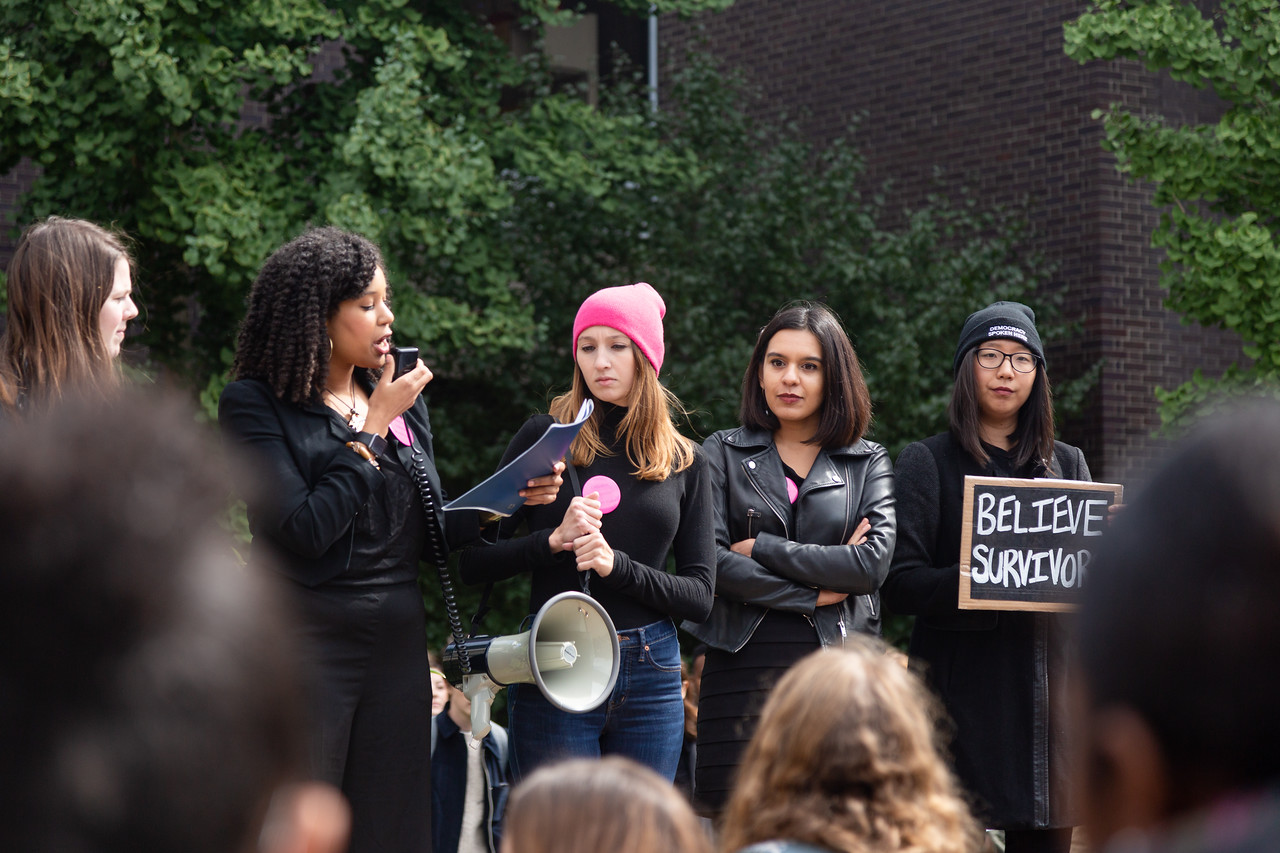 On Monday, hundreds gathered in Boston's City Hall Plaza to greet Arizona Senator Jeff Flake and call on him to reject Kavanaugh's Supreme Court nomination.
Prior to the Harvard Law School announcement that Kavanaugh has severed his ties with the institution, the Harvard Undergraduate Council voted on Sunday night to demand that the university investigate the sexual assault allegations before allowing Kavanaugh to return to campus in January. More than 700 Harvard Law School alumni also signed a letter addressed to Law School Dean John F. Manning asking him to rescind Kavanaugh's appointment as a lecturer.