The end of warm weather doesn't mean the end of Smorgasburg — and this year, they're even getting into the late-night scene with the first-ever Smorgasburg night market in Williamsburg.
Opening on Nov. 2, the Smorgasburg x Vice Night Market was created in partnership with Vice, so expect an atmosphere that's more Brooklyn Bazaar (including a full bar) than Queens Night Market. Find the market inside Vice's event venue Villain, located at 307 Kent Ave., Williamsburg, which has hosted pop-up events like an immersive Legion experience and BBQ Films' Ghostbuster HQ.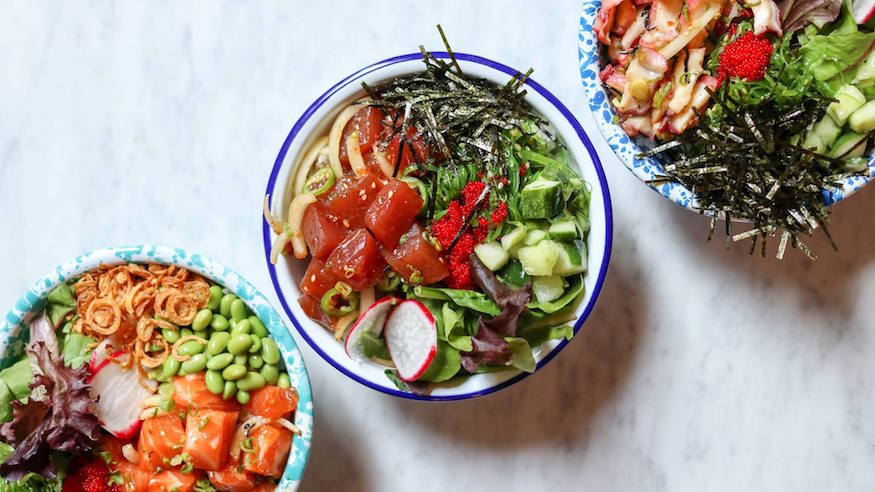 Poke bowls by Sons of Thunder, one of the new Smorgasburg vendors. Credit: Facebook
Smorgasburg is bringing in 11 food vendors, including established favorites Carnal, Home Frite, Mao's Bao, John's Juice, Oyster Party, Kokus, Rooster Boy and Bona Bona Ice Cream. In addition, the market will have several newcomers:
Sandoz: Japanese "katsu sando" pork cutlet sandwiches and pour-over miso soup
Sons of Thunder: poke bowls and fish tacos
El Perrito Street Dogs: traditional Latin and South American hot dogs
Vice will supply a rotating lineup of DJs; on deck already are Academy Records DJ Ron Like Hell (Nov. 2), Susan Z. Anthony of Mister Sunday (Nov. 9) and The Juan MacLean (Nov. 23).
The Smorgasburg x Vice Night Market will be open on Fridays through Dec. 21, from 6 p.m. until "late." Though admission remains free as with all Smorgasburg markets, a $25 ticket gets you priority entrance, two cocktails and 20% off food and merchandise.
Vice has been trying to make the market happen for over a year, says Smorgasburg co-founder Eric Demby, but timing and logistics didn't work out last year. "So over the summer we started talking again, and together created the night market concept, which fits nicely with our daytime winter markets and allows more of our vendors to participate during what has been a slower time of year for Smorgasburg in particular," he says.
"We've also always wanted to do a night market after experiencing them in Asia, and this seemed like the right time and place."
Here's the full list of vendors for the Smorgasburg x Vice Night Market
Home Frite
Oyster Party
El Perrito Street Dogs
Rooster Boy
Sandoz
Mao's Bao
Bona Bona Ice Cream
Kokus
John's Juice
Sons of Thunder
Carnal