Summer is just ending, but that doesn't mean the heat is dying down just yet. So make sure to pack a beanie and in just a few hours find yourself in Iceland. Come for the fresh air, but stay for the exciting things to do and incredible seafood — not to mention a super interesting history, sumptuous eco-lodging and jaw-dropping scenery. The nearly 12:1 puffin-to-person ratio isn't just quirky, but an illustration of the unspoiled beauty you'll encounter.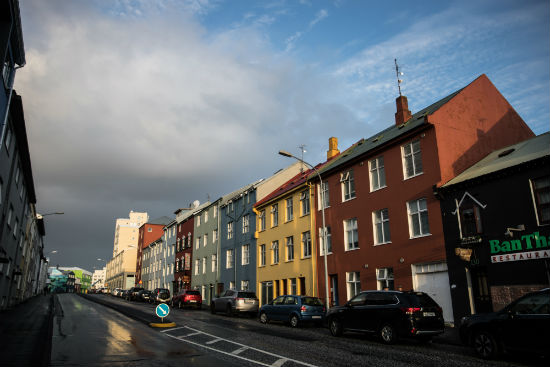 Photo Credit: Getty Images
Reykjavík
You'll start and end your journey in Iceland's capital, the charming (and highly walk-able) city of Reykjavík. Cultural hubs worthy of architectural awards are just a short wander from museums that cover art, the city's first days of known inhabitation 1150 years ago, as well as an open-air historical grounds dedicated to life in Reykjavík at the turn of the century. All of this alongside buzzing coffee shops and a great bar scene, and you'll be set to make the most of nearly 24-hours of sunlight.
Capital eats not to miss? Local celeb chef Hrefna Rósa Sætran recently openedFish Mrkt, a seafood spot that specializes in modern takes on Icelandic classics — a must for dinner. When you finally do hit the sack head forthe Reykjavík Konsúlat Hotel, an historic building that's just been stripped and rebuilt into the city's newest (and best-located) boutique property.
The wilderness of the West
If you've only heard of one region of Iceland it's likely to be the South's famed Golden Circle of glacial lagoons, waterfalls and black sand beaches. But you're here to ditch the tour bus crowds, so travel west from Reykjavík instead. It's got all the natural wonders without the big groups.
A couple hours' scenic drive outside of the capital is where you'll find Hraunfossar Lava Waterfalls, where the bluest of blue glacial water flows along black lava formations surrounded by miles of scrub. There are hiking routes designed to accommodate visits from 20 minutes to 3 hours.
Ready to break out that puffy jacket? There are two small group tours to add to the itinerary. At "Into the Glacier" intrepid engineers and glaciologists dug a manmade ice cave into the country's second largest glacier. A ride of about an hour (during the summer) in a military grade monster truck will bring you to the blinding white snow-scape where you'll enter the mouth of the beast, and with a pair of crampons on, follow your guide to learn more about the ice formations and the changing climate's effects on your surroundings.  Next up? "The Cave" atVíðgelmir. Don a headlamp and descend into this unique mile-long lava tube to explore a chilly alien landscape. After your spelunking adventure, treat yourself to an hour (or three!) at the nearby Krauma Natural Geothermal Baths & Spa where you can soak and steam, all while enjoying a cold beer.
The perfect home base for Western exploration is the Hótel Húsafell — an eco-property set amongst beautiful rugged scenery, featuring its own geothermal pools. The on-site restaurant is the best option for more seafood as well; from a daily langoustine dish to perfectly charred prawns, the chef has a way with both crustaceans and fresh catches of the day.
Getting thár
Several airlines fly to Reykjavík, but United's the newest to the party and, as such, they're going all out. Fly direct from Newark and you'll be on their latest route with all its bells and whistles; opt for Polaris Business Class and enjoy access to an unparalleled lounge pre-departure followed by legacy service, with the latest in menu offerings and entertainment options, and you'll still be racking up miles you can actually use when you get home.