Do you have your New York REAL ID yet?
New Yorkers and others across the country have been hearing about REAL ID for a while, but many may still not be clear on what exactly it is or what they need to do to get one.
The New York State Department of Motor Vehicles earlier this month launched a public awareness campaign to prompt people here to get their New York REAL ID as soon as possible.
"REAL ID is available at all DMV offices statewide and we encourage you to get your new license or non-driver ID today, especially if you are renewing or applying for the first time," said DMV Executive Deputy Commissioner Terri Egan in a statement. "Getting a new REAL ID requires an office visit, and we expect lines to grow as the deadline approaches."
The deadline isn't until Oct. 1, 2020, but already long lines and wait times have been frustrating people at DMVs across the country and as Egan noted, they are only expected to worsen.
What is a REAL ID?
Congress passed the federal REAL ID act in 2005, enacting the 9/11 Commission's recommendation that the government "set standards for the issuance of sources of identification, such as driver's licenses," according to Homeland Security.
The act establishes new minimum security standards for state-issued driver's licenses and identification cards.
Per that act, any New York state resident who wants to fly within the United States using their license or ID card will need a New York REAL ID or Enhanced Driver License (EDL) as of Oct. 1, 2020. New York is among only four states — the other three being Michigan, Minnesota and Washington — to currently issue EDLs. More information on EDLs can be found at dhs.gov/enhanced-drivers-licenses-what-are-they.
This means after Oct. 1 2020, New York state licenses will not be accepted by themselves as proper identification for any domestic air travel or to enter a federal building or military base. Residents can always use their passports when flying, but if don't want to lug your passport with you when traveling within the country, you'll need a New York REAL ID or Enhanced Driver License.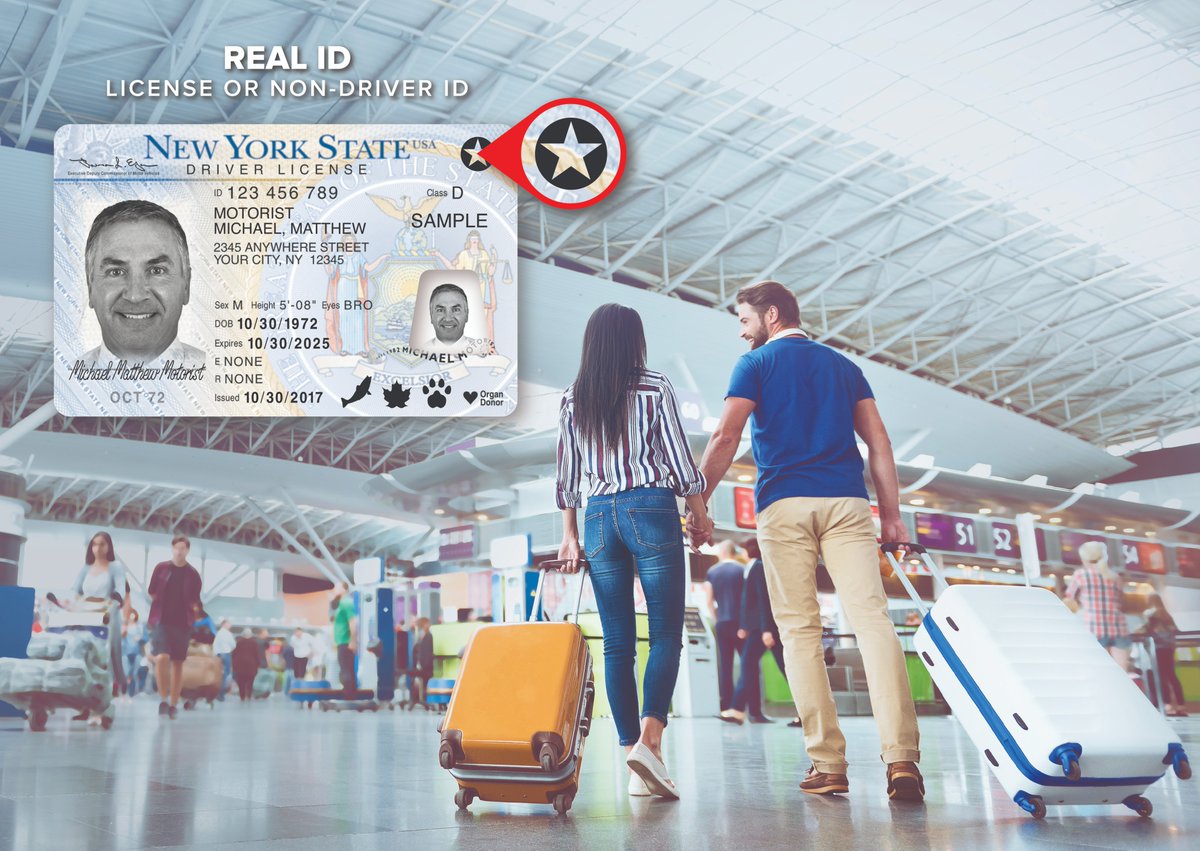 "Got a standard license? Come October 1, 2020, that won't fly," the DMV wrote on Twitter. "If a flight is in your future, upgrade to a REAL ID or an Enhanced License." Photo: @NYSDMV/Twitter
How to get a New York REAL ID
To get a New York-issued REAL ID, you'll have to trek to a New York DMV in person.
The federal compliant identification card requires an office visit to prove your identity (f your name has changed, the DMV says, you must bring in a marriage certificate, divorce decree or court order documents), to prove your New York state residency, to prove your lawful presence in the United States and to prove your Social Security status.
This summer, the DMV is launching a "statewide promotional tour" which will include a social media campaign in order to educate New Yorkers about the new federally-required IDs.
The DMV will be "on-hand at certain events throughout the season to help New Yorkers who want to obtain a REAL ID prepare for their office visit and answer any questions they may have," the department said. DMV staff will also be available at Albany International Airport during peak travel times to provide REAL ID info to travelers, and will expand that to other airports later this year.
The DMV has also created a document guide so residents know what to bring with them when they go to get their New York REAL ID. By answering questions for what ID you hope to get and what ID you currently have, the guide explains everything you need to bring. That can be viewed at https://process.dmv.ny.gov/documentguide.
The cost to get a REAL ID is the same as getting a standard New York State license or non-driver ID, according to the DMV. New York State licenses and non-driver IDs are now marked "Not for Federal Purposes."
DMV officials have also created a video explaining all the differences between a New York REAL ID, Enhanced Driver License and standard state license and non-driver ID. Watch that below, and visit tsa.gov/travel/security-screening/identification for a full list of identification accepted for travel by the TSA. If you would like more information to understand which New York ID is the best fit for you, go to dmv.ny.gov/which-id-right-me.