As kids are heading back to school, it might be tough for most parents to juggle their work life balance in the ways they could over the Summer. With so so much  going on, a lot of things can fall through the cracks. Luckily, healthy meals do not have to be one of them. Peapod by Stop and Shop — America's leading online grocer with over 40 million orders delivered to date — is continuing to expand its meal kit offerings this Fall Season. 
These kits pair fresh ingredients with helpful step by step instructions to make sure that dinner does not have to be an afterthought when you get home from a long day at work. "The Peapod customer is busy, and they come to us because they're looking for a convenient and simplified option for grocery shopping," explained Spencer Baird, senior vice president of merchandising for Peapod in a new press release. "We want to take that a step further by having options to make their lives even easier, and through offering items that simplify the cooking process and provide shortcuts, we're helping them make the most of mealtimes. Customers who shop with Peapod can combine their weekly grocery shopping essentials with convenience cuts and meal kits, equipping them with everything they need to conquer a busy week."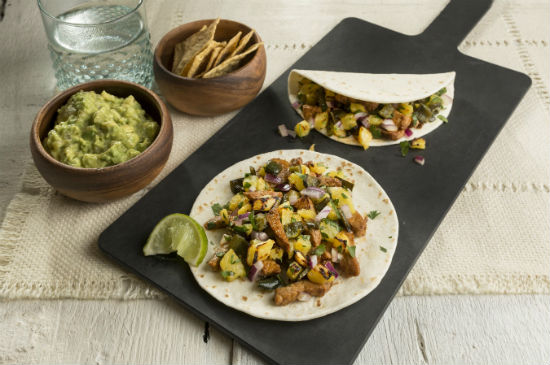 Peapod Meal Kit – Sweet & Savory Pork Tacos by Frontera. Photo: Provided by Peapod. 
While they have been available in the New York and New Jersey area, the most popular meal kits from Peapod have been 1.) zucchini noodles with veggie primavera by Hunt's, 2.) big bowl basil chicken with artichoke hearts & spinach over penne, and 3.) big bowl beef & broccoli with Uncle Ben's jasmine rice.  
These meal kits use some of the best ingredients available through partnerships with companies like Mars Food North America. "Working with Peapod to create meal kits featuring Seeds of Change and Uncle Ben's has been an amazing way for us to introduce our products to new consumers," said Dan Jackson, vice president of marketing for Mars Food North America in a release. "Together we're able to provide recipe inspiration that is convenient, healthy and delivers big on flavor."
Check out this exclusive offer on Peapod meal kits for Metro readers: 
Metro readers can take advantage with an exclusive offer with Peapod of $25 off their first and second orders with free delivery for 60 days. Just enter the code METRO50 during checkout.
DISCLAIMER: $50 off is obtained by getting $ 25 off your first two orders of $100 or more each ( before taxes and after all other coupons and savings are applied). We'll waive your Delivery and Pick-up fee on first order and then on all subsequent orders of $100 or more if placed within 60 days of first order. Valid for first-time residential customers in select zip codes only. Offer excludes alcoholic beverages, gift cards, postage stamps and any other purchases prohibited by law. Offer not transferable. Limit 1 per household. Enter code at first order checkout . Not valid with any other offer. Expires 12/31/2018.