Ever since leaving The Walking Dead, actress Emily Kinney has hit the ground running to reinvent herself as a singer-songwriter. It's a story that has been told over and over. From Michael Jordan temporarily retiring in order to barely eek by in minor league baseball to… whatever Russell Crowe's band was called, those with wrestless and inquisitive artistic aspirations can tend to weave in and out of different mediums. The results are never guaranteed. But what is so astonishing about Emily Kinney is that with the release of her Blue Toothbrush EP back in 2011, she arrived a fully formed and convincing songwriter with a penchant for creating the vivid narratives and character studies of a veteran songwriter. 
Kinney is currently on the road promoting her third full-length album, Oh, Jonathan, and will be playing New York's Public Arts on Oct. 11. We caught up with Kinney while she and her band are on the road to talk about the album, being a musician and if she would ever consider returning to The Walking Dead. 
Emily Kinney talks her new album, touring and The Walking Dead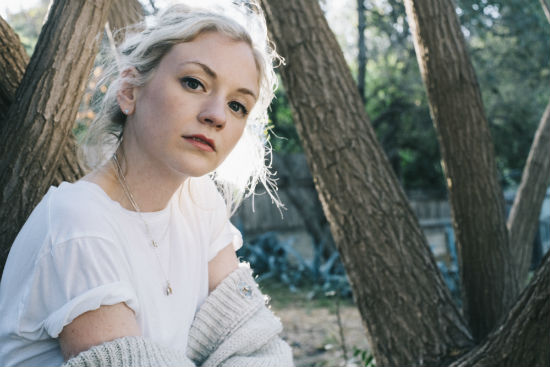 Your new album — Oh, Jonathan —has such huge lush sound that matches your narrative lyric style. Who were some of the artists that you were listening to when you were making the album? 
Emily Kinney: I took a while to write this one and I had been experimenting a lot. I'd say that the artists that really influenced me are this band, and they don't necessarily sound like my music but I was thinking about them a lot, are Frightened Rabbit. They're a Scottish Rock band. Just their lyrics and the way they paint stories and their sounds. They create a world that all of the songs live in. There's some space so that you can really digest the lyrics. Also, Regina Spektor. She's one of my favorite artists. She also is very lyric driven but also is able to create these worlds with the instrumentation that she picks. I would say that those two are the ones who influenced this specific album.
The passing of Frightened Rabbit's singer Scott Hutchison was such a tragic loss. He had a knack for bookending the stories within his songs, which is something that you are very good at as well. 
Emily Kinney: Yeah! Even the style of "Drunk and Lost" [from Oh, Jonathan] I came back to the beginning. I don't know if that was a conscious decision of me saying like "Oh, I'm going to write like the way that he will do that". He doesn't always necessarily always go from like verse, chorus, verse, chorus. But, he'll come back to the beginning point of the song sometimes. He has influenced me a lot and is probably one of my favorite songwriters forever. That was definitely a big influence on me even though we're obviously very different (laughs).
What came first for you: songwriting or performing on stage? 
Emily Kinney: I would say music came first as far as what was the gateway into performing. When I was little I wasn't necessarily into acting at first, I was into learning songs and singing them to my parents. Or sitting in front of the record player and memorizing songs. Singing in general. I used to do a lot of talent shows like the Lions Club or the County Fair. Singing was definitely first as far as me being introduced to performing for people or being onstage. Then as I got older, I kind of gave into that I really liked words and storytelling. I remember watching certain TV shows and being like "oh, that's the thing I've been looking for!" I started to realize that that was a big part of what I was drawn to. Then when I first went to college, I was a music major and then eventually went over to the theater building and changed to a theater major.
When I first moved to New York, I was definitely pursuing acting and I would go to auditions. But then I would go to Rockwood, Pete's Candy Store, and other music clubs to see friends play. I started singing backups for people. Eventually when I was doing Spring Awakening on Broadway, a lot of those actors had music projects and that's what inspired me to do my own music. I should not just be singing back ups. I had a few friends I met in Spring Awakening, in particular this guy Conrad Korsch — who actually produced my first EP. He was someone who was very encouraging and was like "oh, you should definitely record your songs and start performing at Rockwood." Rockwood was one of my first shows. That was all before the Walking Dead. As my acting career grew, that opened me up to much bigger audiences. So I definitely did start to feel some motivation because there was an audience there. At least more people coming to check them out and I should record more of my songs and not just play them live.
A lot of people romantacize the life of the working actress or a touring musician. But with all of the glamour and excitment that goes with each, there is a lot of grueling downtime on set and in the van getting to the next gig. Now that you have been on an actress on Broadway and on a hit show as well as a successful touring musician, has this put things into perspective for you? 
Emily Kinney: I guess the biggest thing that I've learned is figuring out what aspects of each actually makes me really happy. All of those things take a lot of work. I do like being on set. I realized that I really like the work of it. For touring, I like it once we are actually at the venue. I've always really loved the times before the audience gets there when we do the VIP thing and the soundcheck. I don't know why, but that's a really satisfying time for me.
But you know, when you're doing that all of the time, then you kind of long for other things. I always tell people I love going grocery shopping. Because when I'm acting, I'm on set.  Maybe I'm staying in a hotel. I'm not getting to make my own food. So, both are great. Just being home and being able to make your own coffee and going to the grocery store. Getting to actually see your friends and be involved in your friends' lives in a more everyday — or even just weekly — way is actually really special and awesome. I think when you don't have that, you realize how much the everyday normal things are so special. I think having touring or being an actor has made me realize also how much I like my family or my friends and being home.
It was announced this year that Jon Bernthal would be reprising his role in this season of the Walking Dead in a series of flashbacks. Would you ever consider returning to the show if they asked? 
Emily Kinney: I mean… I would love to! I love the show and i'm really proud to be a part of that group of actors. So, yeah! As far as I know right now, I'm not doing it. But, I would be down!
You can catch Emily Kinney at New York's Public Arts on Thursday, October 11th. Click here for tickets and check out her new album Oh, Jonathan below: