News of a Demi Lovato overdose broke just a few weeks after she fired her sober coach — and today marks two months since the incident.
Original reports claimed Lovato overdosed on heroin, but it turned out to be Oxycodone laced with fentanyl. 
Lovato was released from Cedars-Sinai hospital on August 4, and ever since, she's received treatment at an inpatient facility.
The soulful singer has a history of substance abuse, and this is the third time she's publicly sought rehab.
Lovato, 26, was first admitted in 2010 for self-harm, bulimia and addiction. While there, she was diagnosed with bipolar disorder.
"Looking back it makes sense," she told PEOPLE at the time. "There were times when I was so manic, I was writing seven songs in one night and I'd be up until 5:30 in the morning."
Demi Lovato overdose: It could have happened before
Lovato's first round of rehab wasn't enough. In a 2017 YouTube documentary, Simply Complicated, the celeb reveals that she had an "overdose scare" after going on a two-month "bender" post treatment. 
"I wasn't working my program. I wasn't ready to get sober," Lovato admitted in the documentary. "I was sneaking [cocaine] on planes, sneaking it in bathrooms, sneaking it throughout the night—nobody knew."
After struggling to maintain her sobriety, she checked into a Los Angeles sober house sometime in 2012, where she stayed for over a year.
Demi Lovato overdose: She speaks out
Lovato shared a message on social media once she was discharged from the hospital this past summer. It begins: "I have always been transparent about my journey with addiction. What I've learned is that this illness is not something that disappears or fades with time. It is something I must continue to overcome and have not done yet."
She continues on to thank "God," her family, team and hospital staff. She also thanks her fans for helping her "navigate through this difficult time."
Lovato ends the note with: "I now need time to heal and focus on my sobriety and road to recovery. … I look forward to the day where I can say I came out on the other side."
Here's what we know about rehab and recovery post Demi Lovato overdose.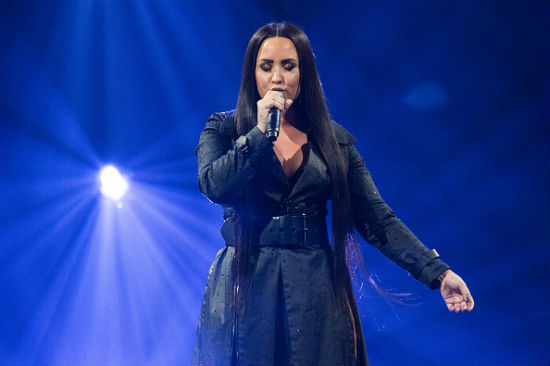 Demi Lovato overdose to treatment: She's in a facility out-of-state
Lovato is currently at a rehab center outside of California that is "world-renowned for its addiction programs," according to TMZ.
The facility, run as a "group program," reportedly offers "intensive, long-term" treatment for drugs and alcohol.
In August, Lovato left for Chicago to see a psychiatrist specializing in mental health, sobriety and "overall wellness." This visit only lasted a few days.
It appears that she's allowed to leave the facility 
TMZ released a photo this morning of Lovato walking outside of her rehab facility, coffee in hand, talking to a passerby.
The outlet also reports that, several times, she's been spotted at a Starbucks in the area with other patients.
Ex Wilmer Valderrama has been visiting Demi Lovato in rehab
Despite the fact that Lovato had been romantically linked to rapper G-Eazy prior to her overdose, it seems that their romance was nothing more than a rumor. Valderrama, Lovato's ex whom she dated for six years, has been visiting her in rehab.
He's been described as her "rock."
Wilmer Valderrama Constantly Visits Demi Lovato in Rehab https://t.co/q4IDYT9UTZ

— TMZ (@TMZ) September 20, 2018
Valderrama, 38, also frequently visited Lovato when she was in the hospital prior to treatment.
"Wilmer and Demi have always shared a strong bond, and Wilmer knows Demi better than anyone," a source told Entertainment Tonight in July. "He's seen her highs and lows, and has always been there for her, and he knows she needs him now more than ever."
Demi Lovato is doing well, according to her mother
Dianna De La Garza, the celeb's mother, told America Talks Live earlier this month of the Demi Lovato overdose: "I just feel like the reason she's alive today is because of the millions of prayers that went up that day when everybody found out what was happening."
"I don't think she would be here if it hadn't been for those prayers and the good doctors at Cedars-Sinai," she continued.
"I can honestly say today that she is doing really well. She's happy, she's healthy," De La Garza concluded about her daughter's condition. "She's working on her sobriety and she's getting the help she needs, and that in itself encourages me about her future and about the future of our family."