Over a decade after its 2006 series finale, Will and Grace got a revival season — its ninth over all — on NBC. And, ahead of the September debut last year, the network locked down a Will and Grace season 10.
The reboot of the iconic sitcom picked up with the hilarious four as if the events of the 2006 finale didn't happen. If you recall, in it, Will and Grace end up parting ways and losing touch for 20 years as they raise children.
In the show's revival, though, Will and his designer best friend Grace are still living together and do not have kids. How? Those details about their falling out and families were all part of Karen's dream — classic.
Things are seemingly unchanged for her and Jack, too. Jack still lives across the hall and is still very much so gay. Karen is still Karen. 
As Vulture relates, she remains "rich, inappropriate, married to Stan, and willing to grab a boob just to get a laugh."
Not to mention, in the premiere of the Will and Grace reboot, when Grace heads over to the Oval Office for a potential design job, she finds a Russian-to-English dictionary in Trump's keepsake box.
Because, as Entertainment Weekly notes, "what else would be in there?" And she leaves a very special hat for Trump that reads, "Make America Gay Again."
In the finale, which aired this past April, Grace's dad, Martin (Robert Klein), proposed to Will's mom, Marilyn (Blythe Danner). Jack and his new flight attendant boyfriend, Estefan (Brian Jordan Alvarez), then followed suit. These quick engagements were precautionary measures because, well, none of them wanted to end up like Will and Grace (AKA, alone and never getting together — after all, Will is gay).
Here's everything we know so far about Will and Grace season 10.
We are officially back in production for @WillAndGrace Season 2 (a.k.a, Season 10). Tonight, we tape our first episode of the season. ?#WillAndGrace pic.twitter.com/kq4bz1GIsn

— Sean Hayes (@SeanHayes) July 18, 2018
Will and Grace season 10 plot news
Debra Messing (Grace) said recently on the Hollywood Foreign Press Association's podcast that fans should expect "big sweeping changes" in Will and Grace season 10. 
"There's going to be all kinds of new things to play with and joke about," she said. According to EW, that means "a wedding, a job change, a divorce and a new love."
"Having two seasons is a really wonderful gift that NBC gave us and we get to relax — well, we're never relaxed — but we get to open ourselves up because we know we're going to be here," creator and executive producer Max Mutchnick told the Hollywood Reporter after the season 9 finale. "We want to try to tell the most interesting stories that we can about these characters."
Will and Grace season 10 cast
The original four — Messing as Grace, Megan Mullally as Karen, Sean Hayes as Jack and Eric McCormick as Will — are back doing what they do best in Will and Grace season 10.
Creator and executive producer David Kohan told THR that Klein and Danner will return as well to play Will and Grace's parents — Alvarez, too, is coming back.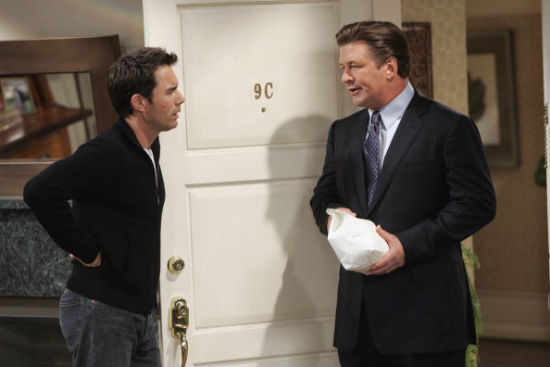 A number of special guests are returning to the show, one of which is Alec Baldwin who continues to play Karen's lover, Malcolm. 
She told Malcolm in the Will and Grace season 9 finale that she was staying with Stan, who was her "home … and the surrounding properties" instead of a "perfect vacation" (Malcolm's the perfect vacation). 
Chelsea Handler will play Donna Zimmer in the upcoming season. According to EW, Donna is a "high-powered client of Grace's, who falls for her bitter sister Janet Adler (Mary McCormack)."
David Schwimmer (AKA, Ross from Friends) will also be in Will and Grace season 10 as Grace's love interest.
Will and Grace season 10 trailer
A Will and Grace season 10 trailer is not available yet, but check back here because we'll be updating this post when one is released.
For now, view the trailer for the first reboot (it'll make you feel all the feels).
Will and Grace season 10 premiere date
Will and Grace season 10 will consist of 18 episodes and will return to NBC on Thursday, October 4 at 9:00 p.m. ET.
The network also picked up Will and Grace season 11 — so there's more where that came from.