Stores that are more than just shelves of stuff is the new trend in retail for everything from ice cream to shoes. Now, the iconic toy brand FAO Schwarz that had been consigned to the great toy chest in the sky in 2015 is back with a new store arriving just in time for holiday shopping season.
The new 20,000-square-foot shop is set to open in Rockefeller Center sometime in November, the Wall Street Journal announced, and yes, it's bringing the original giant piano made famous by Tom Hanks in the movie Big with it. Renderings also show a giant central clock tower with exposed gears throughout the two-story space, hot air balloons and display cases shaped like drums.
Aspiring staffers will have to pass auditions rather than a standard interview because the store is looking for people who can "deliver that sense of theater" in various roles from toy soldiers to magicians, the CEO of FAO Schwarz's new owners ThreeSixty Group Inc. tells the paper. If you're into that kind of thing, get your toy soldier boots polished and your magic tricks — excuse us, illusions — up to snuff by Sept. 8.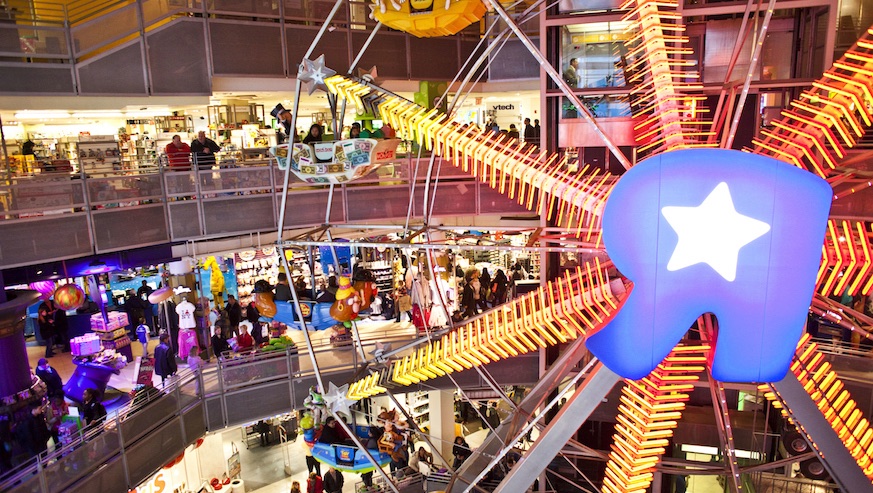 The Times Square flagship of Toys 'R' Us, which used to own FAO Schwarz, before it closed in December 2015. Getty Images
FAO Schwarz and the move to experiential retail
It's unclear whether the new FAO Schwarz store is just opening for the holiday season, as Toys 'R' Us did in Times Square during the 2017 holiday season. That shop also featured Insta-ready displays like giant dinosaurs, and a play area where kids could try out new toys before parents spent hundreds of dollars on what would turn out to be colorful paperweights.
Of course, Toys 'R' us also pioneered experiential retail with the giant Ferris wheel inside its Times Square flagship store, which closed in December 2015. The longtime home and final location of FAO Schwarz at 767 Fifth Ave. closed in July 2015 also had a Breakfast With a Toy Soldier experience, though it was decidedly underwhelming.
If you'd like to play on the big piano but not be paid for it or have to compete with gaggles of children, Manhattan's Pilates on Fifth studio opened by a pair of former Radio City Rockettes has its own Big Piano and holds small group classes where you learn routines on it.