When Italian chocolatier Ferrero announced it was opening an official Nutella Cafe in New York, it could've been a refined affair with a giant old brass espresso machine and traditional pastries. What you actually find inside Nutella Cafe NYC is an amusement park that the hazelnut-cocoa spread built.
"Everything on this menu is built around Nutella, so it's either got Nutella infused, inside, on top, next to it, if you get a fruit fondue, you can dip it in the Nutella," says Rick Fossali, vice president of operations at the cafe, which opens Nov. 14. "It's like you're walking into your own Nutella jar."
He means that literally: Nutella Cafe NYC is designed to look like a jar of Nutella from the outside, with an interior bearing the same refined curves and the classic red and white color scheme of the label. Above you, a river of Nutella flows through the space, with chandeliers in the shape of hazelnut flowers and the requisite made-for-Instagram photo wall at the back. And like any good gift shop, there is silly swag like a "weekly kit" of tiny Nutella jars for breakfast every day and personalized labels that can be printed on the spot.
One thing to clarify: The now-closed Nutella shop inside Eataly Flatiron was not the real deal. Located at 116 University Place near Union Square, Nutella Cafe NYC is only the second Nutella Cafe in the world, the first being in Chicago. They've brought over some of that shop's biggest hits like the Pound Cake Panzanella (yogurt, basil, mixed berries, toasted hazelnuts) and, of course, fresh-made crepes.
"People love crepes," says Fossali with the air of a man who hopes customers will try other things, too. "We try to do a bunch of different experiences for people and not just be hemmed in by waffles or pancakes or a crepe."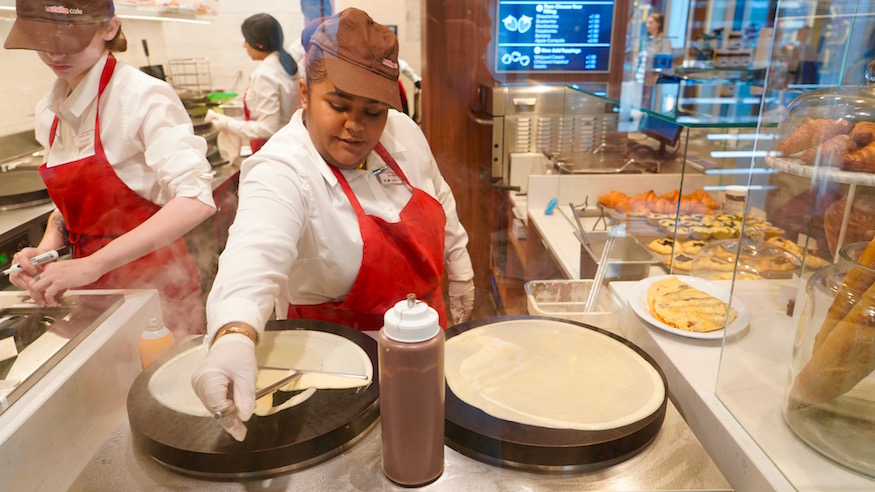 What you should get at Nutella Cafe NYC
The classic Italian way is to slice a baguette open and toast it in a panini press, then spread Nutella on top with a sprinkle of crushed hazelnuts ($6.95) for a melty mess of carbs to go with your bitter espresso in the morning.
Though there's no need to confine yourself to breakfast: Nutella Cafe NYC is open until 9 p.m. during the week and 10 p.m. on Friday and Saturday. But what you'll discover is Nutella is best served either warm or cold, not straight out of the jar.
The can't-miss treat is the latte with a dollop of Nutella-flavored whipped cream ($5.05 regular, $5.75 large), an exquisite experience of contrasts between hot Lavazza coffee and the cool, almost mousse-like Nutella whipped cream on top. It nearly brought a young woman to tears of joy during a preview tasting, a totally justified reaction.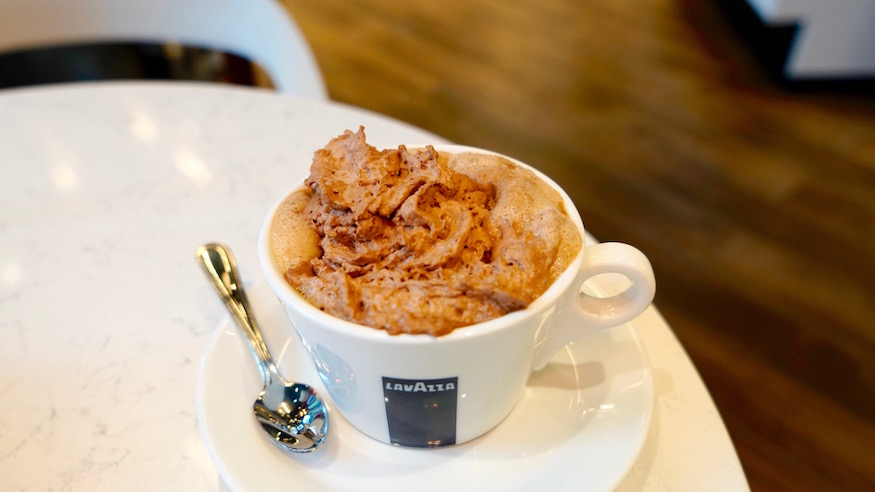 The shop has a gelato counter with the option to add a scoop of rich and dark Nutella gelato or Fior de Latte to anything, from an affogato to a brioche sandwich.
To enjoy it warm, you've got a world of cooked-to-order options with a customizable Spread the Happy menu. "Bases" include croissant French toast and country-style oats, but for decadence with substance the polenta pancakes were as fluffy as buttermilk and much more satisfying. Your choice of fruit and garnish are also included, starting at $8.50.
Besides the photo wall, the back of the shop also houses a demo station where a chef will hold crepe-making workshops to enjoy the platonic ideal of a Nutella treat. "Do we want you to come here, enjoy yourself and buy food and enjoy an espresso? Absolutely," says Fossali. "But we [also] want to teach people how you can make a crepe at home."
Nutella Cafe NYC opens Nov. 14 at noon, and is located at 116 University Place. Hours are Mon-Thurs 7 a.m.-9 p.m., Fri 7 a.m.-10 p.m., Sat. 8 a.m.-10 p.m. and Sun 8 a.m.-9 p.m.