After taking over the internet — which pretty much means ruling the world — cats have arrived to claim the New York City film scene.
We're not sure how this oversight happened, but this December finally brings the first-ever NY Cat Film Festival to Chelsea's SVA Theatre. 
Taking place on Dec. 9, the festival is in response to "countless requests" to Tracie Hotchner, a lover of all pets as founder of the Radio Pet Lady Network and curator of the NY Dog Film Festival, which returns for its third year on Dec. 10.
"For far too long, felines have been the invisible part of the human-animal bond, and it's time to shine the spotlight on these magnificent creatures and the humans devoted to them," according to a press release announcing the festival.
Becoming internet famous has really destroyed cats' reputations as at best indifferent and at worst hell bent on humanity's destruction — revealing them to to be just as silly and loving as dogs.
Last year's "80-minute dopamine rush" of a documentary Kedi, about the cats who run Istanbul, showed how cats hold a community together, while the action-comedy Keanu proved that unlike dogs, cats don't need to rescue themselves — they've got us to do crazy things for them.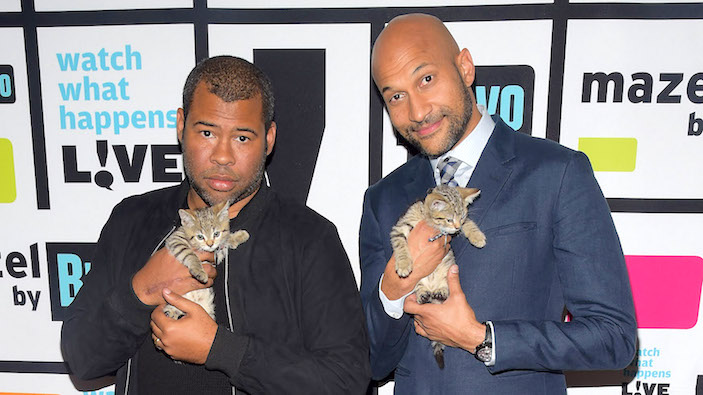 More cat movies means more promotional photos like of Jordan Peele and Keegan-Michael Key for Keanu. Credit: Getty Images
The NY Cat Film Festival focuses more on short films exploring the personal connection between cats and humans, whether their owners or just ones passing by who care about them (sometimes too much.) The short films chosen by Hotchner are meant to create "a shared audience experience that inspires, educates and entertains."
The festival is split into two parts, each just over an hour long.
In Nobody Owns a Cat, you'll meet a professional cat groomer, see how a preschool teacher and her cat spend winter break, and experience a "visual poem" about the life of a cat in Tuscany (oh, that we were all so lucky). The main film is a 56-minute overview of how cats came to live alongside humans — and the ones still living rogue in a California feral colony.
Prepare for some serious waterworks in the festival's second portion, Little Works of Art. (Don't worry, even the sad stories have happy endings when Hotchner is involved!)
There's a filmmaker's personal story about how her devoted cat consoled her through depression, a documentary about the rich life of a disabled cat, what happens to a kitty society when well-meaning "rescuers" interfere, a shy cat who makes exceptions only for a rare few people, and the title film that explores the American Museum of the House Cat in North Carolina. 
Tickets are $15 for each screening, and available now. 
The NY Cat Film Festival takes place Saturday, Dec. 9, at the School for Visual Arts Theatre, 333 W. 23rd St. Each portion of the festival — "Nobody Owns a Cat" (3 p.m., 68 minutes) and Little Works of Art (4:30 p.m., 67 minutes) — requires a separate $15 ticket, a portion of which goes to benefit the NYC Feral Cat Initiative.