Free meals are the ultimate dream. No wonder we appreciate our parents' cooking only after leaving the nest. But what if you could dine out free of charge with zero strings attached? Golden tickets — well, golden checks — are your answer, Charlie Bucket. 
Resy, the hospitality tech company best known by consumers for the namesake reservations app, is kicking off their first ever Golden Check Week on Monday, October 22.
During the seven-day period, 400 golden checks will pop up at select Resy restaurants throughout the city.
If you find one of these Willy Wonka-esque tickets attached to your bill, the meal is on Resy.
This offer ends Sunday, October 28 at 11:59 p.m. ET.
Where can you find these golden checks?
Coming across one of the coveted golden checks won't be as difficult as finding a needle in a haystack, though you'll still have to cast a broad net.
In total, there are about 500 NYC restaurants available for reservation through Resy. The 400 golden checks will be dispersed between 20 of those participating Resy restaurants. 
"The restaurants include a range of neighborhoods, cuisines and styles — some are brand new, some are established and New York favorites," a Resy spokesperson tells Metro. "This is meant to be a fun incentive to try a new restaurant that's on your Hit List, or to revisit a favorite."
Leading up to and through Golden Check Week, Resy will post clues on their Instagram account (@Resy) about which restaurants will be handing out these golden checks.
"The clues are a fun way to zero in on where you might find them," the Resy spokesperson says, "as well as test your own restaurant IQ."
They hint that participating locations may include Misi, Legacy Records and Fausto (emphasis on the may).
The golden checks will pay for up to $200 of food and look something like this: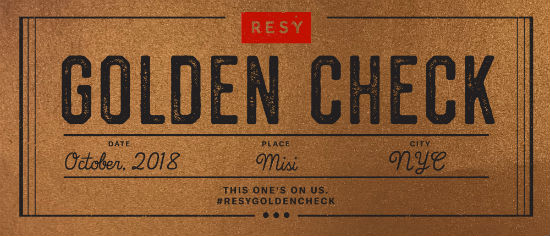 Note: Spending less than $200 shouldn't be too difficult. If you're a lucky recipient of the gold prize and have ordered normal amounts of grub, the bill will be covered. (Just call free meals your middle name.)
Golden Check Week: How to get free meals
To partake in Golden Check Week, make a reservation at participating restaurants from October 22 through October 28 using your Resy account. If you do not have an account, be sure to download the free Resy app or visit Resy.com.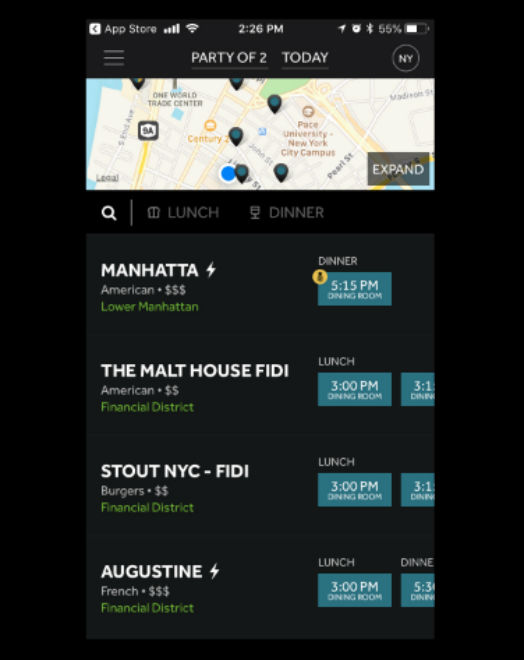 Winners will be chosen at random.
"It is completely up to the restaurant which bills get them, when and how," the spokesperson tells us of the golden checks. "Resy isn't giving the restaurants any restrictions, but Resy is covering the cost of the meals — up to $200 per check."
Also, you can potentially win these free meals more than once if you're lucky.
View the official Golden Check Week rules on blog.resy.com.
"Resy wants to share its obsession with experiencing and discovering great restaurants with its users/diners," the spokesperson says. "Resy believes dining out is all about discovery, and what better to discover when your bill comes than a Golden Check?"
We certainly can't argue with that. Nothing would beat finding golden checks attached to your dinner bill — nothing, of course, except for a winning lotto ticket. Beggars can't be choosers.