In the fifth "Pirates" movie, Geoffrey Rush reprises his long-running character, Captain Barbossa. In the first film, he was the villain. By the third he was a good guy. In the fourth he worked for the king. In "Dead Men Tell No Tales," Barbossa has sold out. He's gone corporate, lording over a fleet of pirate ships that still do pirate-y things.
"The writers keep giving me fascinating new things to do," Rush explains, 65. For the first half of "Dead Men," Barbossa does nothing but sit like a pig in filth, lounging in his moneyed quarters, which now has a wall of shiny gold skulls. "His wealth brings out the vulgarity of his tastes."
Rush is one of only three actors who've been in all five "Pirates" films, including crew member Kevin McNally and, of course, Johnny Depp, once again a hamming it up as unreliable scalawag Captain Sparrow. It reminds Rush of his life before he won his Oscar for 1996's "Shine," before he was a movie star, when he largely worked on the stage.
"I spent a lot of time in the early part of my career in the theater," Rush recalls. "A lot of that time I was in companies, working with the same writers and directors and actors. You don't get that a lot in film. But on a big saga like these five 'Pirates' films, you do get a chance to go back and get to know people."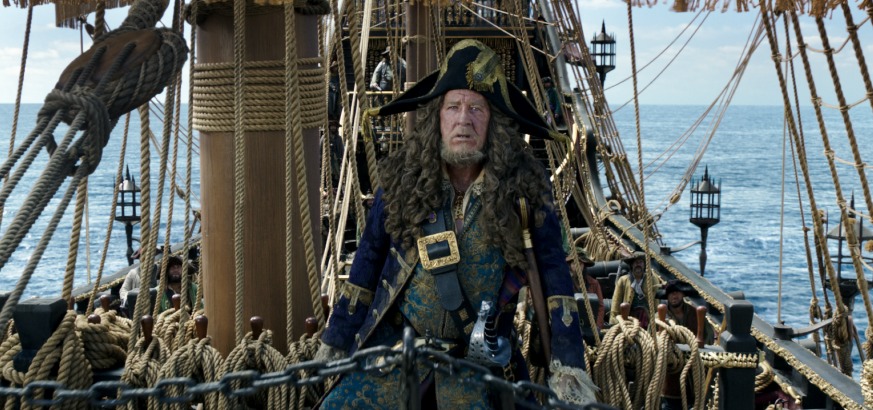 The latest "Pirates" isn't Rush's only high-profile gig right now. His show "Genius," in which he plays Albert Einstein, is currently in the middle of its first season on the National Geographic channel. It arrives at a miserable time for much that he stood for — at a time when leaders and large parts of the public question scientists, when they deny climate change, when people like Michael Gove say we should stop listening to "experts."
"Even as we were shooting it, we could feel the rise of nationalism in certain parts of the world. There were so many strong echoes with what was going on now and the totalitarian states in Europe between the wars," Rush explains.
We need more Einsteins right now, Rush feels. "He was such a wonderful anti-hero to have moving through the landscape of late 19th century scientific and industrial development," Rush says. "It was a thrilling time. The motion picture was invented, the motorcar was invented, they were discovering X-rays, there was Marconi. There was so much scientific development, all leading up to a tumultuous period of two global wars, all within a generation. It feels very relevant."
Not that we don't have our own celebrity scientists today carrying on the good fight.
"There's people like Professor Brian Cox from the U.K. and Neil deGrasse Tyson," he says. "They're creating very popular, no-holds-barred stories about the cosmos. Luckily, people seem genuinely fascinating by them."
Follow Matt Prigge on Twitter @mattprigge