For the first time since ending a dreadful 3-13 campaign that was one of the worst seasons in franchise history, the New York Giants will play a competitive game of football on Thursday night against the Cleveland Browns in Week 1 of the league's preseason slate. 
The exhibition opener will be both teams' first step to prove that they are much improved from last season. 
New York will premiere a new regime as well as some new players. 
Head coach Pat Shurmur will make his coaching debut with the team while general manager Dave Gettleman gets a first glimpse at the new-look squad he helped put together. 
Veteran quarterback Eli Manning will get a new and improved offensive line this year after the acquisitions of Nate Solder, Patrick Omameh and the drafting of Will Hernandez. Not only will the line have to protect the 37-year-old, they'll also have to clear lanes for the team's newest weapon, running back Saquon Barkley, who is expected to electrify the league after being taken second overall in the 2018 draft. 
While wide receiver Odell Beckham has done everything right this offseason in anticipation of a big-time contract extension, whether it's reporting to voluntary practices, minicamp and training camp, don't expect to see the All-Pro on Thursday night as he completes his recovery from a broken ankle that limited his 2017 season to just four games. 
Beckham initially hurt the area last season in a preseason game against the Browns, so it's understandable why the team is practicing extreme caution with him. 
The Browns will also be showing off their marquee draft pick in quarterback Baker Mayfield, who was taken first overall this spring. While he's expected to be the franchise quarterback of the future, he will be taking snaps behind Tyrod Taylor this preseason and likely during the regular season.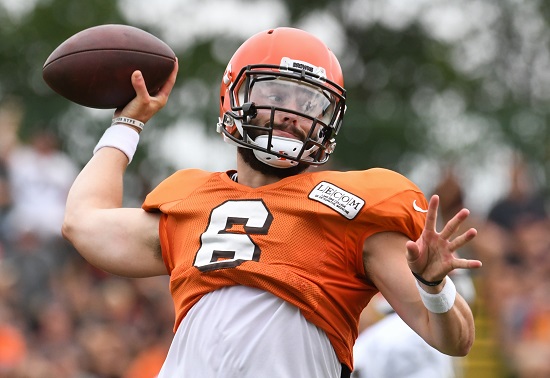 But Cleveland has a much more dangerous offense compared to the collection that went 0-16 last year. Not only did the team revamp the quarterback position, they brought in star wide receiver Jarvis Landry from the Miami Dolphins and running back Carlos Hyde from the San Francisco 49ers. 
Add that with the full return of receiver Josh Gordon and the Browns are trending upwards for the first time in quite some time. 
Here is how you can catch all the action on Thursday night between the Giants and Browns:
Browns vs. Giants viewing information
Date: Thursday, Aug. 9
Time: 7 p.m. ET
TV: NBC, NFL Network
Live Stream: fuboTV