If you're looking for a rum drink on an island in Polynesia, you'd want it to be made by a self-proclaimed tiki pirate. That would be Brian Miller, who's been dreaming of bringing authentic tiki cocktails with the good vibes and easy elegance of Pacific island culture to Midtown Manhattan at The Polynesian.
Dramatic, elegant and steeped in culture, the sprawling indoor-outdoor bar is a tribute to the history of tiki and the islands in a setting made for long, pleasantly hazy evenings and making new friends as you "ooh" together at the parade of showstopper cocktails.
"This bar is gonna be about family," says Miller, with an earnestness rare in any business let alone behind a bar. "It's gonna be about ohana, and everybody coming and celebrating and just having a good time here."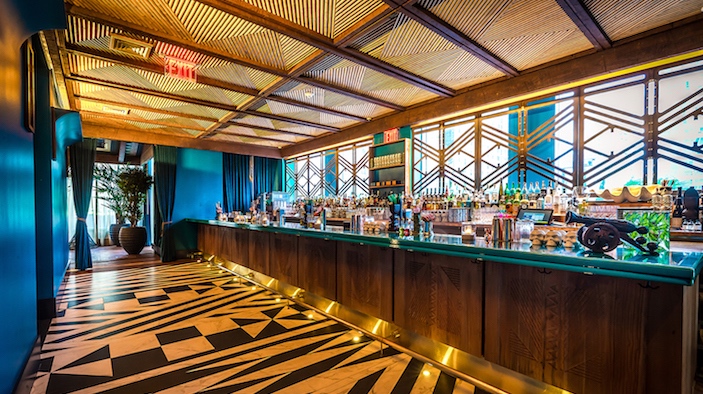 That hospitality begins at the door, where guests are greeted by "aloha" as they enter beneath dramatic bamboo beams and wade through an ocean of turquoise upholstery through the sprawling bar's two main rooms or outdoor terrace. (The private lounge is said to hold the largest collection of rum in the city.) Perched on the third floor of 42nd Street's Pod Hotel, the vibe is less luau and more the secret afterparty that tourists don't get invited to.
The 19 cocktails and four large-format drinks are sweet with dark liquors, fruit purees and coconut cream, strong and dangerously smooth. Pace yourselves or risk tipping overboard.
Though there is table service with a short menu of typical tiki bites like beef sliders and coconut popcorn shrimp, half the fun of The Polynesian is watching your drinks being mixed. The Vaya Con Tiki is a sweet-spicy volcano poured into a generous-sized skull mug that comes with a neat trick: The bartender dips his liquor-coated fingers into a candle to light the little hollowed-out lemon boat sailing on top of your drink. And then there's giant clamshell from which the Exotica Bowl emerges, Venus de Milo-style, amid a sea of dry ice that set the internet's heart fluttering.
The history of tiki began in California, where Don the Beachcomber opened in 1934 and Trader Vic's started the mai tai craze soon after. It's these institutions Miller honors, as well as the state of Hawaii where he lived briefly, with historical and cultural nods throughout the menu. (That said, Captain Barbossa also gets own drink.)
Complementing his flavors is Vanessa Guilford's decor, filled with homages to Polynesia's indigenous art, materials and heritage: screens cut in tribal mask patterns, a bar top of lava stone, teak floors patterned on traditional decorative cloth.
Every detail of The Polynesian is "very personal" to Miller, who's spent more than 20 years making cocktails at prestigious bars like Death & Co. and Pegu Club, all the while talking about the shrine to tiki he'd open one day. "It got to the point actually where [my bartender friends] were like, 'We're gonna start a Kickstarter fund for you to try to get you a bar,'" he recalls.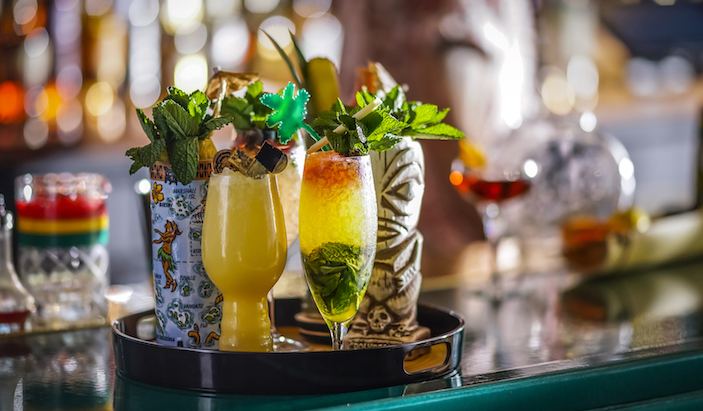 It didn't come to that. The Polynesian is a project of Major Food Group, which has put its upscale-but-approachable spin on Italian food at Carbone, Parisian dishes at Dirty French and the American power lunch at The Pool.
"When [Miller] came to us and started teaching us the art and history of tiki and how incredibly good he was at making tiki drinks, we started to really fall in love with his craft and his passion," says Major Food Group co-founder Jeff Zalaznick (it probably didn't hurt that Miller also imported leis from Hawaii and hired belly dancers for the pitch).
"Tiki is one of the great arts that hasn't been paid attention to for a long time, and that fell into the Major Food Group's spirit of bringing things back to life in a new way."