Bostonians have already seen Yawkey Way transform to a new title because of the namesake's racist past — will Faneuil Hall be next?
Local religious leaders are calling on the city to rename Faneuil Hall, calling the iconic Boston spot an "unfortunately racial symbol."
Members of the New Democracy Coalition, Cooperative Metropolitan Ministries and others gathered at the Sam Adams Park at Faneuil Hall on Friday, June 1 to raise attention around what they call the structure's "negative connection to slavery."
Faneuil Hall was funded by Peter Faneuil, who the Tea Party Museum website describes as a Boston-based merchant, philanthropist and slave trader.
"Faneuil was prominent and garnered wealth in the Triangle Trade; he shipped slaves from Africa to the West Indies and molasses and sugar from the West Indies to the Thirteen Colonies," the website explains. Slavery was legal in Massachusetts until 1783 (Faneuil Hall was built in 1742).
Peter Faneuil donated money to the city after selling an unnamed slave boy for the funds, these religious leaders say.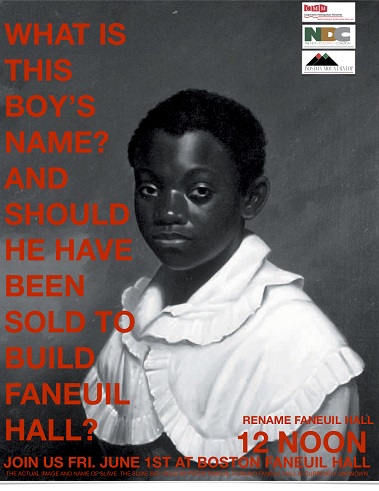 "Our call is clear and has been consistent for more than a year now," said Kevin Peterson, founder of the New Democracy Coalition and a member of Boston Communities United, in a statement. "Faneuil Hall insults the dignity of blacks and all Americans who believe in the civic dignity of all and who want to be availed to our nation's full history — not half truth and prevarications."
These clergy leaders say that they sent a letter to city officials last year calling for a renaming. Now, they plan to send another letter to Mayor Marty Walsh and call for a city hearing on renaming the structure.
"Faneuil Hall, in downtown Boston, stands as a marker of liberty," the letter to Walsh reads. "At the same time it is an historic marker of the city's unfortunate history on race and its treatment of black people. … Changing a name on a building will not change the economic and political conditions that blacks suffer in Boston. It will not change the hearts of men and women who believe that public policy or civil engagement is exclusive. But it will change their spiritual position as equal participants in our democracy."
Before and during the Civil War, Faneuil Hall did become a site of the abolitionist movement, according to the Tea Party Museum. Though Massachusetts had already abolished slavery, abolitionists used Faneuil Hall in the 19th century "as a forum to proclaim the evils of slavery in hopes of achieving the eradication of slavery on a national level."
Faneuil Hall is a historic landmark, meaning any changes would need to be reviewed by the Boston Landmarks Commission and evaluated by the standards and criteria outlined in the commission's Faneuil Hall Study Report.