Tiffany Trump, the youngest and somewhat obscure daughter of President Donald Trump, was a mistake — and one her father wasn't exactly thrilled about.
In recently leaked conversations with shock jock and friend Howard Stern, Trump revealed he believed then-girlfriend Marla Maples was on birth control pills when she suddenly became pregnant. Trump's reply? "Oh, great."
"At the time it was like, 'Excuse me, what happened?'" Trump said in the more than 15 hours of taped conversations from The Howard Stern Show that were released to Newsweek this week.
But it gets worse.
Trump said he then asked Maples, "Well, what are we going to do about this?" To which Marla apparently replied "'Are you serious? It's the most beautiful day of our lives.'"
Trump said he thought Maples was taking birth control at the time and the pregnancy came as a surprise. He talked with Stern about trusting current wife Melania to take birth control despite "falling for" it before.
"You trust Melania to take a pill every day or you check if she does?" Stern asked Trump.
"I trust her in every way," Trump said.
"You know you fell for that one time before," Stern said.
"I did. That happened. She said, 'I think I'm so happy! We're about to have a child.' I said, 'Excuse me?' I didn't know about this," Trump said.
It's no secret that Trump favors first-born daughter Ivanka over Tiffany Trump.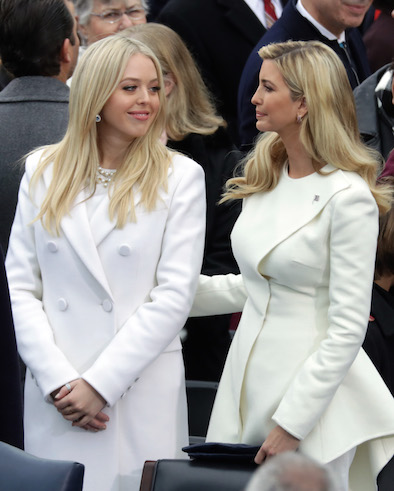 Trump often talks about how proud he is of Ivanka, a hugely successful entrepreneur and businesswoman — she and husband Jared Kushner are worth an estimated $1 billion.
He's said on the air that he's also proud of Tiffany, the 23-year-old first-year law student, but to a "lesser extent."
In the more than 15 hours of taped conversations Trump had with Stern between 1993 and 2016, Trump calls Ivanka "a beautiful girl" and "a great girl" dozens of times. The same kind of affection is conspicuously absent for Tiffany.
But Trump does, at the very least, admit he's glad he and Maples didn't take another route when she became pregnant with Tiffany.
"I'm glad it happened. I have a great little daughter, Tiffany," Trump told Stern in the 2004 interview.
Trump's older children from his first marriage with Ivana Trump didn't always embrace their little sister, either. Ivanka and brother Donald Trump Jr. reportedly tried to cut Tiffany off from her inheritance at one point.