There were a lot of "almosts" in last week's episode of The Handmaid's Tale: Offred almost shot the Commander and Serena. Offred almost planned an escape from Gilead before her water broke. But, if there was one thing she did accomplish in full, it was powering through a natural birth — without meds — all by herself. The Handmaid's Tale series undeniably brought us for a wild ride with season 2 episode 11. The drama has many fans wondering: how many seasons of The Handmaid's Tale will there be?
Though the sophomore season of The Handmaid's Tale only has two more episodes left, Hulu announced back in May that The Handmaid's Tale series is renewed for a third installment.
"We are thrilled to announce today that our Emmy and Golden Globe Award-winning Original Series The Handmaid's Tale will be returning for a third season!" Hulu tweeted of The Handmaid's Tale season 3.
Elizabeth Moss (aka Offred) also Instagrammed a photo confirming the news.
"We're coming for ya' season 3!!!" she wrote.
But is that it? Just how many seasons of The Handmaid's Tale will there be? Turns out, we could be in store for a lot more installments.
How many seasons of The Handmaid's Tale will there be? 
So, how many seasons of The Handmaid's Tale will there be? According to Hulu CEO Randy Freer, maybe up to 10 seasons.
In an interview with Variety last week, Freer said, that The Handmaid's Tale series' "creative process will determine" if there are more seasons to come.
"And I think that's one of the benefits for creators in the streaming world — shows can take a natural progression, they can live for as long as they should live or they can end," Freer continued. "I think it's unfair sometimes in the characterization of broadcast television that we talk about a show's been canceled after four years or seven years, whatever it is… Look, I hope, as success goes, there's 10 seasons of The Handmaid's Tale."
In fact, this isn't the first time executives toyed with the idea of 10 seasons. Showrunner Bruce Miller even told The Hollywood Reporter back in January, "I roughed it out to about 10 seasons when I was first working on it," though he added that they're "not going beyond" the Margaret Atwood's novel on which it's based.
Could The Handmaid's Tale series last for 10 whole seasons?
So, if Freer and Miller had it their way, the series would extend beyond a Handmaid's Tale season 3. But does the Hulu original have enough juice to last for 10 seasons?
Caroline Crampton, co-host of the pop culture podcast SRSLY, told BBC that she was "barely on board with" the second season. 
"I think they've lost the reason why people loved the first series and indeed loved the book — it had this very well-constructed narrative arc," she said. "When it got to the natural ending point of that person's story, it stopped." From a "quality point of view," she doesn't think it makes sense to extend the series.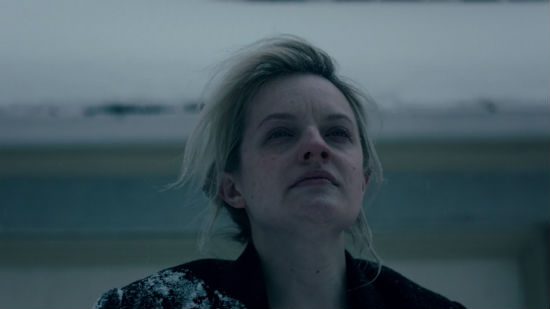 "Why would they do that to us?" one Metro staffer asked. "That's going to put such a toll on my psyche. How much worse can it really get for Offred?"
Atwood told Variety back in April that she believes The Handmaid's Tale has captured audiences the way it has in part because of the Trump administration.
If Hillary Clinton had been elected, "It would have worked as a show, but it wouldn't have worked the same way. Of course not," Atwood said. "You always view these things through the lens of events that have taken place."
The dystopia of Gilead could be personal and seem probable for some viewers — especially with today's heated debate on immigration and border control. If The Handmaid's Tale series continues well past the Trump administration, it's fair to question whether or not its impact would remain.