From Hurricane Maria, which Puerto Rico is still reeling from, to Hurricane Harvey, which devastated Houston, Texas, thousands were affected by tropical storms and hurricanes last year, so what will hurricane season 2018 bring?
It's already that time again. June 1 marks the beginning of hurricane season 2018 in the Atlantic. Until the end of November, there's the chance of powerful storms coming across the ocean to our East Coast.
Hurricane season 2018 predictions
The National Oceanic and Atmospheric Association's Climate Prediction Center is currently forecasting an average hurricane season, with a 75 percent chance that this year's will be "near- or above-normal."
Forecasters are giving this year a 70-percent likelihood of seeing 10 to 16 named storms, with winds of 39 miles per hour. Five to nine of those could become hurricanes with winds of 74 mph or higher, including one to four major hurricanes (category 3, 4 or 5; with winds of 111 mph or higher). They even already have the names lined up.
For comparison, an average hurricane season produces 12 named storms, six of which become hurricanes, including three major hurricanes.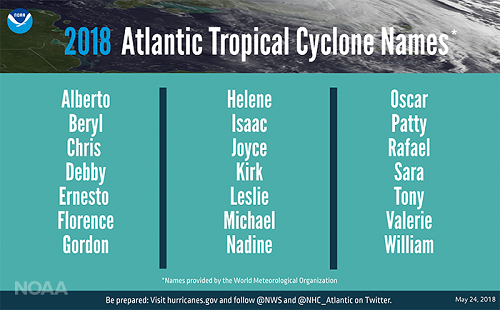 It may seem early to gauge just how many storms will develop in the Atlantic Ocean during the hurricane season, but scientists say forecasting has come a long way.
"With the advances made in hardware and computing over the course of the last year, the ability of NOAA scientists to both predict the path of storms and warn Americans who may find themselves in harm's way is unprecedented," said Secretary of Commerce Wilbur Ross in a statement. "The devastating hurricane season of 2017 demonstrated the necessity for prompt and accurate hurricane forecasts."
Still, these forecasts are just preliminary, and there is some uncertainty. Plus, NOAA predicts only storms that form in the ocean, not how many storms will hit land.
"Hurricane landfalls are largely determined by the weather patterns in place as the hurricane approaches, which are only predictable when the storm is within several days of making landfall," NOAA forecasters say.
Because of this uncertainty, experts are encouraging people to prepare for storms as soon as possible — regardless of the specific hurricane season 2018 outlook. The Federal Emergency Management Agency is pointing people to their online information about hurricane preparedness at fema.gov/disaster/4339/hurricane-preparedness, which has resources on securing your home, evacuation tips and more.