Ice skating in Rockefeller Center always looks like holiday season perfection in the movies. In reality, there probably won't be gentle snowflakes and you'll wait in line long enough for your feet to start hurting before you even cram them into the skates. But that's why, if you look at it the right way, we might have some really good news for you.
Ice skating in Rockefeller Center starts next week. Yes, you read that right: long before the weather dips even into the 50s or you start to crave a mug of hot chocolate. We're talking about even before Starbucks launches any of their peppermint drinks for the winter season. But that's why you should go now. Hear us out.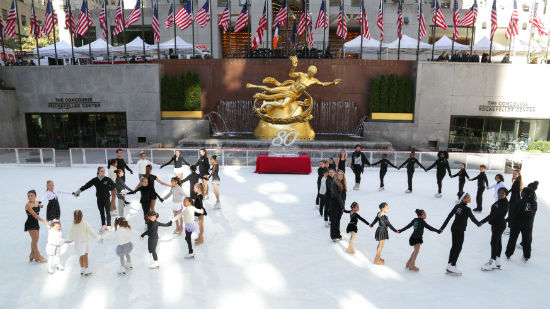 The Rink starts its 81st season on Sunday, October 7 with a soft opening for the public, according to their website, with a formal Grand Opening Ceremony on Wednesday, October 11. But you should add it to your calendar now, mostly because it will be gloriously free of the holiday tourism rush for the month of October.
Ice skating in Rockefeller Center: Admission and best days to go
You'll also save a couple bucks on admission until holiday and peak days hit their schedule. For the record, days with holiday admission costs start as early as Saturday, November 4. Their peak season starts Wednesday, November 22 and doesn't relent any time through until the New Year. Hitting the rink now will save you two bucks per person over holiday admission ($25 on regular days versus $27 for holiday) and a whopping seven per person (and at least an hour waiting in line) over their peak admission ($32).
Check out the full 2017 schedule to plan your visit. That link also includes prices for admission on each of the three types of days as well as the cost associated with renting ice skates, skating lessons and the discounted admission free for children under 11 and seniors.
Once you get a taste of ice skating in Rockefeller Center without the hour-long line, you won't look back. Trust us on this one.