Going to the movies has lost some of its glamour, but not at CMX CineBistro NYC. The luxury dine-in theater chain just opened its first location in the city on the Upper East Side, a modern space that reimages the dinner-and-a-movie experience.
"Our experience centers on sophistication, luxury and pampering," says Fred Meyers, vice president of operations for CMX. "We think about everything that people experience when they go to a traditional theater, and we try to make it the opposite: stress-free, an escape from crowds and the boisterousness of a typical multiplex."
Because of that, the focus is on service and hospitality catered especially for the grown-up date night crowd — no one under age 21 is allowed into showings after 6 p.m. In fact, there are a lot of rules at CMX CineBistro NYC, and movie fans will love them all.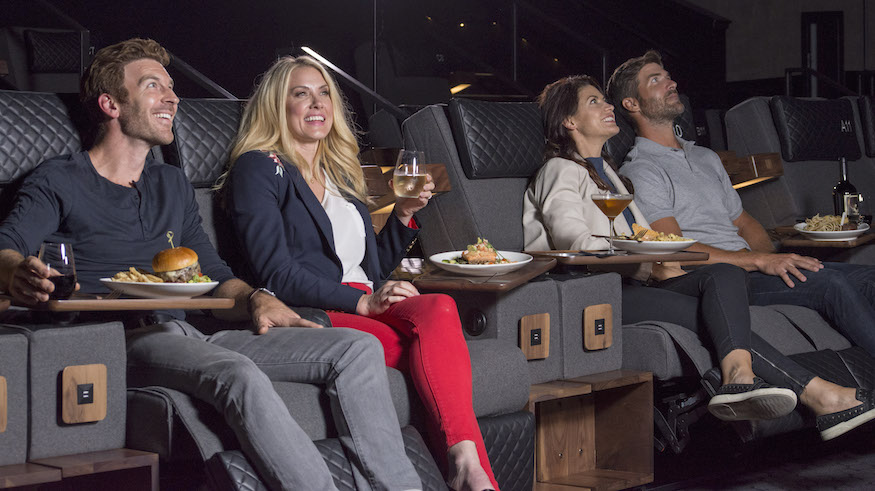 Here's what a night at CMX CineBistro NYC is like
CMX CineBistro spent a year and a half converting the former Clearview Cinema at 400 E. 62nd St., creating a five-story theater with six screens and two full bars. Their theaters are known for being customized to their locations, and for New York the company went with a modern interior that still manages to feel warm and intimate.
"We tried to preserve as much of the building as possible," which has been a movie theater since the 1990s, says Meyers. "That's probably the best way to pay homage to New York."
The theater's large leather chairs recline with footrests, and are built as loveseats where the center armrest can be folded up. Each person has their own table, which can be swiveled away after they're done eating, leaving a ton of armrest space. Speaking of space, there's a ton of legroom in every aisle and plenty of air between you and the next couple over — though the theater does enforce a zero-tolerance policy on cellphone use and talking.
As for that all-important movie experience, CMX CineBistro theaters have 46-64 seats and Dolby 7.1 sound systems, with showtimes from noon to midnight. Movies will be primarily new mainstream films, with one screen dedicated to arthouse and independent films. Tickets are $17 for all matinees and evening shows Monday through Thursday. On Friday through Sunday nights, evening tickets are $25.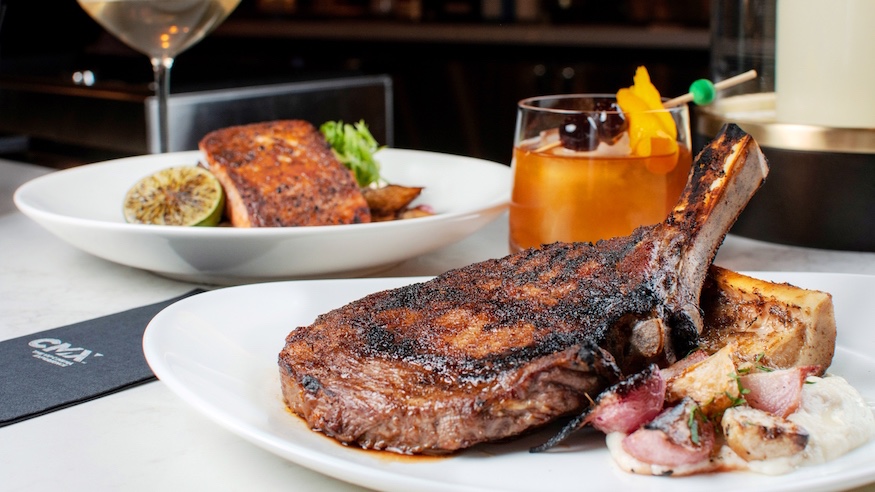 Here's the menu — arrive early to enjoy it
The menu is described as American bistro — "as our chef likes to say, that means he gets to play and have fun" — spanning a ribeye steak and pastas to Korean-style cauliflower, Mexican duck machaca, lobster cannoli, chicken and churros, salads and burgers, including a vegetarian option made with a lentil-based patty. There are daily food and cocktail specials, and servers will even provide wine pairing suggestions, just as in a regular restaurant.
"Everything is made in house right down to the whipped cream on our desserts," says Meyers. "We're focused on a white tablecloth-quality culinary experience. It's not your typical finger food, it's more refined dining."
If you want to enjoy the food and drinks in your seat, you'll want to arrive before showtime. Ticket holders are asked to be at CineBistro half an hour before their movie starts, when the screening room opens and you're escorted to your seats (which are chosen when you buy your ticket). 
Unlike the similarly upscale iPic theater in the Seaport District or Alamo Drafthouse in Brooklyn, both of which allow ordering throughout the movie, CineBistro asks guests to order their food and drinks during this half-hour window and aims to have everything delivered to their seats and the check settled before the opening credits roll.
"Late" arrivals will have to place their order personally at one of the bars and receive a pager that will vibrate when their food and drinks are ready, which they'll have to then carry back to their seats on a tray. 
"All that is done for one simple reason: That we don't want to interrupt the movie experience with service," says Meyers. "We really do value the movie experience for our guests."