It's that time in August when summer feels like it's exhaling all at once — despite the fact that fall doesn't officially start until the end of next month. Students are making their way back to the campuses they left behind. They come bearing textbooks and tales of summer internships, ready to open their minds, cans of liquid courage and the trusty Tinder app.
In a survey conducted by LendEDU last year, 72 percent of college students said they used the Tinder app at one point or another. And, according to data collected by the dating service between August 15, 2017 and May 15, 2018 from students aged 18 to 23 attending accredited schools, Columbia University was the most right-swiped university of them all.
Next on the list came the University of Massachusetts Amherst, then the University of Southern California.
To make meeting potential suitors on campus — or at rival colleges — easier, the Tinder app has launched a new feature called Tinder U just in time for the upcoming semester. 
When you sign up for Tinder U using a verified university email (ending in .edu), you'll get a new skin over your profile that represents your school. You'll see students first when you're swiping.
Sound like a good deal?
Tinder U is available for iOS devices and accessible to students in both undergrad and grad programs at "four-year, accredited, not-for-profit schools in the U.S. that deliver courses in a traditional face-to-face learning format," a Tinder App representative tells Metro.
Students are able to toggle Tinder U on and off at any time, so you can still see people in your radius who may not be attending nearby colleges. 
In this way, signing up for Tinder U isn't binding — it's simply a convenient add-on meant to make students' dating lives less complicated (at least the initial act of sorting through the virtual haystack for those few gleaming needles). 
The Tinder app representative gave us a scenario:
"If I am a student at Muhlenberg College in Allentown, PA, I may see students from Muhlenberg, Lehigh or Lafayette when swiping. When I go home to North Jersey, I can still swipe using Tinder U to connect with students at Rutgers, NYU or Columbia (all within my radius)."
How to use the Tinder U feature on the Tinder app
Here's how Tinder U works via their instructions:
1. Log in to Tinder once you're on campus and enter your .edu email address
2. Check your email and click the verification button
3. Swipe as usual using Tinder U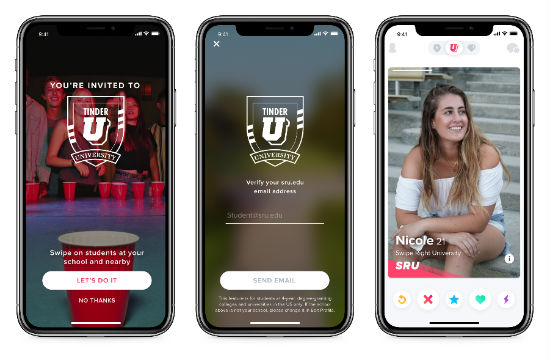 When asked if there were any specific precautions the company is making to verify that Tinder App users utilizing Tinder U are undergrad and grad students — given that faculty and staff members, in many cases, also have .edu emails — the representative says, "We've taken this potential use case into consideration and, while we don't want to tip off any would-be offenders, we are always implementing new measures to be sure that the Tinder U experience is optimized for current students."
Get those Tinder-swiping thumbs ready. Oh, and welcome back to school.