Whoa, whoa, who, buddy. If you let go of my shirt for ten seconds and give me the chance to answer your question, maybe I can explain. Phew, thank you. Okay. So, is the Conjuring on Netflix you ask?
What is the Conjuring about?
James Wan turned the horror movie industry on it's head with his 2013 film starring Patrick Wilson and Vera Farmiga as Ed and Lorraine Warren, the real-life paranormal investigators who uncovered the terrifying haunting of the Perron family home back in Rhode Island in 1970.  It went on to become a surprise hit upon it's release making $319.5 million around the globe and spawned a so-so sequel — and even a Conjuring 3 in the works for 2020 — and sidestorys that further expanded the scope of the Warrens carreers as ghost crisis interventionalists.
If you think about the time that the Conjuring came out, we were deep in the throws of Paranormal Activity-style found-footage films and Wan's finally entry into the only orinal franchise — The Saw films —had been released three years prior. It was safe to say, that horror fans were clamouring for a shake up in the big-budget blockbusters that were being released in theaters. 
Okay… Okay… I'm sorry. I got side tracked for a second. What was your question again? 
Is the Conjuring on Netflix?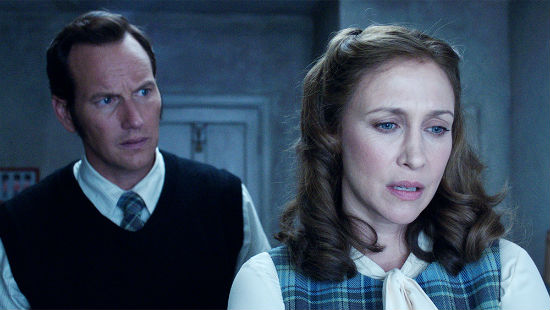 That's right! Is the Conjuring on Netflix? you ask. Well, lucky for you, the Conjuring is indeed on Netflix! So, send out that long email chain, cook up a bubbling crock of french onion dip, and enjoy one of the best horror movies of the past decade. 
But once you've finished the film, you'll probably have the urge to watch the second film. While it is ill-advised, you can fire up the old Hulu interface and watch The Conjuring 2 in it's censored and most "suitable-for-TNT" form. 
So, is the Conjuring on Netflix? Yes, it is. Can I go now?