The Cleveland Browns are finished with Josh Gordon, the team announcing on Saturday that they will release the wide receiver on Monday after six-plus seasons together. 
It's an unceremonious end to a tumultuous relationship that saw Gordon constantly sabotage a once-promising career. 
He led the league in receiving yards in 2013 as a 22-year-old to offer a glimmer of hope to one of the most inept franchises in sports. But the now 27-year-old has constantly run into off-field issues that revolve around drug and alcohol problems. 
Playing in just 10 games since the start of the 2014 season, which included a year-long suspension, Gordon looked to be turning over a new leaf as he entered rehab during the offseason. He even appeared in the Browns' opening game of the 2018 season, recording a 17-yard touchdown reception in the process. 
According to NFL.com's Ian Rapoport though, Gordon wasn't released due to a drug or alcohol relapse. Instead, it was because of tardiness and a mysterious hamstring injury picked up at the team's photo shoot.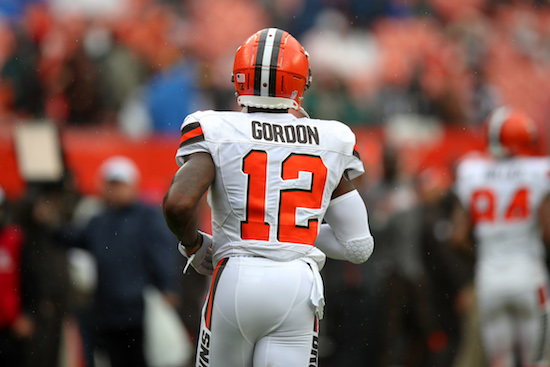 While the Browns stated their intentions of releasing Gordon, there is a good chance that he could be traded before Monday. There are some teams who could use an upgrade at the wide receiver position, though it will come with a risk. 
Here are some who could be involved. 
Josh Gordon trade rumors: San Francisco 49ers, Dallas Cowboys
The 49ers have been linked to Josh Gordon in the past. Prior to the 2014 season, the Browns and Niners were close to completing a trade for the receiver. However, Browns owner Jimmy Haslam vetoed the deal in the final moments. 
Rapoport reported Gordon is interested in joining either the 49ers or the Dallas Cowboys. 
Both teams could use a premier talent like Gordon's to help out their young quarterbacks. 
In San Francisco, Jimmy Garoppolo is currently without his No. 1 receiver as Marquise Goodwin is injured. Veteran Pierre Garcon can't carry the 49ers' aerial attack on his own. 
For the Cowboys, the puzzling decision to release Dez Bryant over the offseason looks more and more confusing considering Jerry Jones has not acquired any sort of replacement for Dak Prescott. 
Allen Hurns, Terrance Williams and Cole Beasley didn't do much to settle nerves in Dallas after a rough showing against the Carolina Panthers in Week 1. 
Josh Gordon trade rumors: New England Patriots
Tom Brady is the kind of quarterback that is going to make any player around him better. Still, a wide-receiving corps of Chris Hogan, Cordarrelle Patterson and Phillip Dorsett has left something to be desired in New England leading up to the regular season. 
They were linked to the former Cowboy Bryant but were not able to get anything done. Rapoport noted that the Patriots are still in the market for a wide receiver and have reached out to Kenny Britt. Gordon though provides a much more promising option even if it carries the risk of off-field issues. 
If there is any organization to get him in line though, it's the Bill Belichick-led Patriots.