One name you probably never expected to see on Broadway is King Kong, yet there it is, up in lights at the Broadway Theatre — and starring in a musical, no less.
It's been a journey of five years to bring him to New York after a brief run in Australia, a combination of logistics — very few Broadway theaters can house the 20-foot marionette — and creative tweaks. Playwright Jack Thorne of Harry Potter and the Cursed Child acclaim was brought in for the script, with new songs by Eddie Perfect (Beetlejuice) and at the helm, Olivier Award-winning choreographer Drew McOnie.
"People come to the show expecting the scale and the adventure," says McOnie, who does double duty as the $35 million production's director, "but the surprising thing about our story is the emotional arc."
Besides its outsize star — read all about him here — the entire production is something of an unusual beast. We talked to McOnie about why King Kong on Broadway is nothing like you expect.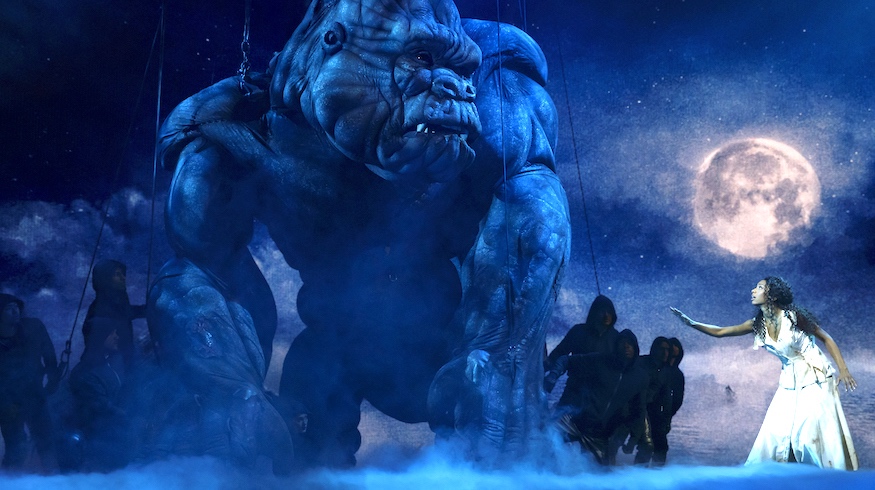 Making King Kong the star of his own story
In all the previous adaptations of Merian C. Cooper's classic 1933 movie that introduced King Kong, the central character wasn't the giant gorilla. Instead, it was Carl Denham, the fame-hungry director who leads an expedition to Skull Island, where his aspiring lead actress Ann Darrow helps capture Kong to be taken to New York to star in a show.
"It was a story about his ambition," says McOnie. "Kong and indeed Ann [were] two creatures that essentially got in the way of Carl's ambition, and the end of the story is always 'the beauty killed the beast,' it's Carl passing the blame and not taking any responsibility for his own ambition.
"With our production of King Kong, the story's very much centered around the relationship between a beast and a woman. It's a story about shared ambition."
Unlike the huge, violent monster that Kong has become in the movies, "the surprising thing about our Kong is his emotional and heartful performance. It's much more about an empathy of the other and what the fear of the dark can do to us."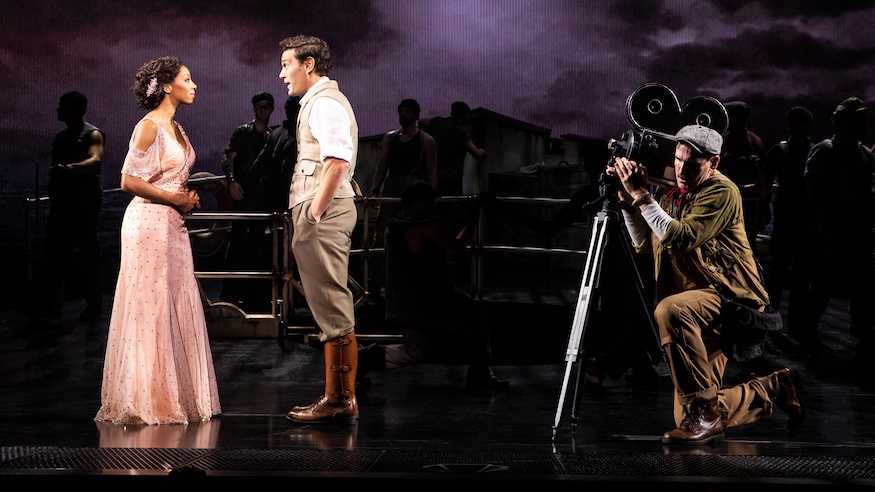 How King Kong on Broadway is show for our modern era
Though the story remains set in the 1930s, the team made "small but significant" changes to it. King Kong has been accused of having racist undertones — it's not difficult to see the giant ape as an allegory of an enslaved African — as well as sexist ones, with Kong representing "brutish male sexuality."
"It's a story that for a long time has completely misrepresented women, people of color and people of other cultures," says McOnie. Taking King Kong from a mindless brute to a thoughtful creature was a major step toward overcoming the cultural climate in which he was created.
"The surprising thing about our story is hopefully an element of representation. It's a story about people who are considered other, other communities and other cultures, and how simple acts of empathy and trust that are very much needed between those communities can lead to sense of wonder, serenity and equality."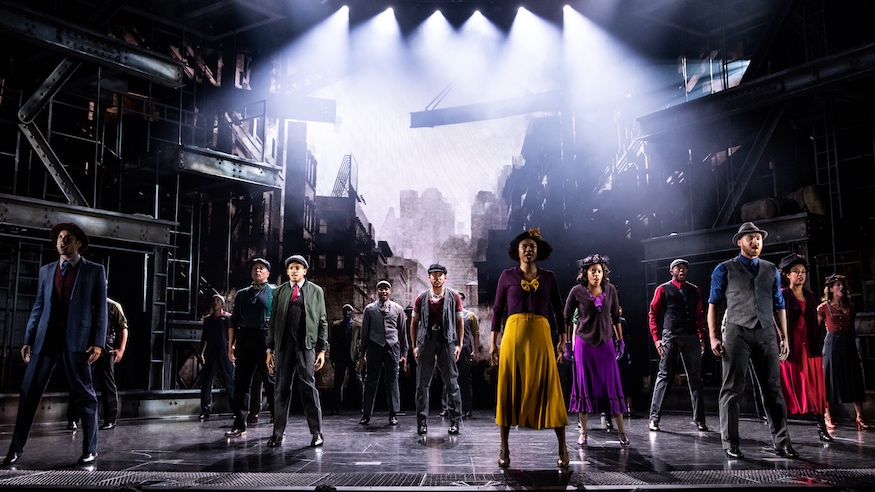 In addition, King Kong on Broadway gives more agency to Ann Darrow, played by Christiani Pitts — not coincidentally, an actress of color. Darrow comes from a small town and finds herself manipulated by the filmmaker Denham and compromising her values for fame. "This is a woman who is actually dealing with her power through the piece," says McOnie.
Thorne's book of the show was completed two and a half years ago, yet feels entirely modern in the era of #MeToo.
"There's a scene in the show that deals with a male producer kind of really keeping a young, strong woman under his thumb," he says. "This is a scene that was written years before the Harvey Weinstein situation, and now it feels like it's hitting New York at a time when these issues are really ready to be talked about."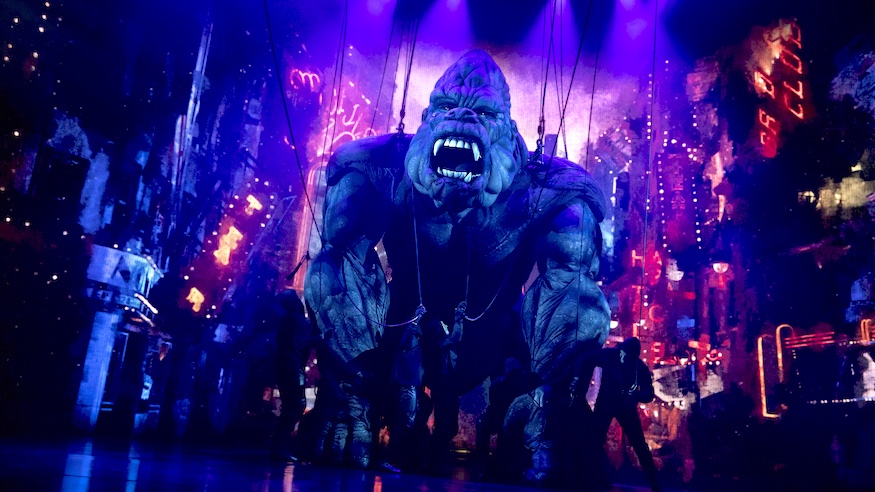 The challenge of a larger-than-life star
As stunning as King Kong is, he also takes up a lot of space that would ordinarily be filled with sets and scenery. This makes the set of the musical relatively sparse, made up for by stunning projection design by Peter England and McOnie building "entire landscapes out of bodies" through choreography. "All good creativity sparks out of problem-solving," he says.
It's not a traditional musical
King Kong certainly has some classic musical elements including choreographed dancing, ensemble and solo songs, and puppetry is itself a form of theater. But the show also has Hollywood-worthy action sequences, scenes more suited to a serious play, a haunting score by Marius de Vries, and one completely unforgettable moment created just for the audience. "It weaves together in a way that hasn't been set against the traditional musical theater format," says McOnie.
King Kong opens Nov. 8 at the Broadway Theatre, 1681 Broadway. Tickets are $69-$175 through telecharge.com or by phone at 212-239-6200; kingkongbroadway.com