Stepping into an Indian restaurant is always an experience, anything from regal elegance to constant party: lush curtains, strings of lights, bhangra music, elaborate decorations, plush cushions. But the lives of the often Bangladeshi chefs and staff couldn't be more different, a contrast explored in Knights of the Raj, opening July 20 at Brooklyn's Museum of Food and Drink.
"It isn't a nice, fluffy story of East meets West — it has some kick to it," says Mohammed Ali, also known as Aerosol Ali, a renown muralist and performing artist whose Bangladeshi father immigrated to the U.K. and helped start the country's curry craze in the 1950s. "This is more than just another story of how a cuisine came to this country; this is deeply personal."
Knights of the Raj explores the history of early Bangladeshis who established restaurants in New York in the early 1900s up to the present. Ali recreated the East Village's famous Milon Restaurant in the front room of MOFAD, where just 10 people at a time will enjoy a three-course meal of authentic Bangladeshi dishes and British-style curries.
There's even a recipe from Ali's mother: "We Facetimed her in, and she spent two hours showing the MOFAD head chef how to make it. It's a dish that's so authentically home food, you won't even get it in Jackson Heights or anywhere else." (The tasting menu is a nighttime event; daytime tickets featuring a single dish are also available.)
As part of the upcoming @knightsoftheraj arts installation, a fantastic cross-cultural cuisine exchange as @mofad chef John recreates a traditional bangladeshi Shrimp & pumpkin curry from my mother taught over live video – from Birmingham to New York. pic.twitter.com/CSlJ5cs8FF

— Mohammed Ali (@aerosolali) July 11, 2018
Then, the exhibit shifts: visitors step into the recreated modest bedroom — all of it, including the teetering filing cabinet acting as a dresser, shared with two roommates — of Queens street food legend Baul Dada, who at 89 years old still serves a savory snack called jhal muri from his Jackson Heights cart. "I wanted his furniture not to say, 'Look how depressing this environment is,' but rather as a respectful tribute," he explains.  
Throughout are photos of restaurant and home life donated to the exhibit by some of New York's 30,000 Bangladeshi immigrants.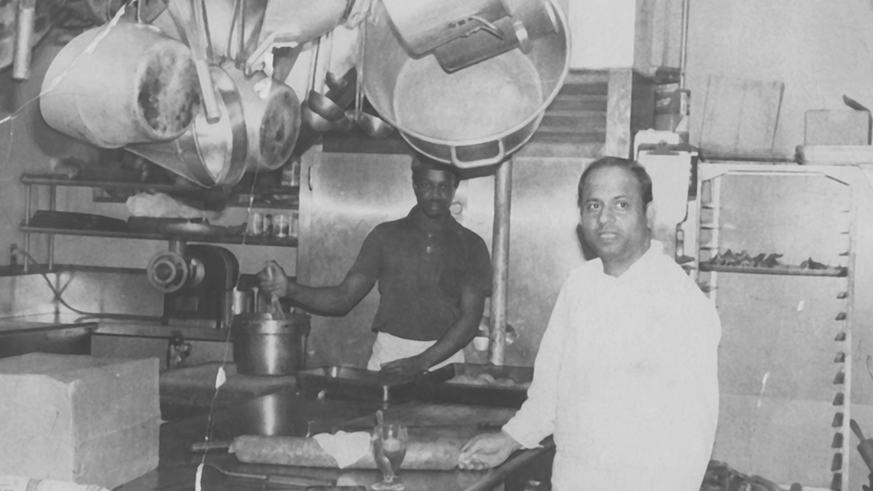 Abdul Khalique in the kitchen of the Washington Hotel in 1940. Courtesy of the family of Abdul Khalique
The history of curry
Ali, 40, was born in the U.K., the son of a Bangladeshi immigrant. Like many children of first-generation immigrants, he strived to fit into his new homeland and shunned the one his father left behind. He went on to become a world-renowned artist and a member of the Order of the British Empire, but eventually realized, "You can run all you like from your culture, from your ethnic heritage, but one day it's going to catch up with you and stare you in the face and ask you, 'Who are you? Where are you from?"
So when his father died 10 years ago, he started asking these questions, which would give shape to the first Knights of the Raj focusing on the Bangladeshi community of his hometown, Birmingham. Unlike most foreign food — or the less kind ways middle schoolers describe whatever isn't the typical brown bag lunch — Indian curry was an instant hit in Britain. Ali's father had been among the restaurant owners in the 1950s who helped make chicken tikka masala the national dish.
"Our communities some extent suffer from these insecurities about, 'We're selling curry.' I certainly did, it wasn't something I could hold my head up high and say, 'My dad sells curry for a living,'" he says. "But actually now, my realization after the passing of my father is that we transformed a whole nation's cuisine — for God's sake, this is something to be proud of and celebrate!"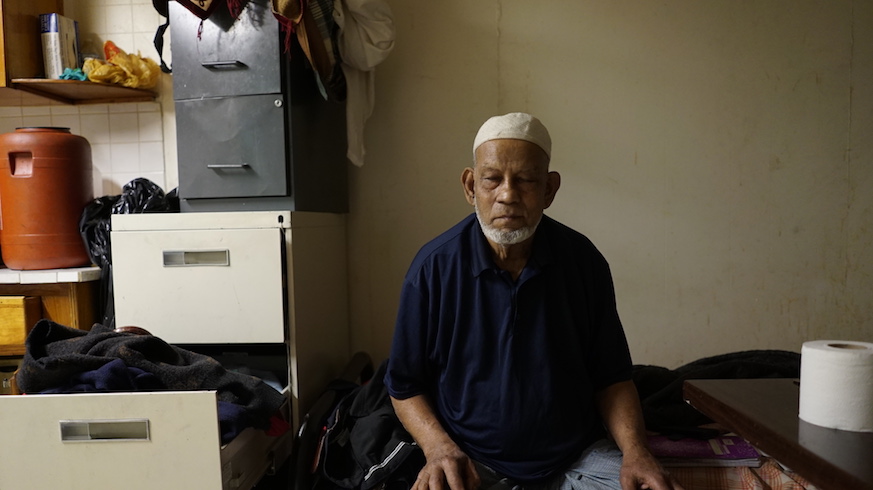 Baul Dada in his modest bedroom — shared with two roommates — which is recreated in the exhibit. Soul City Arts
The New York story
In New York, he spent six months searching for stories through the restaurants of Curry Row to Jackson Heights and Parkchester in the Bronx.
Bangladeshi immigrants' struggles in America didn't start when they arrived, which first happened shortly after the Civil War. Like the Chinese in California, they were not among the desired kind of new Americans, and often snuck off their ships to avoid being turned away by authorities, sometimes even jumping overboard to swim ashore. "I believe it's the lie of the century that migrants are these people who landed out of nowhere, rather than established communities that go back long before even their own communities are aware of," says Ali.
The migrants were mostly men who hadn't cooked at home, and started out as busboys and dishwashers mostly in Jewish restaurants before opening their own shops or carts. That many like Baul Dada remain poor is not because they aren't successful, but because the money they make is sent back home to support their families.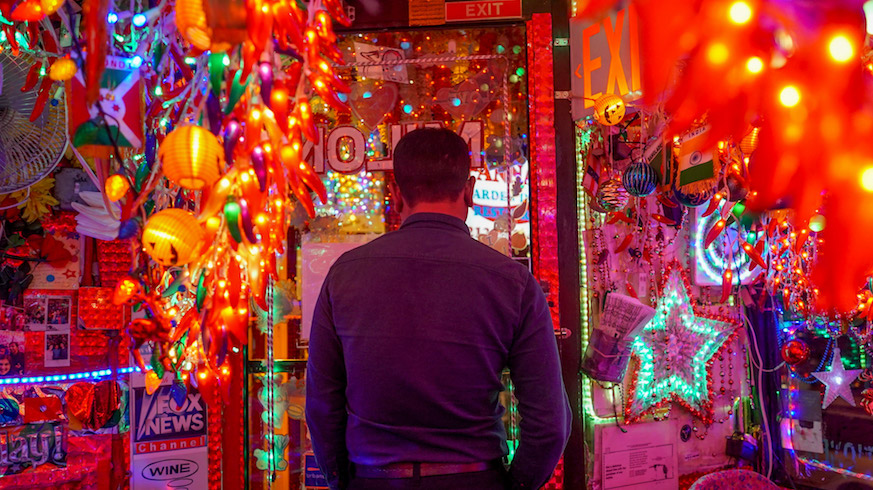 The Milon Restaurant on Curry Row, which was recreated for MOFAD's Knights of the Raj. Richard Baddeley, Soul City Arts
Who are the Knights of the Raj?
These struggles are also usually invisible to their children, who have the luxury of pursuing their own dreams. This usually involves leaving behind what their parents built and making their own way. This is good, parents tell Ali — a restaurant wasn't their dream, and it shouldn't be their children's either.
But it also leads to kids not knowing their heritage. "I was interviewing a father and his son was there, who is 34, and he was listening at a door and said, 'I had no idea what my father had to go through, the abuse he experienced,'" recalls Ali. "So in some ways I'm an artist/therapist — people are crying and I'm consoling them."
There's even a happy ending for Baul Dada: Instead of buying him new furniture, Ali has donated the money to a crowdfunding campaign to help him retire and return home.
The name of the exhibit is part cliche — that bright restaurant facade we all know — and part tribute to the real people behind it. "Knights of the Raj — it almost sounds like another old-fashioned restaurant like Bombay Palace," says Ali. "But what I wanted to say with the 'knights' were these people on the battlefield of New York or London, we're talking about soldiers, people who fought — certainly physically at times — to establish themselves."
Knights of the Raj runs from July 20-Aug. 5 at the Museum of Food and Drink (MOFAD) at , Brooklyn. The exhibit is included in regular museum admission ($14); the immersive nighttime experience is $30. mofad.org