YouTube stars Liza Koshy and David Dobrik shocked fans when they announced their break-up on Monday. According to The Sun, they were dubbed the "Posh and Becks" of the YouTube sphere (that's social media slang for Victoria and David Beckham), and they made their split public the only way they knew how: on their channels.
In a six-minute video full of emotion and humor, the two revealed they'd actually broken up half a year ago, but they needed time to work through their sadness before telling fans.
"All jokes aside, Liza broke up with me six months ago," Dobrik said in the June 4 vlog, later on adding, "Liza broke up with me because she felt like we've been distant because we've been so busy. As much as I hate to admit it, I was feeling it on my side too…"
Koshy hinted that she had some personal "stuff" to sort through before they considered re-entering each other's lives as anything more than friends. 
"She's the best girl ever … I always say this to people: I know online Liza seems like she's a really nice girl," Dobrik said to the camera, "but if you get to know her, it's so weird because it's the exact same thing. Like, there is not a bad bone in her body, which is why it's not fair that she feels not the best sometimes."
Ultimately, they've remained close — and by the looks of it, they still get along great. As Dobrik stated, "you never know what could happen." But now, they said, is not the time for them to be together.
Here's everything to know about Liza Koshy and David Dobrik.
Liza Koshy and David Dobrik dated for three years
Koshy, 22, and Dobrik, 21, started seeing each other back in 2015.
In an interview with Seventeen Magazine, Dobrik said they met at a Hollywood party and "bonded over the fact that we couldn't drink because we were underage."
They've made frequent appearances on each other's YouTube channels, documenting their funny, memorable, undeniably cute adventures.
A source close to Dobrik told HollywoodLife, "He had big dreams for his life with Liza and now that they have split, that is all in jeopardy. He mentioned in a podcast just last year that he wanted to have kids with Liza. He is not giving up hope of a family with her one day too."
Until then, here's a look back at one of their hilarious videos together:
And this gem, too:
They both got their start on Vine
Back when Vine was still around (pre-2016 termination), Koshy and Dobrik's comedic videos garnered them a huge fan base.
According to Heavy.com, Dobrik's Vine following amounted to over 1.3 million and Koshy's totalled to more than five million.
Liza Koshy and David Dobrik have over 27 million subscribers total
Dobrik's YouTube channel has over seven million subscribers, and the sum from Koshy's channels (because she has two) is 20 million-plus.
Koshy is also an actress, starring in the 2016 Hulu high school horror series Freakish. In an interview about the show, she said that it goes from being light-hearted to "freakier and more intense," taking a "huge tonal shift." 
Koshy, whose net worth is believed to be around $4 million, started a clothing line as well.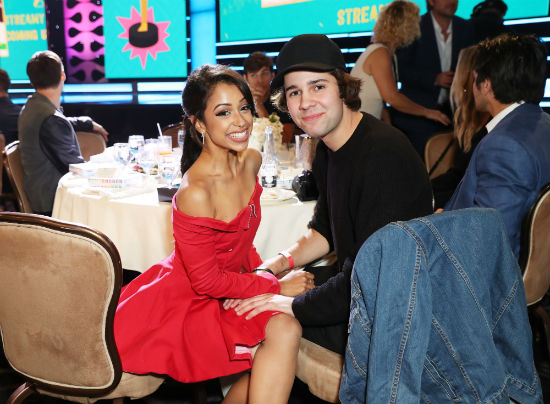 Fans wanted them to get married to avoid Dobrik's potential deportation
Once Trump ended DACA in 2017, Dobrik, an immigrant from Slovakia, announced that he could be at risk of deportation — he even reportedly opted out of VidCon for fear that he wouldn't be allowed back into the U.S.
"I paid $400,000 in taxes last year and all I got was a free trip back to Slovakia," he tweeted. And, when fans urged him to propose to Koshy, he said that marrying someone to stay in the country wasn't the answer (though he added, "maybe you can").
Liza Koshy and David Dobrik's split most likely won't have a negative impact on their careers
"I don't see the break-up being a negative thing for either of them," Tassilo Labuzinski, founder of Socially Powerful, told Newsbeat. "I think it's oversimplified to say they are the Posh and Becks of the internet and they only come as a package."
Though fans are disappointed, (heartbroken, actually) Labuzinski said the YouTube stars are "free to take it any way they want," whatever they decide to do from here.
"The love Liza and I have felt not only the last 24 hours but the last couple years is so incredibly comforting and motivating," Dobrik tweeted out to fans last night. "… Thank you guys for everything."