Foodies have a love-hate relationship with the McDonald's McRib. That's because, since its debut in the early 1980's, the cult classic only returns for a limited time to select locations across the country. Now you see it, now you don't.
The sandwich, made with seasoned boneless pork shaped into rib-like form that's slathered in tangy barbecue sauce, last appeared in participating McDonald's around November 2017.
Soon, it'll be back on the menu in more than 9,000 restaurants nationwide. A company spokesperson could not clarify how long the McDonald's McRib would remain in stores (so get it while it's hot). 
According to a tweet from the fast food chain, the sandwich will officially return to select McDonald's on Monday, October 29.
The future has spoken… The McRib is coming on 10/29. Get ready. Download the McDonald's Finder App now to find a McRib near you. Available for iOS and Android. pic.twitter.com/Mq9rY7VBK9

— McDonald's (@McDonalds) October 25, 2018
Per a news release, customers can even order the McDonald's McRib through Uber Eats.
"While McDonald's has ushered in many new items this year  … we know our fans love this limited time classic," McDonald's Chef Mike Haracz said in a statement. "That's why we wanted to bring the McRib to as many fans as possible this year. With the McRib also now available via McDelivery on Uber Eats, we're excited to make it more accessible to customers with the speed and convenience they expect from McDonald's."
McDonald's McRib coming back: How to find the McRib
To track down the McDonald's McRib, customers can download the McDonald's Finder app (see below). Or, they can use Uber Eats to pinpoint the nearest participating McDelivery restaurants.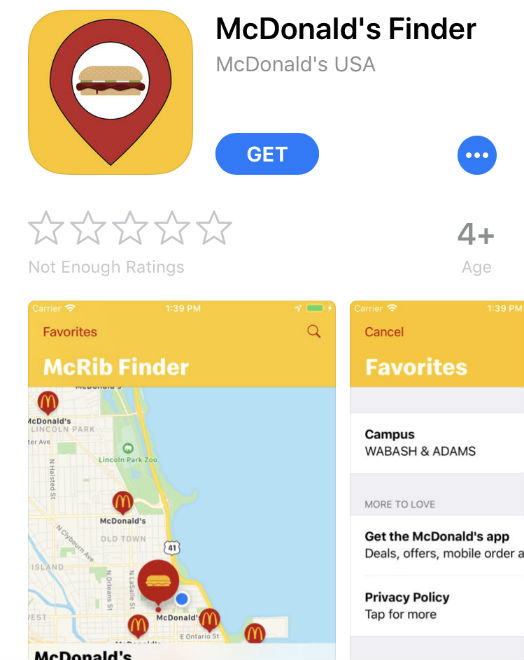 There's also an online McRib Locator, based on user input, at mcriblocator.com. Customers can download the tool as an iOS and Android app as well.
When we entered in Metro's office address, we get a list of five McRib-serving McDonald's nearby (though the website notes to always call ahead to make sure these fan favorite sandwiches are available).
"For some, they like the sandwich as it bring[s] something different to the menu that has not been replicated by other venues," McRib Locator creator Alan Klein told Entrepreneur.com (unless, of course, you wish to try the NcRib from Num Pang Kitchen).  
"There is also the limited availability component where fans want to get their McRib before it is gone," Klein noted.
Get the McDonald's McRib while you still can. Because, like a lost love gone with the wind, it'll soon be nothing but a memory (until it's back again for more).