The closest thing we have in the real world to Santa Claus is Greg Boehm. If you're drinking at a Christmas-themed bar this holiday season somewhere in the United States, chances are good he's behind it.
Boehm is the founder of Miracle, the Christmas bar with homey vibes and serious cocktails that started in the East Village and has now spread to 79 cities including Paris and Hong Kong. It's also spawned a tiki-themed sister beach-style bar, Sippin' Santa, helmed by New Orleans bartender Jeff "Beachbum" Berry that's popping up in 12 locations nationwide from the day after Thanksgiving through New Year's Eve.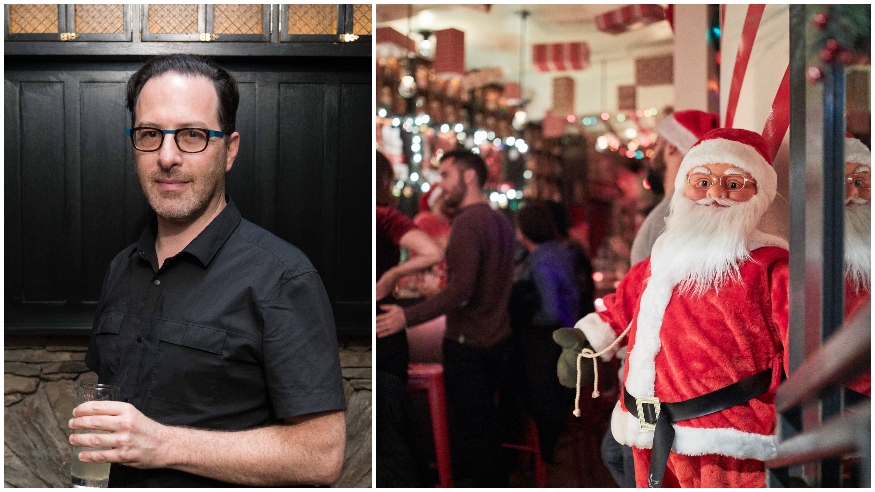 But it wasn't his love of Christmas that made Boehm open a cocktail bar. In fact, it was the other way around: Boehm is the curator of what might be the world's largest collection of cocktail books with more than 3,000 titles from as far back as the 17th century. Beneath the fun ambiance, Miracle and Sippin' Santa are both craft bars where he hopes to get people as excited about cocktails as he is.
"One of the reasons I put so many resources behind this is to get people drinking more cocktails," he says. "So people who would normally drink wine and beer go, 'Wow, this is really delicious.'"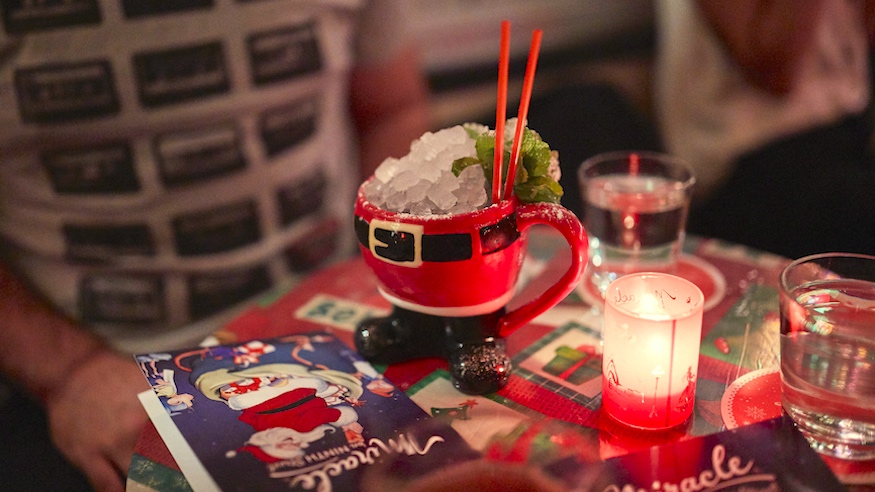 When he explains that eggnog has whole eggs in it, for example, Boehm finds it's easier to get people interested in cocktails with egg whites. "[The bar] so decorated and the Christmas music is playing and people are so excited, they might be more willing to try a drink they've never had before," he says. "We kind of trick them into drinking cocktails."
Each year, Miracle's head bartender Nico de Soto changes about half the drinks on the menu. At least one cocktail features a new ingredient the team is excited about, and this year it's eucalyptus syrup. "It has a little bit of a Christmas flavor," according to Boehm, and is served in a drink called Koala-La La La, La La La La with gin, pine liqueur and vermouth, garnished with a tiny koala wearing a Santa hat.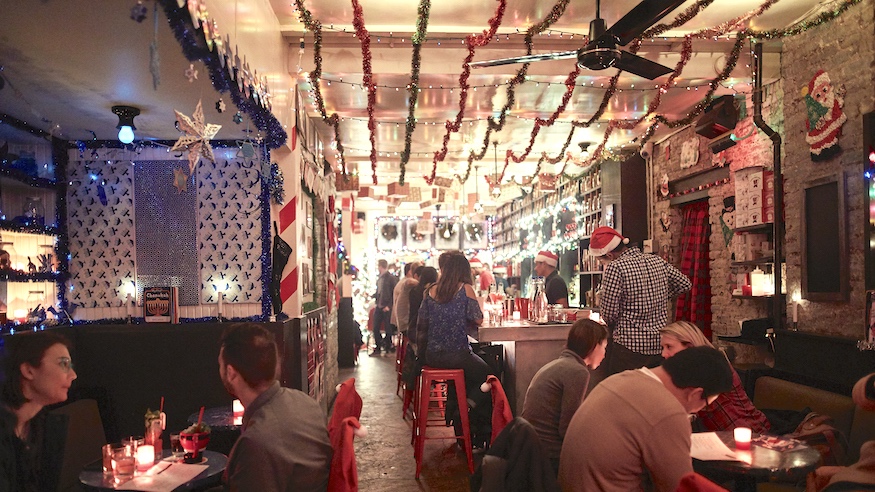 Greg Boehm on how the first Miracle happened
It all started back in November 2014 with Miracle on Ninth Street, the Christmas-themed holiday bar that took over Boehm's respected spice market-inspired bar Mace in November 2014.
But that's not entirely correct: Mace was actually Miracle first. Boehm had just purchased the space at 649 E. Ninth St. and was working to convert the bar into Mace in late 2014 when he got a call. It was his mom, having a "moment of clarity" during a trip to Tibet that would change everything.
"She called in the middle of the night because she was in China," he recalls, "and said, 'Don't do construction in December, open up a Christmas bar.'"
Unlike most Christmas fanatics, Boehm's venture into the holiday bar world wasn't out of an obsession with all things yuletide — in fact, Boehm is Jewish. But his family did celebrate Christmas every year in the basement of his grandparents' home in White Plains, New York.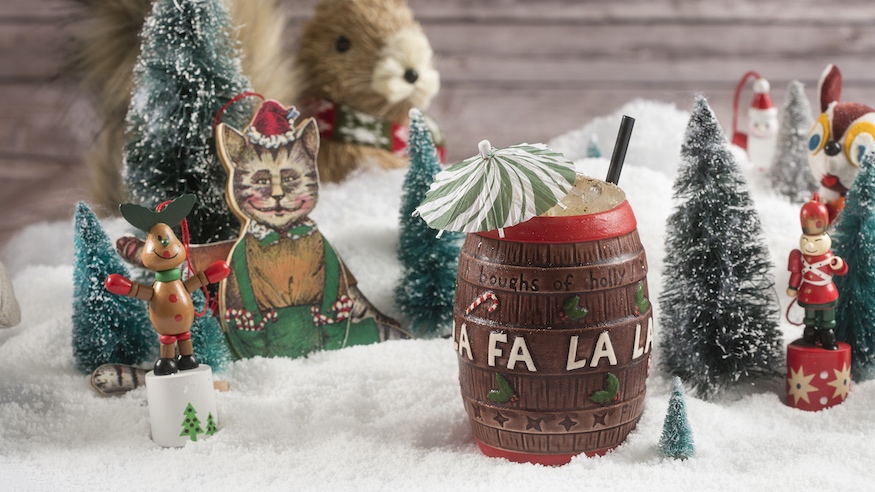 The retro vibe of Miracle bars is a reflection of that basement: a photo of it serves as the team's mood board. "They built their house just post World War II, so I think everything they had there they bought then and never changed," he says.
Each Miracle bar has the usual Christmas kitsch of garland and twinkle lights, but also strives for a "wholesome" atmosphere with votive candles, wrapped presents, giant red bows, family photos, holiday cards and of course, those famous glasses and mugs. Miracle's unique drinkware includes Santa pants mugs and festive shot glasses, which are conveniently manufactured by Boehm's drinkware company Cocktail Kingdom and available for purchase at the bar.
That made worldwide franchising possible — however, it also means Boehm's life has become one long Christmas. "We start working on the drinks for next year in December," he says, and the drinkware even earlier.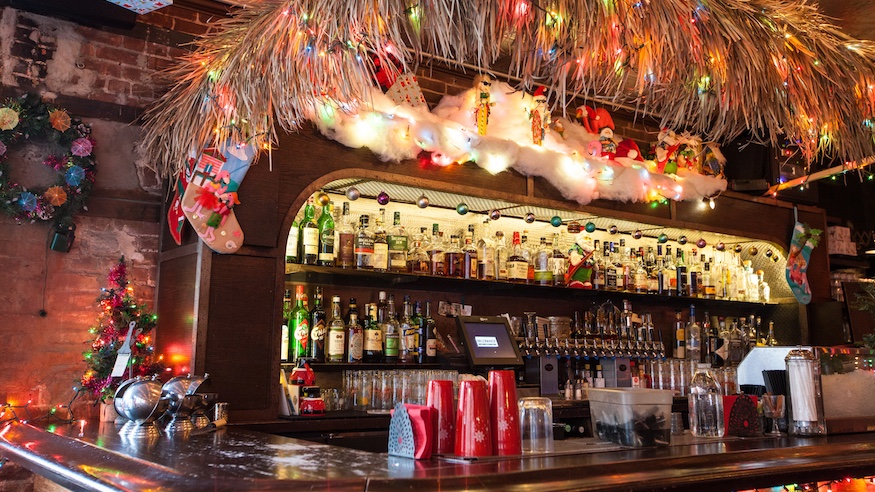 Sippin' Santa surfs in
In 2015, Boehm expanded into a tiki-meets-Christmas concept. He opened Sippin' Santa at his other bar Boilermaker (13 First Ave.) with the help of his longtime friend Jeff "Beachbum" Berry.
The bars get a "thatched roof" to turn it into a beachside rum shack with hula skirt lampshades, Hawaiian shirt-wearing bartenders and wreaths made out of little cocktail umbrellas. Among the new festive tiki cocktails this year are Hawaiian Milk Punch (bourbon, cream, chai syrup, sarsaparilla, tobacco bitters).
Boehm memorably spent one Christmas in the actual tropics himself in Bonaire, an island in the Dutch Caribbean. His guide was a scuba diver dressed as Santa Claus, and the drinks weren't cocktails but they were memorable: underwater champagne.
"I don't think I was 21, either," he says with a laugh. Eh, Christmas Eve is too late for Santa to change his list, anyway.