You don't have to score a seat in Jacques Cousteau's submarine to see some of the ocean's mightiest creatures.
Come face-to-face with dolphins, sharks, humpback whales and the fierce Humboldt squid — which have 40,000 teeth thanks to razor-sharp tentacles — at Encounter: Ocean Odyssey, National Geographic's new interactive digital aquarium of the future in Times Square.
"Our dream is to create entertainment that matters," says Lisa Truitt, chief creative officer and partner at SPE Partners, which created the exhibit's visuals. "We all feel so strongly that now is the time to focus on real science and the vital importance of keeping our oceans healthy, and entertainment is a critical component of that message."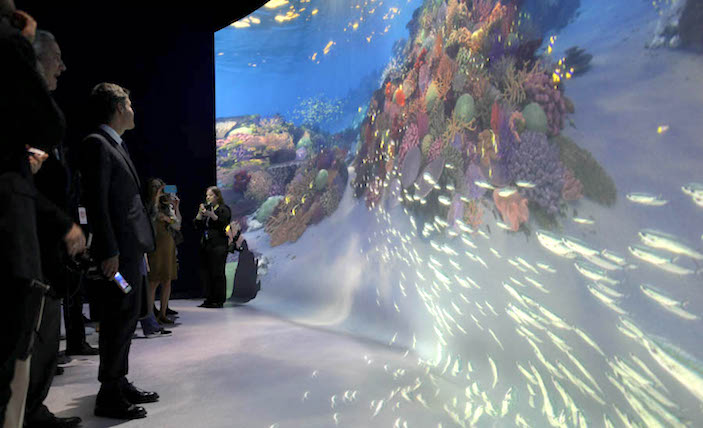 So instead of fish tanks or recreations of natural habitats, giant screens house all of the creatures at Ocean Odyssey.
Even National Geographic's deep archives of animal footage weren't enough to create this aquarium of the future — every sardine, penguin and eel is animated by the team that brought Game of Thrones' dragons to life, with authentic nature sounds and original compositions by Grammy-winning composer David Kahne.
"In order to fill those huge immersive screens, we needed extremely high resolution imagery in addition to a high framerate for some of the scenes," explains Truitt. "We wanted to showcase some of the most interesting and rarely-witnessed animal behavior the ocean has to offer, but capturing all that on film in the correct format of the experience was only possible via photo-real animation."
Best suited to younger children, Ocean Odyssey consists of several different experiences. Visitors start out "underwater," surrounded by the vibrant coral reef off the Solomon Islands projected onto a giant curved screen and the floor. As dolphins and tropical fish swim past onscreen, the fish at your feet dart in and out of corals as you step close to them.
Other rooms contain a touchable coral reef with a similarly interactive floor. Imagine yourself deep under the ocean in a near pitch-black viewing room, with nothing but the soothing sound of whales all around you.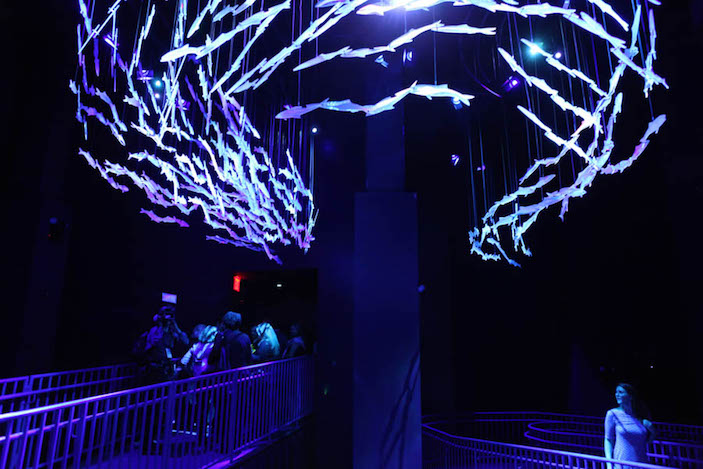 In a moment of drama, watch two Humboldt squids dart between two giant screens as they fight for dominance, then escape through a funhouse mirror maze of kelp.
If getting onto a whale-watching ship is not in your budget, you can swim with the magnificent creatures in a 3D movie. You can even play with a seal thanks to the magic of motion capture.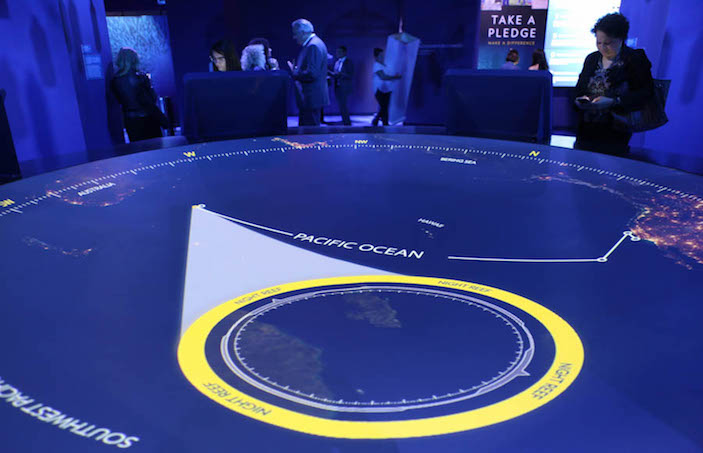 Now that the kids are properly excited, the exhibit ends with an educational portion. In the Hall of Explorers, hear from notable scientists and advocates like Robert Ballard, who discovered the Titanic, about why oceans matter and the challenges facing them. Interactive games include lighting up a bioluminescent coral reef and cleaning a polluted coral reef, while an art exhibit features bottles that would've gone into the ocean as waste.
Oh, and you're actually helping the real oceans by visiting Ocean Odyssey: 27 percent of ticket sales will benefit the National Geographic Society's mission of conservation.  
National Geographic's Encounter: Ocean Odyssey opens Oct. 6 at at 226 W. 44th. Tickets are $39.50.