Fans of the critically acclaimed and wildly popular Netflix show House of Cards were treated to a new morbid teaser confirming the death of the show's main character President Frank Underwood. The show was forced to go through a bit of a shakeup before the filming of its sixth and final season after its star Kevin Spacey was outed during the early stages of the #MeToo movement by actor Anthony Rapp for making sexual advances on him when Rapp was only 14 years old. The creators were forced to remove Spacey from the show and propelling Robin Wright's character Claire Underwood into the spotlight and having the story follow her into the highest position in the country as president. But how are the creators going to move the story forward without Spacey involved? Well as a new teaser trailer explains, a Frank Underwood death was really the only way. 
New House of Cards teaser confirms Frank Underwood death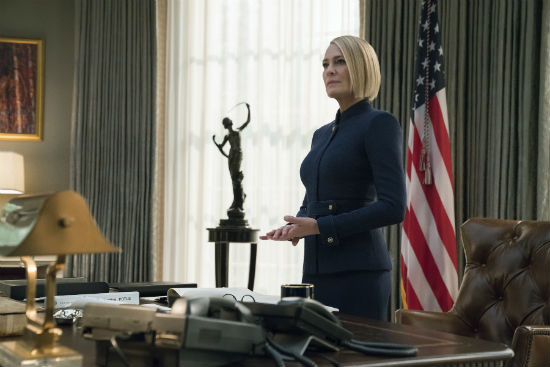 How do you take Kevin Spacey out of House of Cards? How about a Frank Underwood death? 
That's right. Frank Underwood is going to be six feet UNDERground in the final season of House of Cards as confirmed by a teaser that was released via Twitter this morning.  In the teaser, Claire is visiting the grave of Francis J. Underwood where she says "I'll tell you this though, Francis. When they bury me it won't be in my backyard." Adding "and when they pay their respects, they'll have to wait in line" with the final line being delivered directly to the camera. 
The tweet was posted by the show's official twitter account with the cryptic message "You should have known". You can check out the full teaser bellow. 
You should have known. pic.twitter.com/UFGplyDSY1
The all episodes of the final season of House of Cards will be available to stream on Netflix Friday November 2nd.