One of the hottest trends on the New York City food scene has been shut down by the Department of Health, which has banned all restaurants and bars from serving food and drinks made with CBD, a cannabis-derived product that's said to relax users and reduce pain without getting high.
"Restaurants in New York City are not permitted to add anything to food or drink that is not approved as safe to eat," says DOH spokeswoman Danielle De Souza. "The Health Department takes seriously its responsibility to protect New Yorkers' health. Until cannabidiol (CBD) is deemed safe as a food additive, the Department is ordering restaurants not to offer products containing CBD."
According to De Souza, the Department of Health began banning CBD in food products starting in January. It is in the process of alerting restaurants about the CBD ban, though De Souza did not specify whether they've been given a general notice or if inspectors make them aware of the change in policy during their unannounced visits. To date, five restaurants have been ordered to stop using CBD in their products.
The agency did not explain why the ban was enacted. CBD 
It's an especially puzzling move given that New York Gov. Andrew Cuomo has made legalizing recreational marijuana a top priority for his 2019 legislative agenda.
The Food & Drug Administration, which regulates both food and medicine, treats CBD as an active ingredient in an FDA-approved drug — last year, the agency has allowed a single anti-seizure drug for epilepsy patients to market. "[I]t's illegal to introduce drug ingredients like these into the food supply, or to market them as dietary supplements," according to a statement from FDA Commissioner Scott Gottlieb.
As for selling CBD in non-food products, "Selling unapproved products with unsubstantiated therapeutic claims is not only a violation of the law, but also can put patients at risk, as these products have not been proven to be safe or effective," Gottlieb says. Despite this, the CBD business was worth an estimated $600 million in 2018, which is expected to reach $22 billion by 2022.
Medical marijuana dispensary Citiva, which just opened its first Brooklyn location across from the Barclays Center in January, also sells CBD products and welcomes the additional scrutiny to ensure patients' safety.
"While many who make hemp-derived CBD products are taking steps to ensure that their ingredients are safe and of high quality, we also suspect some don't," says Amy Holdener, director of communications for Citiva. "The result is CBD products that are unlikely to be effective and, worse, may pose a health issue.
"We believe CBD is a cannabinoid, like others, that should be tested and regulated to ensure it is safe for human consumption. We already have those processes in place for THC products. Why not subject CBD to the same rigorous standards?"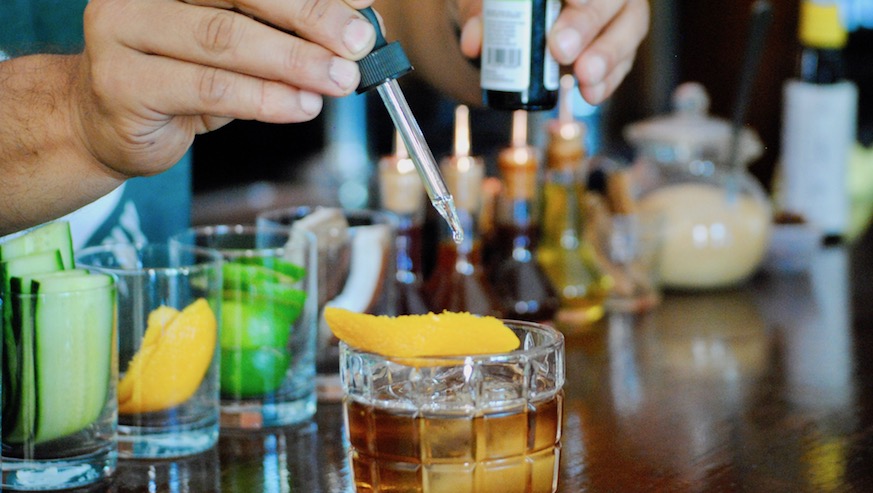 The rise of CBD in New York
This ban will have an immediate chilling effect on a trend that's been years in the making but definitely took off in 2018.
In New York, CBD started showing up in early 2017 as "cannabis oil" used to lace food at intimate private dinners like the NSFW club's Dankquet. Since then, CBD has come out of the shadows to easily top the list of 2018 food trends. First came CBD lattes at Brooklyn's Caffeine Underground in March, with cafes around the city quickly jumping onboard.
By August, Adriaen Block in Astoria became the city's first restaurant/bar to formulate nearly all of its cocktails and menu with CBD in mind, and in the fall vegan bakery sensation By Chloe launched an all-CBD pop-up Feelz by Chloe; a few of the CBD baked goods are still available at Sweets By Chloe.
It's become a nightlife trend too. Many bars including rooftop favorites Bar Hugo and Jimmy at the James have begun either creating their own CBD-infused cocktails or offering it as an add-in like they would an extra shot.
Food and drinks are not the only way to get a CBD fix. There are massages with CBD oil inside Modrn Sanctuary's Himalayan salt room, hand creams, essential oils — pretty much anything associated with relaxation has a CBD-infused version.
The benefits of CBD
CBD stands for cannabidiol, one of the over 100 compounds found in the cannabis plant. Of them, only tetrahydrocannabinol (THC) causes hallucinations. CBD has no psychoactive properties and impressive health benefits — potentially.
Because CBD is derived from cannabis plants and was therefore illegal to grow or obtain in most parts of the country until recently, it hasn't been adequately studied for potential risks, side effects and effectiveness. But anecdotally, people who have taken CBD say it's relieved both physical ailments from pain to epilepsy — for which the FDA just approved a CBD drug last year — as well as mental issues like anxiety and depression. There are even CBD products for pets.
A major overview of CBD studies by the World Health Organization in 2017 found that CBD shows promise for sufferers of everything from cancer to Alzheimer's. It could even, ironically, help in the treatment of drug addiction.
And it's about to get a lot easier to buy CBD. In addition to marijuana plants, CBD is also found in hemp plants. Though it's part of the cannabis family, hemp is much lower in THC and higher in CBD. Still, it was considered to be the same plant and therefore banned by the Drug Enforcement Administration until last December, when Congress passed the 2018 Farm Bill.
That legislation redefined hemp as a different plant, effectively deregulating it and clearing the way for farmers to grow it without fear they'll be raided by the DEA. It's also given major retailers the confidence to explore putting CBD products on their shelves.
The concerns about CBD
Since CBD is not regulated by the Food & Drug Administration, there are concerns about what you're getting when you buy products that claim to contain CBD.
A 2017 study published in the Journal of the American Medical Association found that the majority of medical marijuana products sold on the internet may be unsafe or ineffective. Of the 84 products purchased and tested, concentrations varied widely — since there is no medically advised dosage — with 42% of products containing more CBD than advertised and 26% containing less. More worryingly, 18 of the products were also found to contain THC.
However, the study did note that "CBD appears to neither have abuse liability nor serious adverse consequences at high doses."