If there's one thing better than ooey-gooey chocolate chip cookies paired with scoops of soft serve — dough à la mode, if you will — it's a good ice cream sandwich. And Melt Bakery is upping the ante with a boozy dessert New Yorkers can enjoy for a limited time: beer ice cream sandwiches.
Wait, is beer ice cream even legal?
Yes, beer ice cream sandwiches are legal in the state of New York.
Wine ice cream has been legal in New York since 2008 (and you can go to Tipsy Scoop for that). In early July, Gov. Andrew Cuomo signed a bill legalizing the sale of ice cream made with beer and hard cider.
"Both the dairy and craft beer/cider industries are key contributors to our agriculture economy," Senator James L. Seward, who sponsored the bill, said in a statement at the time.
Seward went on to say that legalizing beer ice cream allows the state to "capitalize on homegrown New York ingredients with the creation of a cool new, innovative product."
Beer ice cream is permitted to contain up to 5 percent of alcohol by volume (ABV).
Where can I get beer ice cream sandwiches this week?
To celebrate the newly released Sam '76 brew (4.7% ABV) from Samuel Adams, NYC's Melt Bakery — known for their Lovelet and Cinnamax sandwiches — created The '76er ice cream sandwich.
The '76er is composed of Sam '76 infused ice cream bookended by two honey roasted peanut cookies. It's described as the "perfect refreshing dessert for a hot day." (Or lunch break.)
According to the Melt Bakery website, these sandwiches costs $5 apiece — and you don't need to be of drinking age to enjoy them. A Samuel Adams spokesperson told Elite Daily that most of the alcohol content in the beer ice cream is cooked down.
A Melt Bakery representative confirmed this to Metro, saying, "During the process of creating the ice cream for the sandwiches, they heat the beer and draw out the flavors and through that process the alcohol is cooked down." However, it still has that Samuel Adams taste.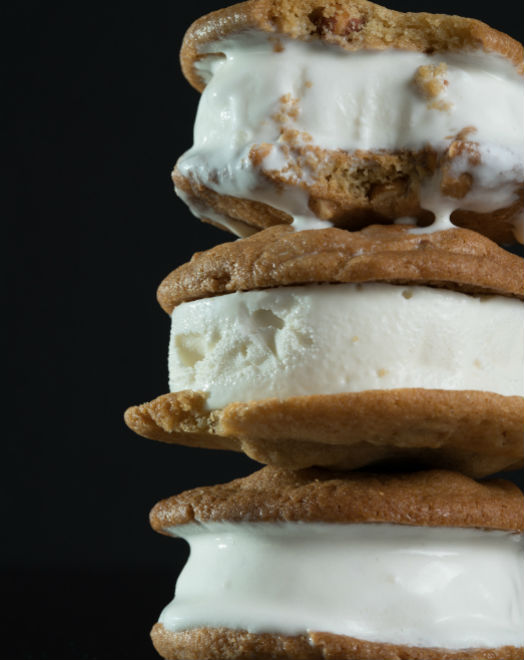 These beer ice cream sandwiches will be available at Melt's Lower East Side location (132 Orchard St.) until National Ice Cream Sandwich Day on Thursday, August 2.
Melt Bakery's first batch sold out, and they're in the process of meeting demand. So, go get your fix while you still can.
Metro gives it a taste
Full disclosure: I don't like beer. To me, the ice cream was bitter at first, then seemed to settle on my tongue after a few bites. Ultimately, it wasn't overwhelming like I thought it'd be. 
The general consensus in the office was that sandwiching beer ice cream between two peanut cookies was rather surprising. 
Some thought it tasted odd, while others loved the combination. "As someone who has been melting all summer from the heat, this was a refreshing midday snack," one Metro staffer said. "I loved how creamy the ice cream was and how subtle the Sam '76 flavor was. And those honey roasted peanut cookies were the perfect accessory!" 
Another noted, "It makes me wish I had a beer."
Next time, maybe Melt will come back with a batch that takes advantage of this new beer ice cream bill. Who wouldn't want to get their hands on a childhood classic with an adult twist? Cider Chipwiches, anyone?