A Chinese holiday tradition has arrived in New York for the first time, with 3,000 glowing lanterns and light sculptures taking over the Snug Harbor Cultural Center and Botanical Garden for the NYC Lantern Festival.
Though it's based on a 2,000-year-old tradition that used to involve lighting a paper lantern and letting it float away into the sky, modern lantern festivals in China have definitely taken a turn for the artistic. Some of the 40 LED-powered light scenes feature lantern sculptures up to 30 feet tall, sprawling over seven acres of Snug Harbor starting Nov. 29. 
Yes, that's in Staten Island, but if you like being silly, over-the-top holiday decorations and a photography challenge, the NYC Lantern Festival is a delightful way to spend a good hour or more outdoors — not something many places in the city can claim this time of year.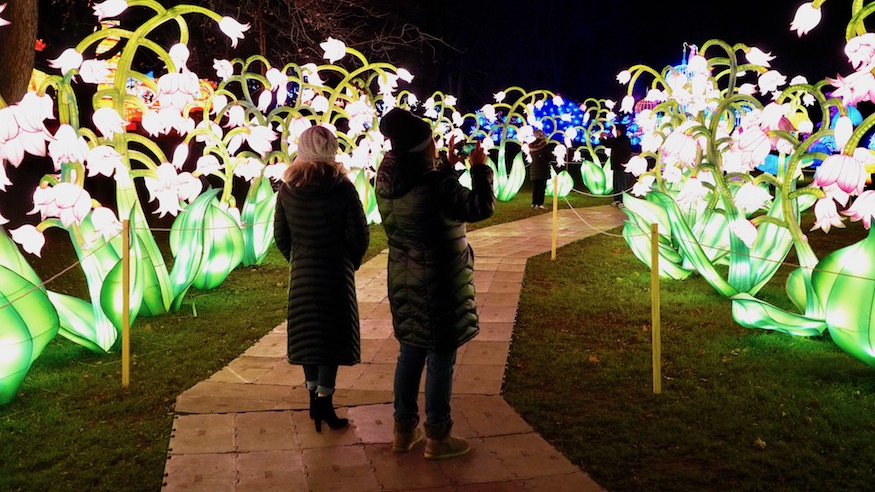 They range from creatures like Chinese dragons and flamingos to a mushroom garden, reindeer and grand Chinese architecture, including a recreation of an Imperial palace.
The lanterns, created by Chinese artisans, form landscapes both straight out of Alice in Wonderland and realistic scenes with impressively detailed animals like hippos and meerkats. Light tunnels, traditional touches like a wall of actual lanterns, and oddities including a shark tunnel and dinosaurs make for a whimsical stroll through the garden.
"I wanted to take a classic Chinese tradition and transform it into an unforgettable event in the United States," says Conglin Miao, one of the producers at New York Events & Entertainment, a new local production company focusing on cultural events. "I think of the NYC Winter Lantern Festival as an immersive, creative and unique display of lights and art, an awe-inspiring place for everyone to enjoy."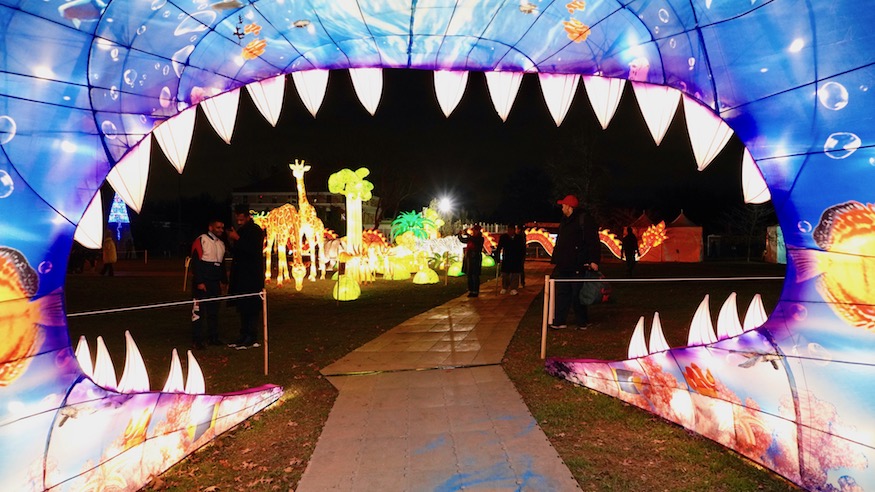 There's music while you walk among the exhibits, alternating between Christmas standards and instrumental Chinese songs, as well as periodic live entertainment on a main stage. If you get hungry, organizers say there will be food trucks on site (but also, also both ends of the Staten Island Ferry terminal have quick-service restaurants and bars).
Here are a few tips for making the most of your visit to the NYC Lantern Festival:
1. The NYC Lantern Festival doesn't open until 5 p.m., which is after sundown, so you'll have to get creative if you plan to take any selfies. (Tip: Bring a light source.)
2. There is a path made of soft interlocking "stones" winding through the light sculptures but it's not always even, so wear sturdy shoes.
3. We recommend taking a rideshare service to get to and from the Staten Island Ferry terminal to the garden. Though the event has a shuttle bus, there were no signs posted for it during the event's opening night.
Lantern festivals are a 2,000-year-old Chinese tradition though it's usually held in February or early March to mark the last day of New Year's festivities, according to the Chinese calendar. Snug Harbor is renown for its authentic Chinese Scholar's Garden, based on the gardens popular during the Ming Dynasty (1368-1644 AD). All the structures and even paving materials came from Suzhou, China, with the garden featuring stunning rock formations, eight pavilions, a bamboo forest path, waterfalls and a Koi pond.
The NYC Lantern Festival runs from Nov. 29-Jan. 6, 2019, open Wednesdays, Thursdays and Sundays from 5-10 p.m. and Friday and Saturday from 5-11 p.m. Snug Harbor is located at 1000 Richmond Terrace, Staten Island. Tickets are $23 for adults, $15 for kids, nycwinterlanternfestival.com