On Sunday several players around the league decided to take a knee and lock arms before the National Anthem in response to President Trump's recent comments about players choosing to kneel in protest.
Donald Trump said NFL team owners should respond to players kneeling during the anthem by saying "Get that son of a bitch off the field right now, he's fired. He's fired!"
Several NFL players who did not take a knee during the National Anthem showed their support by locking arms in solidarity with their teammates. Some players locked arms while sitting on the bench while others placed their hand on the shoulder of a teammate who was kneeling.
The Pittsburgh Steelers did not take the field at all during the national anthem, however, offensive lineman Alejandro Villanueva, a West Point grad, former Army captain and ex-Ranger stood in the tunnel with his hand over his heart during the national anthem before the start of the game against the Bears at Soldier Field in Chicago.
Former Baltimore Ravens star Ray Lewis joined the Ravens in protest before the International Series game against the Jacksonville Jaguars at Wembley Stadium in London. Lewis was on both knees, locked arms with linebacker C.J. Mosley and receiver Mike Wallace. This gesture comes after he criticized Colin Kaepernick for kneeling in protest of the National Anthem.
Baltimore Ravens take a knee with Ray Lewis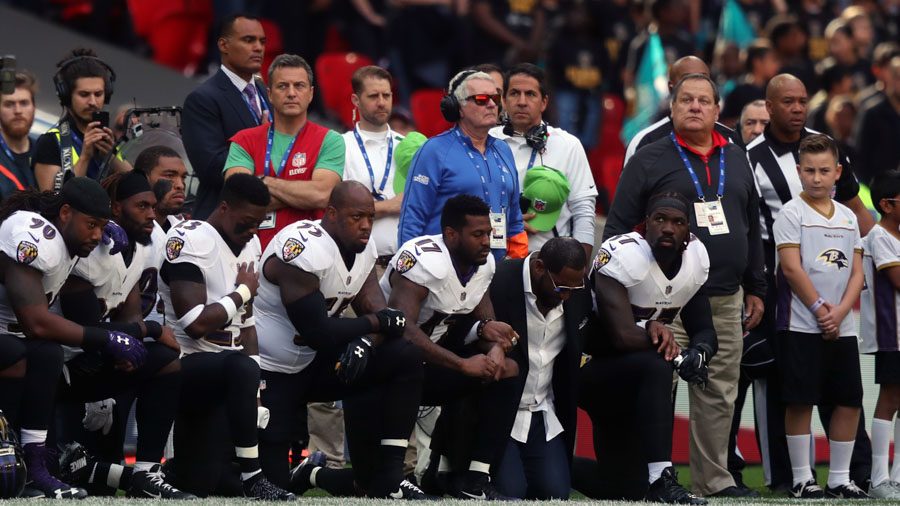 Jacksonville Jaguars team owner Shad Khan joined players on the field to lock arms during the National Anthem to express his support for his team.
"Our team and the National Football League reflects our nation, with diversity coming in many forms — race, faith, our views and our goals, he said in a statement. 
President Trump is calling for a boycott of the NFL if players continue to take a knee during the National Anthem, however, NFL commissioner Roger Goodell is supporting the players.
President Trump responded to NFL players protesting on Sunday, saying there was "tremendous solidarity" for the flag and the country but said players who decided to take a knee were "very disrespectful."
President Trump responds to NFL players protesting Sunday
Click through the gallery to see the NFL players who decided to take a knee on Sunday during the National Anthem.