In honor of National American Beer Day this Saturday, October 27, Planters is launching its first-ever peanut beer, Mr. IPA-Nut.
The Kraft Foods brand partnered with Noon Whistle Brewing in Lombard, Illinois to create a beverage that pays homage to the salty snack. After all, peanuts often go hand in hand with beer.
"When I think about peanuts I think of richness, certainly some good fats in there, the flavor and that roasted, salty sort of character," Andy Sparhawk, Brewers Association's web manager and certified beer judge, told National Peanut Board.
"Hops and carbonation are going to cut through that richness," he continued of the pairing. "You can chew up a bunch of peanuts then drink some water and it would cleanse you a little bit. But that cutting action of the carbonation and the hops [in beer] help lift that off your palate and … help you not feel so sated and over-full, so you're ready for your next bite."
Planters Marketing Director Ashley Tople said in a news release that the company wanted to bring the complementing flavor of peanuts to an IPA.
If you think peanut beer is unusual, people actually made cold ones out of reclaimed water earlier this year. There's also beer inspired by cereal and Game of Thrones (and both, for the record, sound good). 
Mr. IPA-Nut for American Beer Day? Tell me more
The Planters peanut beer (6.3% ABV) is launching on this coming American Beer Day, and the can features Mr. Peanut himself, smiling wide.
Mr. IPA-Nut is described as having a citrus aroma. And, along with a "slightly salty finish," there's a hint of honey-roasted peanuts in every sip.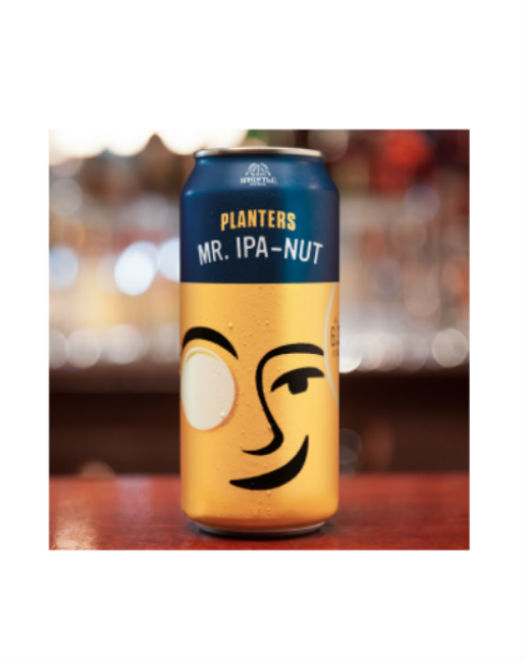 "It would have been easy to make a great Stout or Porter with nuts, but Planters wanted to prove that nuts go great with any style beer," owner of Noon Whistle Brewing Michael Condon said in a statement. "Therefore, we took their Honey Roasted Peanuts and made a great IPA that highlights both hops and peanuts."
Planters is launching a #BeerGoesNuts campaign to promote this new peanut beer, beginning October 23. 
Watch the first of these ads below to see how you can get involved: 
Where can I get this peanut beer?
A Planters spokesperson confirms to Metro that, on National American Beer Day (Saturday) the peanut beer will be available exclusively in Illinois while supplies last.
It'll be sold in 4-packs of 16oz. cans for $9.99. Select locations, such as Noon Whistle Brewing, will have Mr. IPA-Nut on draft as well.
Click through to Noon Whistle Brewing's website for specific Illinois retailers that are selling the peanut beer.
Sounds good. Where can I get peanut beer outside of Illinois?
Planters says that though the company is focusing on the Illinois Mr. IPA-Nut launch, we should stay tuned for announcements about expansion to other states.
In the meantime, you can find peanut beer (or similar booze) in a number of places.
If you look hard enough, breweries throughout the country serve peanut butter beer — it won't be Mr. IPA-Nut, but it'll be worth a try.
Take, for instance, Catawba Brewing Co. in North Carolina. On their list of current draft beers is a Peanut Butter Chocolate Stout and one called Peanut Butter Jelly Time, which is described as "childhood goodness in a beer." 
Foolproof Brewing in Pawtucket, Rhode Island has Peanut Butter Raincloud, a porter for when it "rains so much you need peanut butter in your beer." (Duh.) 
Other peanut butter porters can be found at Liquid Mechanics in Lafayette, Colorado as well as Adirondack Brewery in Lake George, New York. 
San Diego's Belching Beaver Brewery serves a Peanut Butter Milk Stout. And, if you want to get fancy, you can also try their Mexican Chocolate Peanut Butter Stout. 
Brooklyn Brew Shop sells a Chestnut Brown Ale "beer making mix." Better yet, delivery service Drizly has a Brew Link Nuttercup Peanut Butter Porter available for limited markets. 
If you're on your way to Illinois this American Beer Day, make sure you give Planters' peanut beer a try. Mr. Peanut himself will be forever grateful.