Immigration activists and local faith leaders joined Sen. Brian Benjamin on Wednesday to introduce new legislation to address the crisis of separated children spurred by the Trump administration's immigration policies.
The Separated Children Accountability Response Act, also called the SCAR Act, requires state-contracted facilities like the Cayuga Center in Harlem to provide the public with a reoccurring 15-day report outlining the number of children held within its facilities.
"Part of the reason why we wanted to have it known as that is because this is a scar on our nation. This is a scar that's going to take a long time to heal," Benjamin said of the name at a press conference on Wednesday. "The amount of trauma that we have inflicted — government sanctioned trauma that we have inflicted — on these young parents and these young children is just incredible."
New York City Mayor Bill de Blasio visited the Cayuga Center in June, upon which he found out that there were more than 200 separated children there as a result of the Trump administration's policy of separating migrant families at the southern United States border.
It's not entirely known how many separated children there are in total. Health and Human Services Secretary Alex Azar confirmed earlier in July that there were still "under 3,000" separated children in federal custody; on Tuesday, the Trump administration announced that it has reunited 1,200 families who had separated children 5 and older.
"Many of us are here because we know that this is just wrong," Benjamin said. "Then, the question becomes, 'What can we do to make a difference?'"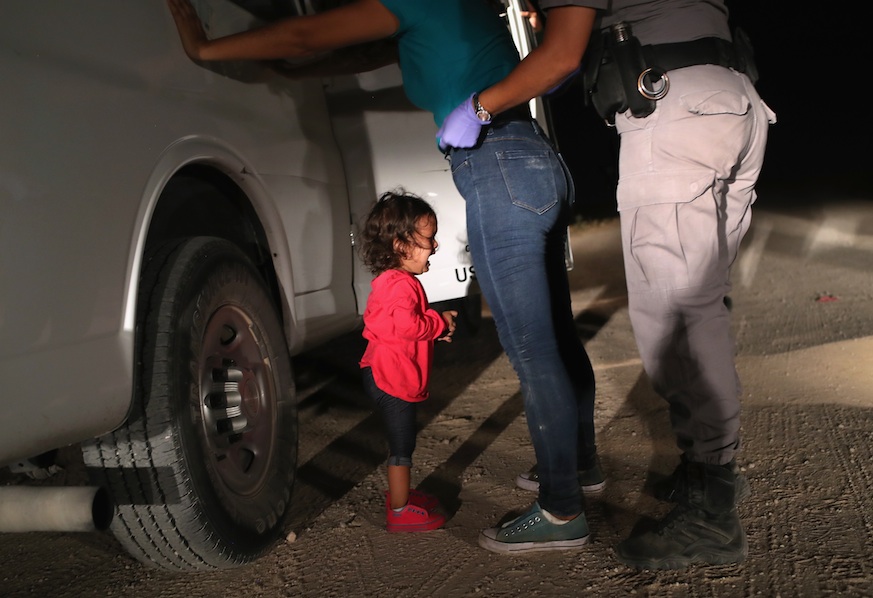 A two-year-old Honduran asylum seeker cries as her mother is searched and detained near the U.S.-Mexico border on June 12, 2018 in McAllen, Texas. Photo: Getty Images
What does the Separated Children Accountability Response Act do?
Benjamin called the Trump administration's response to the crisis of their own making "wildly inadequate." By forcing state entities to frequently report information, he hopes the Separated Children Accountability Response Act provides more transparency about the crisis of separated families.
The act requires information from these agencies regarding the number of unaccompanied migrant children newly accepted into an agency's care; how many separated children have been released from its care; the total number of separated children in that agency;  the median length of time these children have been there and so on.
Failure to report this information "will be punishable as filing a false instrument under the Penal Law," per Benjamin's office, and the Commissioner of the Office of Family and Children's Services may revoke the license of the agency.
"The lack of transparency and public information around how many kids Trump's nightmarish immigration policies have stripped away from their families and displaced to agencies across our state is truly appalling," said Assembly Member Harvey Epstein, who introduced the legislation with Benjamin, in a statement. "We refuse to be kept in the dark by this morally bankrupt presidential administration: with this legislation, we are clawing back the information we need to understand the scale of this crisis and hold agencies accountable so we can focus the necessary resources to reunite families."