Well what do you know: probably humans Scarlett Johansson and Colin Jost are still a thing — so much so that they walked a red carpet together. And yet, I still cannot muster any excitement for this couple. Seems fine.
Johansson, 33, and Jost, 35, appeared on the red carpet together for the first time at the premiere of Avengers: Infinity War on Monday night. They walked arm and arm and sometimes — gasp — hand in hand.
The couple — who I like to refer to in my mind as JoJo — were first linked last May, when they were spotted swapping spit at an SNL afterparty. An eyewitness who spotted them recalled that they had the gall to make out in front of everyone, like a couple of well groomed, horny teenagers. "Scarlett and Colin were making out at the bar at the SNL season finale party at 30 Rock," the eyewitness said. "They would make out a bit, then go back to talking. They were at the bar in front of everyone… they made out at least twice… Then they went back to talking and hanging with other people." Cool!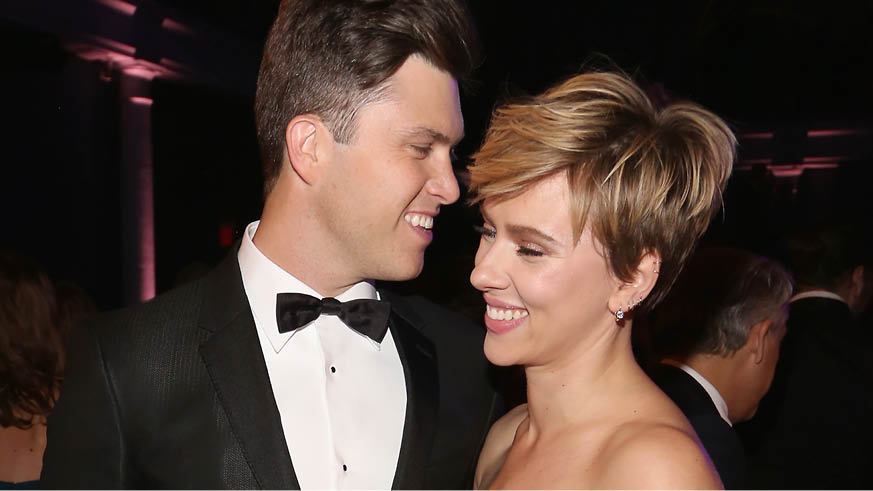 A couple of months later, Page Six reported that the two kept it "chill" on a "hot" date night, where Johansson downed a couple of Manhattans and Jost ordered a single specialty cocktail which, of course he did.
They made their first official outing as a couple in December, taking their romance public at the American Museum of Natural History Gala. Sure, they walked the red carpet separately that time, but they posed together tons inside! They appear to like each other very much, which is a nice thing when you consider the troubling conditions of our cruel, cruel world.
Either way, one thing is for damn sure: Johansson continues to have an unpredictable taste in men.