Sean Spicer apparently thinks the classic novel A Christmas Carol is a book that contains actual Christmas carols.
The former White House press secretary posted a photo to his Instagram account of what appears to be a copy of Charles Dickens' classic holiday novel "A Christmas Carol." He snapped the photo at the White House and said the book belonged to President Franklin Delano Roosevelt.
While there is absolutely nothing wrong with snapping a picture to honor a rare book from years ago, it was the caption he wrote that caused hysteria on social media.
"FDRs book of Christmas Carols," Spicer wrote.
Based on Spicer's caption and his reputation for saying things that many people have questioned during his stint as White House press secretary, it appears that Mr. Spicer is suggesting that the book he photographed is a collection of FDR's favorite Christmas carols compiled into one volume and kept under a glass case. Perhaps Spicer may have gone as far to think former president Franklin Delano Roosevelt wrote and published a book of his own personal Christmas carols.
"A Christmas Carol," a novel written by Charles Dickens, tells the story of  Ebeneezer Scrooge, a guy who gets his Christmas spirit back after he's visited by ghosts of the past, present and future. 
Sean Spicer thinks "A Christmas Carol" is a book filled with Christmas carols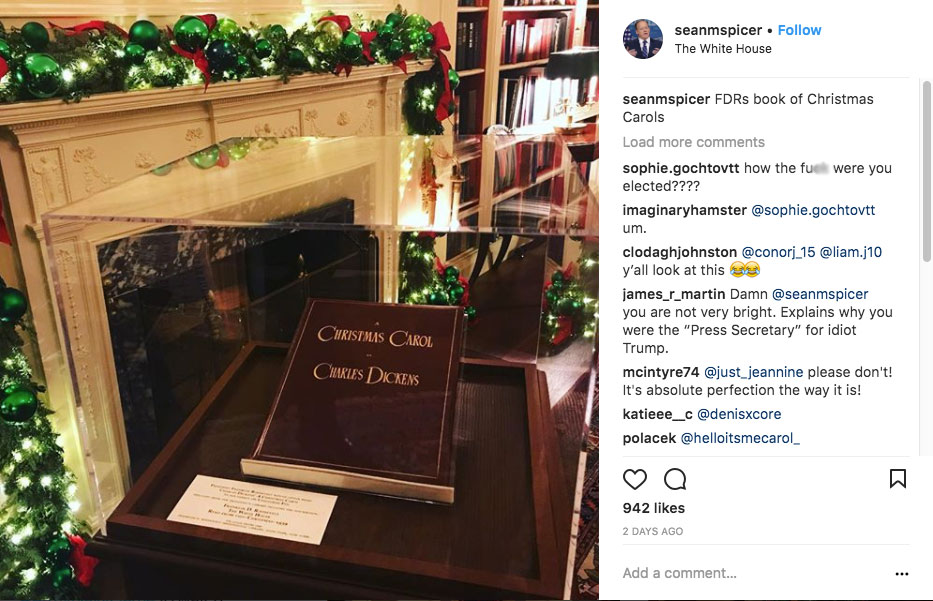 Whatever the case may be, people quickly roasted Spicer and his Christmas-related post.
Below is just a sampling of what people left in his comment section.
—  Damn @seanmspicer you are not very bright. Explains why you were the "Press Secretary" for idiot Trump.
— "You illiterate idiot"
— "This is just the best."
— "Are you seriously this dumb?"
— "This is a joke, right? A very brave joke at your own expense, right? You're not really this stupid, are you @seanmspicer? Because if you are, you should maybe read a few books before you actually attempt to write one. I'm sure you're going for fiction too."
— "Merry Christmas, you big dope."
There are over 100 more interesting comments left on his Instagram post for you to enjoy or shake your head at. 
While Sean Spicer may no longer hold the title of President Trump's press secretary at the White House, he never fails at being the gift that keeps on giving this holiday season.