Actress Shannen Doherty has revealed she is battling breast cancer — and says her prognosis would be much better if her management team hadn't bungled her finances and health care coverage.

Doherty, 44, who played the catty Brenda Walsh in the 1990s series, "Beverly Hills, 90210," is suing her business managers, saying if they hadn't let her coverage run out, she would have gotten an earlier diagnosis.

Now, she said, she is facing more radical chemotherapy and a possible mastectomy.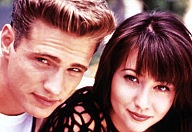 "Yes, I have breast cancer, and I am currently undergoing treatment,"

she told People

after TMZ reported on the suit.

"I am continuing to eat right, exercise and stay very positive about my life," she said.

"I am thankful to my family, friends and doctors for their support and, of course, my fans who have stood by me."

Doherty was told in March of this year that she had invasive breast cancer, the AP said.

The suit, by Doherty and hubby photographer Kurt Iswarienko, says the poor management by accountants from Tanner Mainstain Glynn & Johnson, and its former partner, Steven D. Blatt, was so bad that they also faced audits and liens.

The money men have so far refused comment.