Eighteen years after he opened Slate NY in Chelsea, Aristotle Hatzigeorgiou finally has the adult playground he's always wanted — complete with a 20-foot slide that gets you from the clubby restaurant on the ground floor to the sprawling basement game room below.
It was, understandably, the most essential of all the changes that the recently completed $2 million renovation brought, the first makeover the venue has had since opening in 2000. Hatzigeorgiou had first seen an indoor slide at an East Village apartment while being shown a transparent pool table someone was hoping he'd put in Slate NY — and felt the same pure excitement as a kid on a playground.
"This is about 10 years ago, and the first thing I see is this slide, and I'm like, 'Forget about the pool table, let's talk about this slide,'" he recalls. "I tried doing it back then, but the company I was talking to couldn't figure it out. Finally, I hired the right engineers and designers."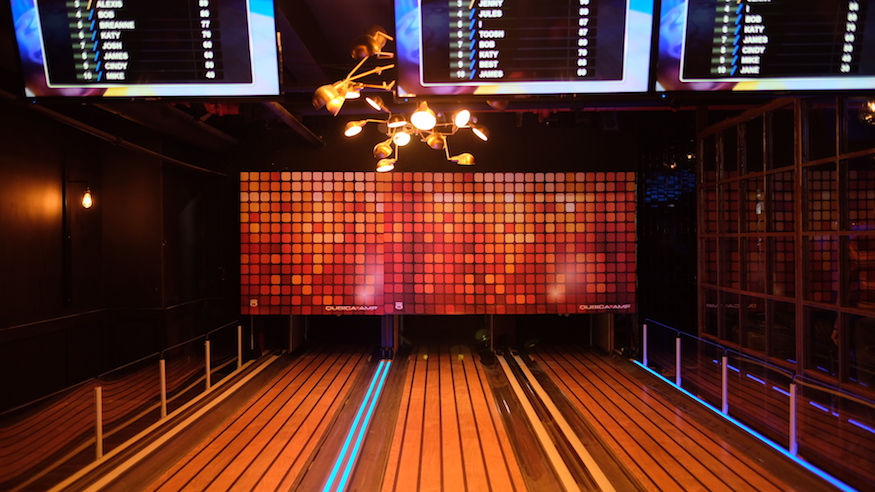 These kinds of retro touches are what have made Slate NY an interesting hybrid on the crowded New York City nightlife scene. Best described by Hatzigeorgiou as "not a one-trick pony," it's an upscale clubstaurant with live performances, a sports bar with 100 screens, and a giant arcade in the basement.
Take the slide down and you'll find yourself in an updated game room whose pool tables, foosball, Skee-Ball and ping-pong have been joined by a private karaoke room and three bowling lanes. "Bowling is something where you can get physical that people of all ages from 5 to 50 can do," he says. "Families come during the day on Saturdays and Sundays, so it appeals to all demographics." Add kid-friendly afternoon hangout to that list of pony tricks.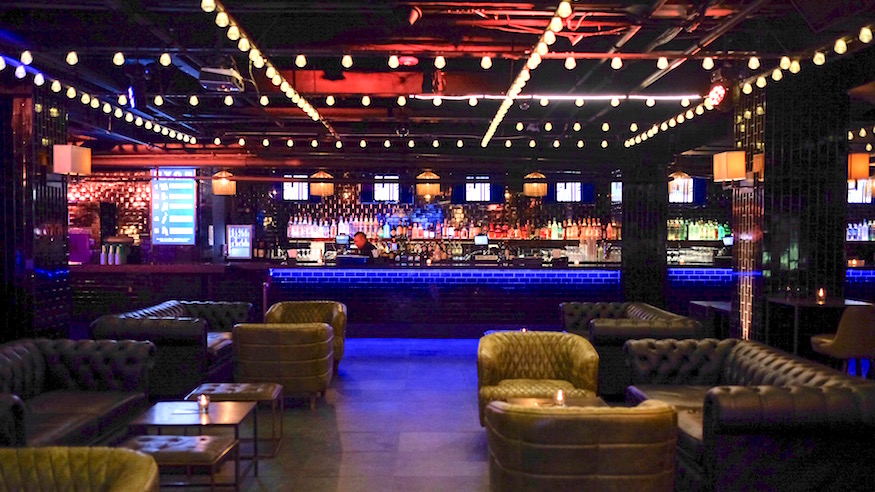 From boardroom to Slate NY
In his previous career at Chase Manhattan Bank, Hatzigeorgiou would sit in a lot of boardrooms — or "bored rooms," as he pronounces it. "One day I was like, 'What's the opposite of a boardroom?' And then I asked, 'If I were the richest man in the world, what would my house look like?'"
Also included in the makeover is a Be Your Own Bartender self-serve drink station with 20 taps, including beers, wines and cocktails pioneered at Randolph Beer and Clinton Hall. The menu has always been a point of pride at Slate NY, and the new dishes by chef Darryl Harmon feature street food with a twist like Philly cheesesteak arepas, trendy avocado hummus served with plantain chips, and novelties like Maryland Crab Cake Pops. 
All of these changes come from trends Hatzigeorgiu is seeing across the entertainment scene as CEO of the Lure Group — and as a father constantly trying to get his kids to put down their phones.
"People more and more want to engage with other people and be in more of a social environment, because we're so focused on our screens and our work," he says. "People are not wanting to go to sit in stuffy restaurants and not have some sort of entertainment factor. We're finding corporate events are loving it too, as opposed to just sitting at a bar having a drink."