Forty-five thousand. That's how many Americans died by suicide in 2016 alone, according to a new CDC study released today, and that's twice the number of homicides committed that year. The U.S. suicide rate saw a 24 percent increase since 1999 — and, according to the study, it has gone up in every state but one.
Researchers looked at data from the National Vital Statistics System for all 50 states and the District of Columbia, and found that suicide rates went up over 30 percent in half of these states since 1999.
North Dakota saw the largest increase in suicides — nearly 58 percent — and Nevada's suicide rate decreased by one percent. The New York Times noted, though, that "rates there have historically been higher than average." Data still showed a high rate of 21 to 23 suicides for every 100,000 people.
"These findings are disturbing. Suicide is one of the top 10 causes of death in the US right now," said Dr. Anne Schuchat, the principal deputy director of the CDC, "and it's one of three causes that is actually increasing recently, so we do consider it a public health problem — and something that is all around us."
Watch the CDC's video on this new study below:
U.S. suicide rate and mental health
According to Mental Health America, 30 percent to 70 percent of people who died by suicide had "major depression or bipolar (manic-depressive) disorder."
However, the CDC study on the U.S. suicide rate showed that more than half of the people (54 percent) who died by suicide didn't have a known history of mental health struggles (though, the CDC did note that mental health conditions could have gone unreported). 
"Instead, these folks were suffering from other issues, such as relationship problems, substance misuse, physical health problems, job or financial problems, and recent crises or things that were coming up in their lives that they were anticipating," Deborah Stone, a CDC behavioral scientist and lead author of the study, said.
"Suicide in this country really is a problem that is impacted by so many factors. It's not just a mental health concern," Stone said. "There are many different circumstances and factors that contribute to suicide. And so that's one of the things that this study really shows us. It points to the need for a comprehensive approach to prevention."
U.S. suicide rate and guns
In terms of how these suicides were carried out, guns, according to the study, were the most common method — they accounted for about half of the people who died. Those without known mental health conditions were, actually, more likely to die by firearms than those who had known mental health conditions. This is where access comes into play. 
"You may be thinking about it over time, but that moment when you actually make an attempt is a very short window," Robert Gebbia, head of the American Foundation for Suicide Prevention, told NPR. "If you could make it harder to make that attempt by not having access to the means, often what happens is the feelings will pass, it gives people time for someone to intervene and get them help, so that is a really important preventative step that can be done."
"[A]mong gun owners, a smaller proportion say that they had attempted suicide," the director of Harvard Injury Control Research Center's Means Matter campaign, Catherine Barber, said in a past Harvard Public Health report. "So it's not that gun owners are more suicidal. It's that they're more likely to die in the event that they become suicidal, because they are using a gun."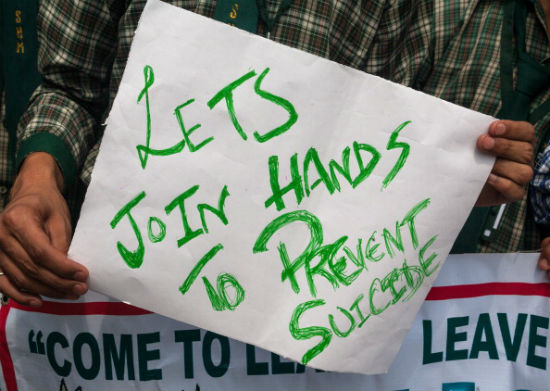 But Stone said it's not just about firearms, "it's also about other methods of suicide such as hanging, suffocation, poisoning and the like."
The CDC lists reduction of access as one of its suicide prevention methods: "Promote safe and supportive environments. This includes safely storing medications and firearms to reduce access among people at risk." See more of the CDC's study and preventative measures here.
To help those who may be at risk, "beginning a conversation, helping keep them safe, helping them connect and then follow[ing] up with them," are all simple steps to take, Schuchat urged. "We don't think every single suicide can be prevented, but many are preventable."
If you or a loved one is in need of help, call the 24/7 free National Suicide Prevention Lifeline at 1-800-273-8255 or head to suicidepreventionlifeline.org.