Summer is just around the corner, which means festival season is about to kick into high gear. When you start planning your trips and updating your Google calendars with some of the shows you are dying see, consider making the trip to Pittsburgh for its Dollar Bank Three Rivers Arts Festival. This free, ten-day long music and arts festival will run from June 1-10 and has been a mainstay in the 'Burgh for the past 59 years.
"We are excited for the Dollar Bank Three Rivers Arts Festival," said Craig Davis, president and CEO of VisitPITTSBURGH. This event has become synonymous with the start of summer in the City of Pittsburgh, bringing in hundreds of thousands of visitors each year, not only see and hear the amazing artists, but also to experience everything our great city has to offer."
The festival has been known to showcase the best works from local Pittsburgh artists, as well as exclusive installations from internationally known artists and some of the world's biggest touring acts. The festival attracts nearly 500,000 visitors every year who enjoy this wildly eclectic and unique event in one of America's great cities. Here are some highlights from this year's festivities: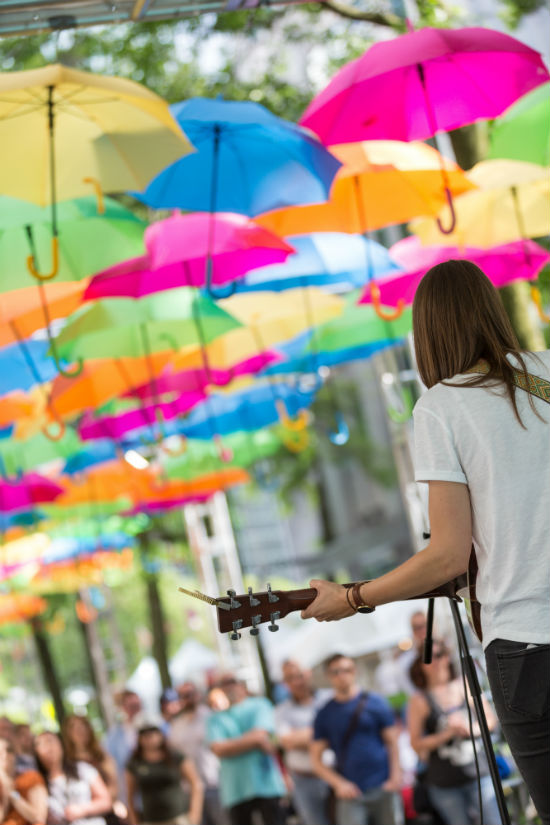 [Photo Credit: Renee Rosensteel]
Great Live Music at the Dollar Bank Three Rivers Arts Festival
This year's musical portion of the festival will kick off with the legendary soul-singer and political activist, Mavis Staples. This Rock and Roll Hall of Famer will be gracing the main stage on June 1 with a mix of classics from both her time with her family band, the Staples Singers, and selections from her award-winning solo career.
Other amazing acts that will be included throughout the Dollar Bank Three Rivers Arts Festival are the Mendelssohn Choir of Pittsburgh and their reimagining of the Dylan repertoire "The Times They Are a Changing: Words and Music of Bob Dylan" on June 5, and the Pittsburgh Symphony Orchestra on June 3.
For something on the other side of the musical spectrum, wildly popular and upbeat British indie-rockers Everything, Everything will be whipping festival goers into a frenzy on June 2. On June 4, Lukas Nelson and the Promise of the Real will be bringing their blistering form of roots-rock to the festival. Lukas, the son of country music legend Willie Nelson, is in the current backing band to Neil Young and a great songwriter in his own right. Innovative hip-hop and jazz fusion band Sidewalk Chalk will be performing on June 7. The festival closes with two more roots and Americana artists, Valerie June on June 8 and Ricky Skaggs and the Kentucky Thunder on June 9.       
Amazing Free Art at the Dollar Bank Three Rivers Arts Festival
Aside from the wonderful free musical performances, The Dollar Bank Three Rivers Arts Festival will also be debuting a number of unique projects from some renowned visual artists. Famed sculptor Dee Briggs will be unveiling her new project "Six Plates for Annabelle and Maggie,"  based on the concept of chirality, which shows the relationship between symmetry and mirror images in geometric shapes. This installation will be located at the Gateway Center "T" subway station at the beginning of the festival and will remain on display until May 2019.
Another festival highlight will be a seminar hosted by renowned British rock photographer Janette Beckman. She will be holding classes for students from underserved communities about the importance of photojournalism, and will showcase their work throughout the city. And that's just the tip of the iceberg. Numerous galleries sponsored by the Pittsburgh Cultural Trust will be offering free admission in the city's 14-square-block Cultural District throughout the festival. The August Wilson Center will also be providing free admission and will host the CREATE! Festival and Awards, June 6-7. This event is presented by both the Pittsburgh Technology Council and the Dollar Bank Three Rivers Arts Festival. It will include panels and demonstrations on the intersections of creativity in the arts and technological innovation.
"It has been really exciting to see it all come together in these last few weeks," explains director of festival management for the Pittsburgh Cultural Trust, Sarah Aziz. "One of the things I'm most proud of with this festival is that we've been able to stay true to our mission of taking art out of museums and bringing it to the people at no cost. One of our focuses has been to diversify the art and make it inclusive to a lot of different people. I worked really hard to get a diverse music lineup this year, and to get a lot of different kinds of art that people can enjoy and not be intimidated by. They will feel like the art is for them, because it is!"
The Dollar Bank Three Rivers Arts Festival will deliver ten days of amazing free art and music that will be the perfect way to kick-off your summer. And, if you've never visited Pittsburgh before, this is a great chance to check out what this amazing city has to offer.