Films al fresco is a citywide summer tradition, but there are a few around the city so spectacular that they (almost) overshadow the featured presentation. Here are the best places to see a movie under the stars; most movies screen at sunset, weather permitting.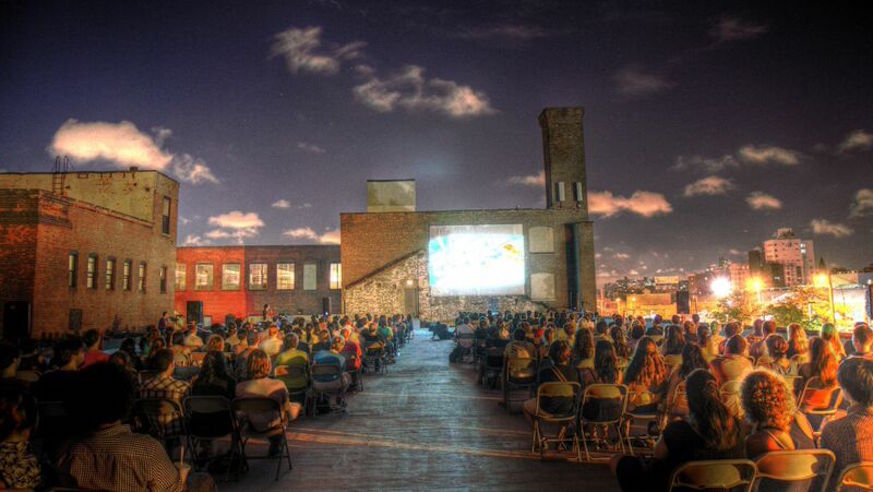 Everyone's #summergoals includes doing as many things as possible on a roof. Combine that with a warehouse party at this classic Rooftop Films venue, one of the last vestiges of Gowanus' industrial era. Movies are screened on the large, flat roof, with live music instead of previews before the movie. After the flick, head downstairs to the afterparty on the ground floor, often with free drinks from a sponsored bar.
Tickets: $15, movies at 8 p.m.
Where: 232 Third St., Brooklyn
Don't miss: "The Strange Ones" (July 14) — Another rite of summer is road trips, though this one is anything but convertibles and roadside attractions. Two men start out on what seems to be a normal vacation through some of the more remote parts of America, only to find themselves face-to-face with some dark secrets. Stick around for a post-film Q&A with the filmmakers.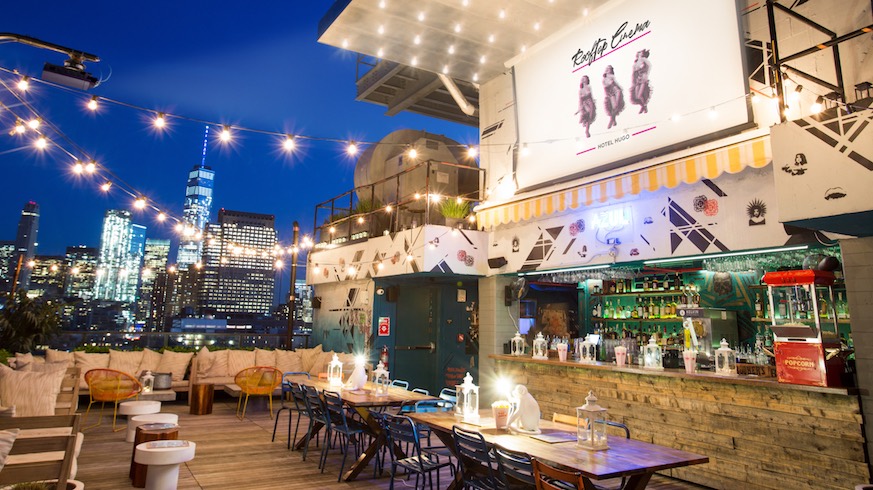 Dinner and an outdoor movie doesn't have to involve sitting on the ground and brining your own picnic. This year, SoHo's Hotel Hugo debuts a summer-long free movie series by Rooftop Cinema Club at its Cuban-inspired rooftop bar. Azul on the Rooftop takes place every Monday night at sunset, with a rain date of Tuesday. Doesn't a mojito and a movie sound like a fine summer combo?
Where: 525 Greenwich St.
Tickets: Free (drinks and food available for purchase)
Don't miss: "Sideways" (Sept. 18) — "Pride and Prejudice" in California wine country: A beautiful tale of love lost and then found again, centering on an oenophile (Paul Giamatti) who finds beauty in a bottle of wine and tends to overthink everything else.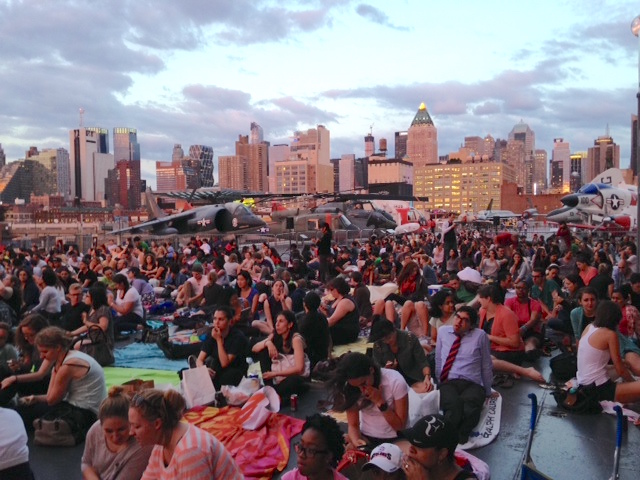 Intrepid Museum Summer Movie Series
The decommissioned aircraft carrier docked on the Hudson River has to be New York City's most unique outdoor cinema, screening films on its flight deck. Members get first dibs on tickets to the roster of classic American films, which often sell out. Special guests who are involved with the film or knowledgeable about it introduce each film.
Tickets: Free, movies at sunset, RSVP advised
Where: Pier 86, W. 46th St. at 12th Ave.
Don't miss: "Anchorman" (July 18, 7 p.m.) — You probably know every ridiculous phrase that Ron Burgundy utters, but watching Will Ferrell be the most handsome idiot in California never gets old.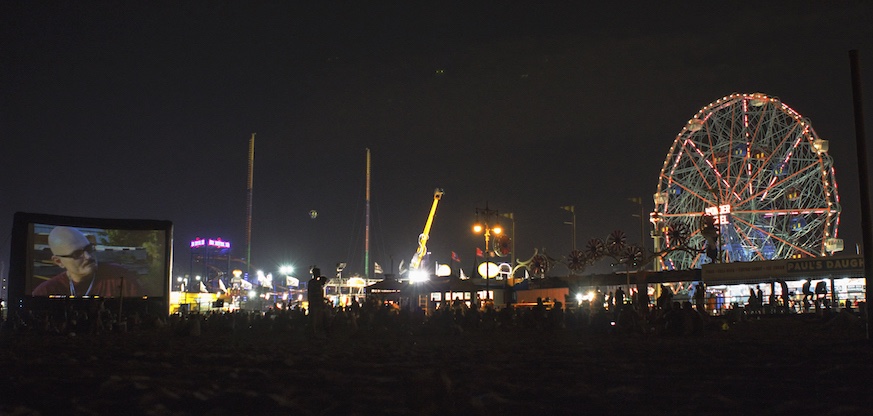 On Monday evenings through July and August, enjoy the Coney Island Boardwalk and carnival away from weekend crowds, then stick around for a movie on the beach projected onto a 40-foot inflatable screen.
Tickets: Free, movies at 8 p.m.
Where: 1001 Boardwalk West & West 10th St., Coney Island
Don't miss: The 17th annual Coney Island Film Festival (Sept. 8-10) includes features and shorts, some with a local Brooklyn theme.
Williamsburg's hottest hotel is throwing not one but two film series this summer. Downstairs, a drive-in theater will pop up in the yard with retro burgers and ice cream by Mister Dips beginning June 20; upstairs, Rooftop Films is hosting more indie and arty screenings on the patio of Westlight.
Where: 111 N. 12th St. Brooklyn
Tickets: Prices vary (drinks and food available)
Don't miss: "The Incredible Jessica James" (July 25, $15) — There's not enough Jessica Williams in our lives. Fix that at this new Netflix indie about a classic New York struggle: being a starving artist, in her case a playwright. "The Daily Show" correspondent is also tackling a breakup in the film, though it's not long before Irish comic genius Chris O'Dowd ("Bridesmaids") comes along to lift her spirits.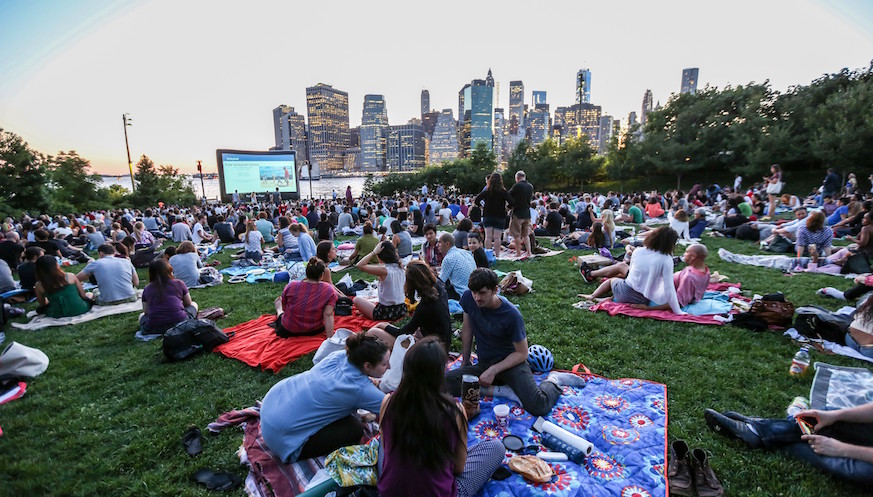 You can spend a whole day at this revitalized park that stretches 1.3 miles along the Dumbo waterfront, with activities from kids playgrounds to the new maritime museum, free grills and a waterfront bar. End your Thursday evenings in July and August with Syfy Movies with a View, which as promised offers some of the best Lower Manhattan vistas with your screening of the biggest recent hits as well as popular classics. Get there early — last year's shows drew 7,000 attendees at each screening.
Tickets: Free, movies at 6 p.m.
Where: Harbor View Lawn
Don't Miss: "Mad Max: Fury Road" (Aug. 17) — Fight the apocalyptic patriarchy with Charlize Theron once again, because this is the movie that really kickstarted the feminist action genre that gave us the instant classic "Wonder Woman."