The Macy's Thanksgiving Day Parade is America's celebration, but there's a much smaller but beloved ritual that's only for New Yorkers on the night before the big event: the Macy's Thanksgiving Day Parade balloon inflation.
The 2018 Macy's Thanksgiving Day Parade takes place on Thursday, Nov. 22 starting at 9 a.m., but the 16 giant character balloons and 43 various smaller balloons are inflated the night before on Thanksgiving Eve, Nov. 21. Hundreds of thousands of people — which sounds like a lot, but not when you realize the parade draws 3.5 million spectators along the route — head to the Upper West Side for a fun evening watching the balloons be inflated around the American Museum of Natural History.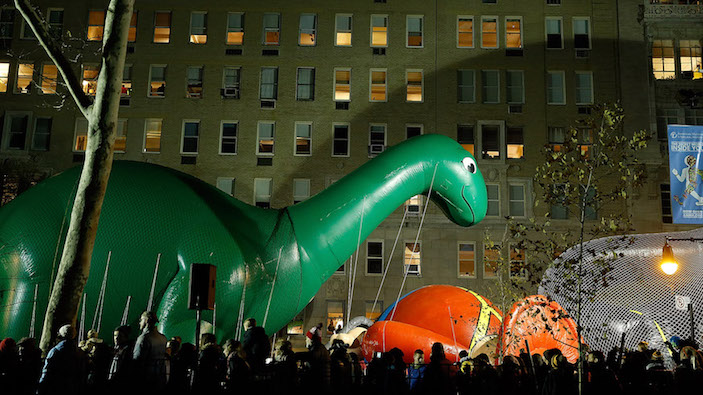 2018 Macy's Thanksgiving Day Parade balloon inflation: What you need to know
This year's Macy's balloon inflation takes place on Wednesday, Nov. 21 at its original start time of 3 p.m. and ending around 10 p.m. The last entry is at 8 p.m., so arrive early to be sure to get in.
The event tightened security last year, so everyone must pass through the official entrance at 73rd Street and Columbus Avenue and have their bags checked. Backpacks are not allowed but strollers are fine, though not recommended because of the large crowd.
How close can you get to the balloons?
The balloons will be spread out along the streets surrounding the museum, from 77th to 81st streets and between Central Park West and Columbus Avenue. It's a great chance to get a closer look at these impressive works of art than you could manage even if you come out to watch the parade.
Barricades along the sidewalk keep you from actually touching the balloons, but there's plenty to see as they grow and need to be wrangled. The balloons are inflated with helium under nets weighed down with sandbags and get to full size pretty quickly, so arrive early if you want to see all the action.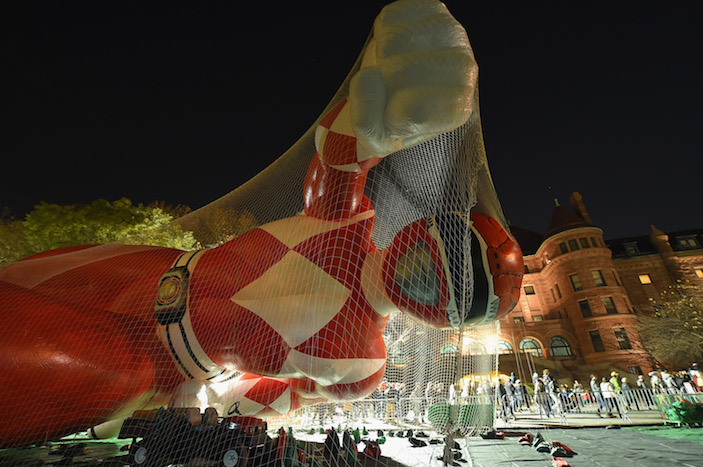 What are the new balloons?
For the 2018 Macy's Thanksgiving Day Parade, there are four new character balloons:
Super Saiyan Blue Goku from Dragon Ball Super: Broly, standing five stories tall and 70 feet wide with 90 handlers

Fleck, Bjorn, Jojo and Hugg, four minions of The Elf on the Shelf who help save Christmas in Netflix's new film The Christmas Chronicles

Little Cloud, a happy balloon by FriendsWithYou representing peace and love

Sunny the Snowpal, created for Macy's holiday windows as an astronaut snowgirl who helps save Christmas by fixing Santa's sleigh
What is there to do at the Macy's balloon inflation?
Looking to warm up? New-York Historical Society members can duck into the museum just across the street from the action and enjoy hot chocolate, treats and special activities from 3-5 p.m. — alas, their special exhibit on Harry Potter will be closed.
Restaurants around the area are sure to be packed, but there are plenty of street vendors selling hot chocolate and roasted chestnuts.  
And if you're okay with making it a late night, stick around after 11 p.m. to see the parade floats arrive from their home base in New Jersey.